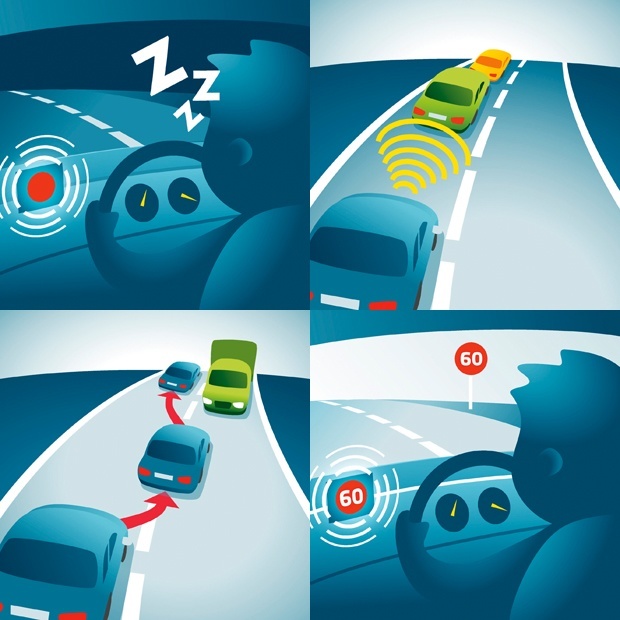 In a report in September's What Car? Magazine, there is news that new safety technology could reduce the number of deaths and serious injuries on UK roads by 17,000 in 10 years if technology advances as it does at the pace it is going!

In the report, the Thatcham motor insurance research centre looked at the potential impact that autonomous emergency braking (AEB) could have when it comes to the prevention of accidents, and found that thousands could be avoided (or at the very least 'lessened') if all cars were fitted with the technology from 2015.

Further into the future, the report suggests that deaths or serious injuries could fall by 17,000 by 2025 and could also cut whiplash claims – currently running (or stopping suddenly!) at 550,000 per year and costing the UK insurance industry a total of £2 billion, pushing up car insurance premiums in the process.

Alex Newby, What Car?'s consumer editor, said: "When seatbelts became compulsory for front-seat occupants in 1983, the number of motorists killed or seriously injured fell by almost 50% overnight. AEB could have a similar effect, making it the most important safety innovation in more than 30 years. This type of active safety aims, primarily, to avoid the crash in the first place, rather than minimise the after-effects.

"There are several active safety systems that experts recommend in particular, but AEB is the only one that they unanimously agree we should all be demanding on our next car."

The technology of AEB involves the use of a combination of laser and radar to detect an imminent collision by detecting obstacles in front of the car and then automatically applying the brakes. If the driver fails to respond, the system will bring the car to a complete halt.

(It could also save a few marriages as back-seat driving could become a thing of the past when it comes to the "Watch that car in front/Slow Down) brigade.)

Other important car safety technology identified by the What Car? feature includes Lane Support, Attention Assist and Speed Alert systems, all of which have been discussed on these pages in the past.