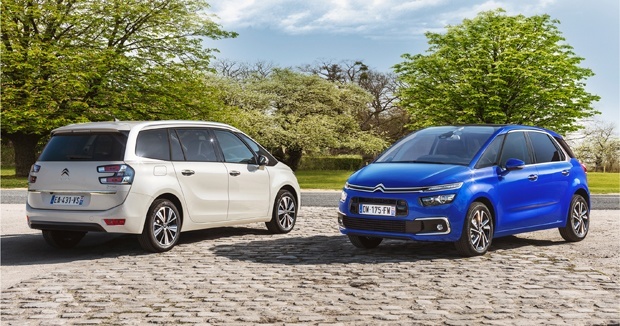 The second-generation Citroën C4 Picasso range was launched in 2013, and has been very successful. So, building on this success, welcome in the new Citroën C4 Picasso range with even more dynamism, distinction and comfort on offer.
Boasting a new front end, a two-tone body and roof option and even more personalisation possibilities, travelling in the New C4 Picasso promises to be a unique and pleasurable experience. The new C4 Picasso and Grand C4 Picasso now feature:
A new front end
A two-tone body and roof option
More personalisation possibilities
A Hands-Free Tailgate
New connectivity with Citroën Connect Nav
Two new petrol engines and a whole lot more.
The new C4 Picasso
The new C4 Picasso is a modern and innovative MPV with a strong and expressive styling that makes it distinctive, with dynamic lines and unique front and rear light signatures. And the new C4 Picasso builds on that styling, as Linda Jackson, CEO of Citroën, says:
"For us, the New Citroën C4 Picasso is a showcase of our finest know-how. In addition to its unique, modern and dynamic styling, it offers an incomparable level of comfort. With its architecture and the EMP2 platform, it brings motorists spaciousness, modularity and on-road qualities that enhance the well-being of all passengers. Today we are equipping it with a set of new useful technologies that simplify everyday life and improve safety. New C4 Picasso has everything it takes to be a leader in the European market.".
Design and styling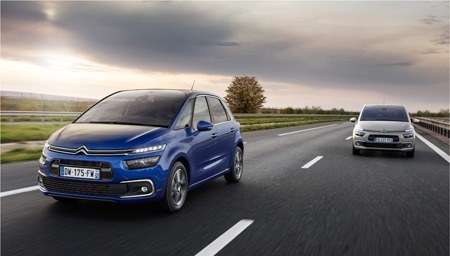 Both the new C4 Picasso and Grand C4 Picasso now feature:
A new, more dynamic front end. Keeping the classic Citroen three-tiered light signature at the front, the chevrons at the front extend to fully encircle the daytime running lights with chrome trim. Add to this a two-part grille, separated by the body-coloured bumper, a glossy black registration plate mount and a second air intake, and you get style, sportiness and toughness all combined in one look.
New 3D-effect rear lights as standard
New rear chevrons, finished in gloss black with a chrome surround, giving a more modern look from the rear.
A black two-tone roof (standard on the C4 Picasso five-seat only, and as an option on others). This comes with gloss black wing mirrors and adds new personalisation possibilities to enhance the car's styling.
New silver roof bars (on the Grand C4 Picasso only)
New Mamba 17" diamond-finish alloy wheels (on the C4 Picasso five-seat only) and new finishes on the current range of wheels across the entire C4 Picasso and Grand C4 Picasso range.
To add to the look of the new range, and to enhance the personalisation options on both the New Citroën C4 Picasso and Grand C4 Picasso, a new body colour palette has been introduced, made up of four existing colours - Polar White, Ruby Red, Shark Grey, and Onyx Black - and three new ones - Lazuli Blue, Soft Sand, and Cumulus Grey.
And that's not all.
Citroen have looked at the cabin and the interior design scheme too, and offer each customer a cabin design that best reflects their lifestyle, with four fully distinct interior design schemes available.
There is the standard design scheme for the lead-in models that has stayed as it is, but then three new designs have been added.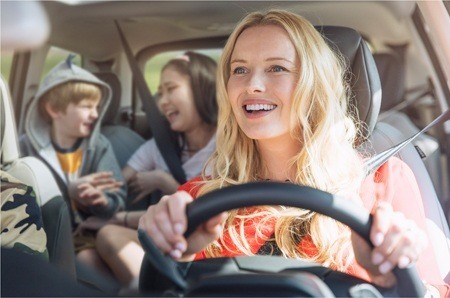 For younger customers with active and sporty lifestyles there is the 'Wild Blue' Ambience design that is intended to offer the impression of space and relaxation with a fold-flat front passenger seat, massaging front seats, Levanzo Blue cloth upholstery, chrome air vents on the dashboard and chrome door sills.
For those who set their sights on well-being and comfort there is the 'Dune Beige' Ambience design. This option features The Relax Pack, which offers extra-support headrest at the front of the car and a front passenger seat with an electric powered leg rest, as well as a design scheme that comprises Yatago Grey cloth, special protective mats and an ambient fragrance dispenser. It is also available with two-tone black and amber full Nappa Leather upholstery.
And finally, for those that want an experience more in keeping with business class, there is the 'Hype Grey' Ambience design, complete with elegant Slate Grey half-leather upholstery, rear sunblinds and LED reading lights.
While we are talking about the interior of the New C4 Picasso range, it's probably time to mention the comfort that can be enjoyed during the drive, with both the new Citroën C4 Picasso and Grand C4 Picasso offering an outstanding combination of comfort and agility, with an extensive range of onboard equipment to ensure that a drive is as good as it can possibly be.
Comfort
Both the new Citroën C4 Picasso and Grand C4 Picasso benefit from a striking balance between driving pleasure and road holding thanks to a new suspension and intelligent traction control that offers improved traction on low-grip surfaces. And the interior comfort is added to by a cocoon-like acoustic and vibration comfort inside the cabin.
Speaking of which.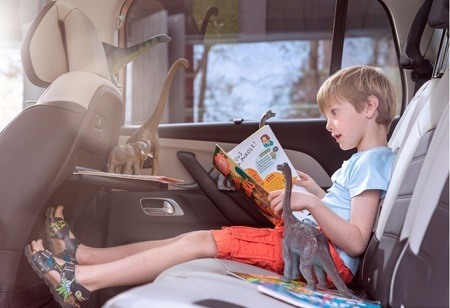 The new Citroën C4 Picasso five-seat version offers a practical interior that combines spaciousness and a user-friendly modular design, even more so in the Citroën Grand C4 Picasso where the fold-flat front passenger seat increases load length to over 2.5m. In row two, there are three seats all the same width that can fold down flat, recline for more comfort, and slide back and forth to give extra boot space or leg room of up to 159mm; and row three has two seats that fold into the boot floor, along with dedicated air vents on the top trim level.
So, as you can see, there is plenty of space available, and its helped by lots of boot space, with the new C4 Picasso five-seat offering a large loading area measuring 537-litres. Both the Citroën C4 Picasso and Grand C4 Picasso come with a Hands-Free Tailgate function that allows users to easily open the boot with foot movement when their hands are full, thanks to a sensor located under the rear bumper.
Space is added to by a plethora of storage areas that includes a lit compartment in the centre of the lower dashboard and a removable modular console between the driver and passenger seats on versions equipped with an automatic gearbox.
The sense of space and openness is exaggerated by the standard panoramic windscreen, with the optional panoramic glass sunroof offering even more light and exceptional visibility to all passengers, aided and abetted by fully customisable ambient lighting throughout the cabin.
All New C4 Picasso's passengers travel in first-class style, and this can be improved by optional heated front seats or the Relax Pack, which includes wraparound extra-support headrests and massaging front seats, all dressed in an extended line-up of premium cloth and leather trims - even down to a specially treated dashboard and soft-touch door panels.
As you can see from the spacious cabin, the seat comfort and the various available interior design schemes, Citroën has paid meticulous attention to occupants' physical and mental well-being of both driver and passengers with their Citroën Advanced Comfort® programme based on filtering out external noise and vibrations, with a specific focus on suspension, seating and acoustic comfort; easier travelling, with a well-designed and practical interior, ingenious storage spaces and easily accessible controls; intuitive technology and useful driving aids, particularly looking at the links between the digital world and the car; reducing the mental load of the driver and everyone onboard, displaying only truly useful information.
Technology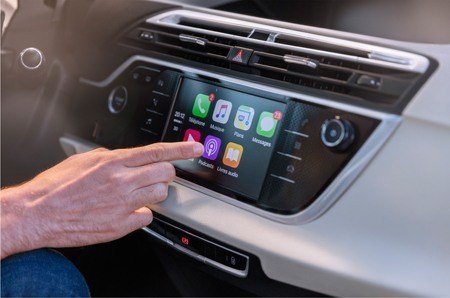 Since their launch of both the C4 Picasso and Grand C4 Picasso, technology and driving aids have been at the forefront of the cars, with everyday functionality such as keyless entry and start, hill-start assist, Xenon directional headlamps, automatic dipping headlights, tyre-pressure monitoring, the Vision 360 system, park assist and a reversing camera as standard right from the start.
And now, Citroen has added even more intelligent driving aids to the 2016 New C4 Picasso. These include:
Coffee Break Alert - a 'warning to take a break' system that is standard on all new C4 Picasso models
Speed Limit Sign Recognition and Recommendation - a system that recognises speed limit signs and informs the driver via the instrument cluster. It is also used when the cruise control/speed limiter system is in use.
Driver Attention Alert - a system that generates an alert when it detects involuntary lane movement with a 'stay vigilant' visual message display, together with a sound alert.
Active Lane Departure Warning System
Active Blind Spot Monitoring System
Active Cruise Control with STOP Function - (on BlueHDi 150 S&S EAT6 only) a system that uses a radar sensor to detect the car ahead and automatically maintains a safe distance that is pre-set by the driver, allowing speeds to be set from 18mph up to motorway speeds.
Active Safety Brake - An emergency braking system that is there to help avoid low-speed collisions with automatic braking.
Collision Risk Alert - A system that warns the driver that their car is at risk of colliding with the vehicle in front.
When it comes to infotainment and telematics, once again Citroen have not scrimped.
Citroën Connect Radio: The new-generation 7"touchscreen allows quicker use of all controls and is within easy reach of the driver and the front passenger, allowing them to not only enjoy the 6-speaker radio with AM, FM and DAB, and the USB-connected Mirror Screen function (a connectivity solution compatible with Apple CarPlay™ and MirrorLink®) but also all multimedia content, smartphones and compatible apps on the touchscreen.
Citroën Connect Nav: This new 3D, touch-operated and real-time connected navigation system enables users to zoom in with two fingers on the screen, and informs the driver of speed limits for main roads and motorways. Voice recognition is now available for interaction with the navigation, telephone and media functions, allowing the driver to access text messages and emails, and to send quick messages from the car. There is also access to real-time traffic information and TomTom alternative route suggestions, the display of local weather forecasts, the display of car parks and petrol service stations with prices and local point-of-interest searches via the Internet.
Great Range of Petrol and Diesel Engines
The new Citroën C4 Picasso is available with a range of best-in-class PureTech and BlueHDi petrol and diesel engines with the expected fuel economy and low emissions:
PureTech 130 S&S 6-speed manual –115g/km of CO2
BlueHDi 120 S&S 6-speed manual – 99g/km
BlueHDi 120 S&S EAT6 –102g/km
BlueHDi 150 S&S 6-speed manual –107g/km.
PureTech 130 S&S EAT6 automatic
PureTech 110 S&S 6-speed manual
Fuel consumption for both the five and seven-seat models is limited to 55.4mpg (on the combined cycle) and CO2emissions of 115g/km, with the new PureTech 130 S&S turbocharged 3-cylinder petrol engine with full auto EAT6 transmission proving that "downsizing can serve to enhance performance and driving sensations.
Equipped with direct high-pressure injection and a new-generation high-yield turbo, it offers a remarkable driving experience right from the lowest engine speeds with maximum torque of 230Nm coming in at 1,750rpm. It also boasts the best-possible compromise between low-speed torque and power on the market, with 95% of torque available from 1,500rpm through to 3,500rpm, making it an exceptional performer in all circumstances."
The New Citroën C4 Picasso and Grand C4 Picasso will hit the UK forecourts at the start of September, but orders are being taken now for delivery then. Contact one of our Customer Service team now to find out the best deals we have on the Citroën C4 Picasso and Grand C4 Picasso and to register your interest.