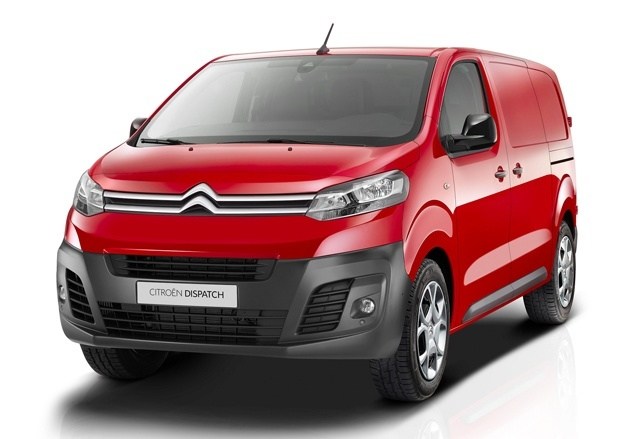 Citroën launched a new generation of the ever popular Dispatch LCV at the CV Show in Birmingham at the end of April with an array of new technologies, design features and architecture, as well as some new-to-segment functions - all designed to make working lives easier and safer.
Available in Van, Combi and Crew Van versions, as well as three lengths - XS (4.60m) M (4.95m) and XL (5.30m) - the new Citroen Dispatch has been designed with a wide range of professionals in mind, from trades people, and delivery and service professionals to construction workers and local authority employees, and joins the Nemo, Berlingo, and Relay as part of Citroën's broad modern range of LCVs.
Further to the hands-free sliding doors and the colour head-up display, new features include Driver Attention Alert, Active Safety Brake, Citroën Connect Nav and Mirror Link systems, and a wide range of optional extras to suit every professional's unique needs.
The New Citroën Dispatch
Originally launched in 1995, the new Citroen Dispatch features a stylish flowing and modern design capable of greater functionality than ever before.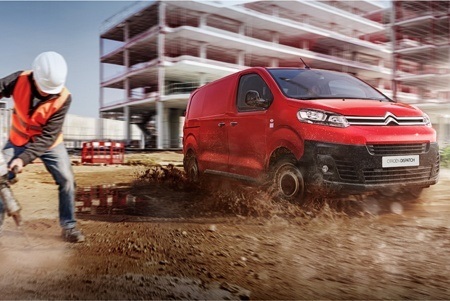 Conveying a sense of assurance and robustness, at the front end is a short, horizontally-styled bonnet that allows a commanding view of the road - a road lit by the broad, high-set headlights that underscore the bonnet.
The grille features the brand signature that extends from both sides of the chevrons to the insides of the headlights, just above the broad reassuring bumper with built-in black air intakes that helps to reinforce the robust styling of the new model.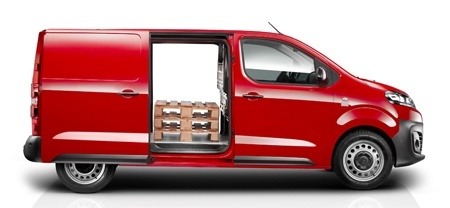 From the side, with its wide sliding side doors, the New Dispatch promises a capacious interior and suggests that a broad range of conversion possibilities will be available. In fact, it is possible to enhance the look of the new Dispatch with a Look Pack that includes body-coloured front and rear bumpers, door handles, door mirrors and side mouldings, plus a front light signature with vertical LED daytime running lights and fog lamps, but whatever you do with it, the new Citroen Dispatch is a welcome addition to the day's work.
Practical and jam-packed full of user-friendly features
Thanks to the reinforced structure of the platform and special new front and rear axles, the new Citroen Dispatch offers up to 1,400kg of payload capacity, 6.6m3 of load volume and can tow up to 2,500kg.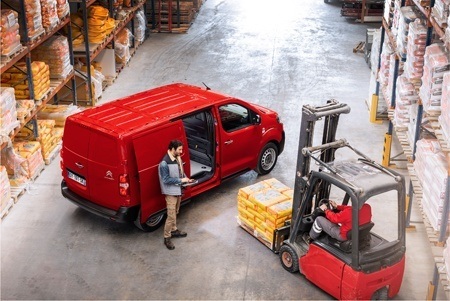 It is available in three lengths, including, for the first time ever alongside the normal 4.95m (M) and 5.30m (XL) versions, an all-new version at just 4.60m (XS) that also has a payload of up to 1,400kg and, in Combi form, can transport up to nine people - ideal for those working with local authorities, who need both volume and seats.
Both the XS and M versions are just 1.90m in height, making access to such places as underground car parks easier - certainly an unusual benefit in this particular sector and definitely a rarity amongst other competitor vehicles - and with the Moduwork feature, the side passenger seat can be lifted to provide extra space with a flat floor and a large flap in the bulkhead, offering a useful length of up to 4m. Using Moduwork, it is possible to transform the cabin into a mobile office, with the central arm rest lowering to provide a pivoting table with an elastic and adhesive strip to keep objects in place (such as PCs or tablets), and special holders for smartphones and tablets available as accessories.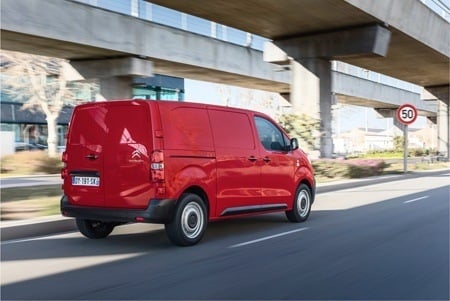 New to both the Citroen Dispatch and the sector are the hands-free sliding automated side doors, designed to make loading and unloading easier when the driver's hands are full, and an absolute bonus to anyone working with the Dispatch. With a simple movement of the foot under the corner of the rear bumper, the vehicle unlocks and the sliding side door on the relevant side opens automatically, with the same movement locking the door or the vehicle.
The XL version also offers as an option 250° opening doors, but rest assured; they do not infringe on pavement space when parking kerb-side and also make moving around the vehicle easier.
All new Dispatch vans are available with two types of lining: plywood and coated wood (anti-skid and protected by aluminium deflector strips that are waterproof and easy to wash, a range of towing hooks (including an existing distribution box and the ability to tow trailers of up to 2.5 tonnes), and numerous storage compartments that are home to not only space but also such useful items and accessories as a jack, 12V socket, cup holders and a USB socket.
Interior
Inside, we find a welcoming interior, a high-set driving position, a top-flight acoustic treatment and a host of storage compartments for to make sure that the day just isn't all about work, allowing for some rest and play as well as tending to physical and mental well-being.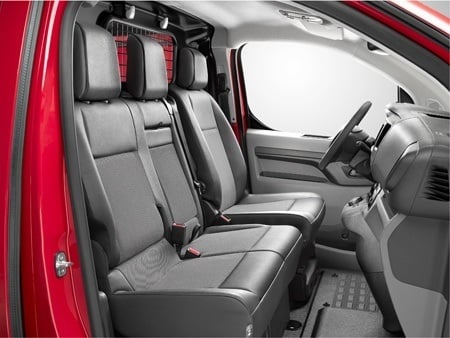 The slightly raised dashboard, combined with the high-set and relaxing driving position, means that drivers not only has a commanding view of the road, but also have everything at their fingertips and in their line of sight, including the instrument cluster, the 7" touchscreen, heating controls, storage areas and the buttons for the motorised sliding side doors.
The seats are upholstered in robust materials for top-level comfort, with several types of upholstery available depending on the version, including a cloth trim with a graphic design (Mica), and a half-polyurethane coated fabric/half-cloth option (Silica). And when it comes to comfort, a 'Comfort' bulkhead is available with more foam than the standard bulkhead and therefore more thermal protection and soundproofing as well as comfort.
Technology hasn't been neglected either with a whole series of features designed to not only make life easier but safer too. These include:
A new 7" tablet for controlling all the media, telephone and navigation functions, featuring a touchscreen for effortless, fingertip precision.
Mirror Screen function, compatible with Apple CarPlayTM and MirrorLink® technology to allow the driver to enjoy their smartphone apps on the 7-inch tablet in complete safety.
Citroën Connect Nav, the new-generation 3D system controlled via voice recognition or the 7" touchscreen which comes with connected services like TomTom Traffic.
Head-up display, allowing drivers to consult essential driving information in their direct line of vision while keeping their eyes on the road.
Smart Beam function
Park Assist 180° via the rear camera. A conventional reversing camera is also available, as are front and rear parking sensors.
Grip Control, an upgraded anti-skid system.
Speed limiter with road sign recognition and recommendations.
Active Safety Brake
Ultrasonic blind spot monitoring system
Adaptive Cruise Control
Collision Alert
Lane Departure Warning System
Driver Attention Alert.
Latest Generation Engines
With an eye on the economic side of things, the new Citroen Dispatch offers best-in-class fuel consumption and CO2 emissions (BlueHDi 115 S&S 6-speed manual: 55.4mpg and 133g/km ofCO2) and controlled running costs thanks to six of the latest-generation 1.6-litre and 2-litre diesel engines ranging from 95hp (210Nm) with a manual gearbox to 180hp (400Nm) with an EAT6 automatic gearbox.
The diesel engines powering the New Citroën Dispatch deliver the following combined cycle fuel consumption and CO2 emissions (based on performance in the XS length model)*:
BlueHDi 95 manual (70kW): 51.4mpg and 144g/km of CO2
BlueHDi 95 S&S ETG6 (70kW): 54.3mpg and 135g/km of CO2
BlueHDi 115 S&S 6-speed manual (85kW): 55.4mpg and 133g/km of CO2
BlueHDi 120 6-speed manual (90kW): 51.4mpg and 144g/km of CO2
BlueHDi 150 S&S 6-speed manual (110kW): 53.3mpg and 139g/km of CO2
BlueHDi 180 S&S EAT6 (130kW): 48.7mpg and 151g/km of CO2
* Non-country specific figures – UK figures may vary.
For more details on leasing the Citroen Dispatch from Nationwide Vehicle Leasing, contact one of our Customer Service Representatives.