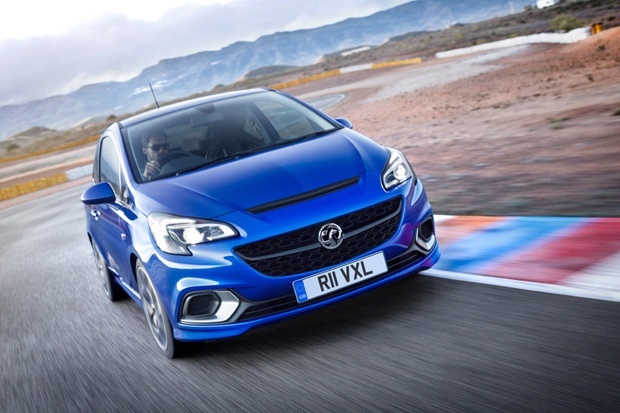 Planned for a May UK launch, Vauxhall will be unwrapping the new Corsa VXR at the Geneva Motor Show in March. The ultra-powerful small hot-hatch is a step up from the recently released new Corsa, featuring the improvements in technology, interior/exterior design and chassis that the new Corsa has, but adding in a little bit of 'oomph' in an effort to raise the bar for small, fast hatchbacks.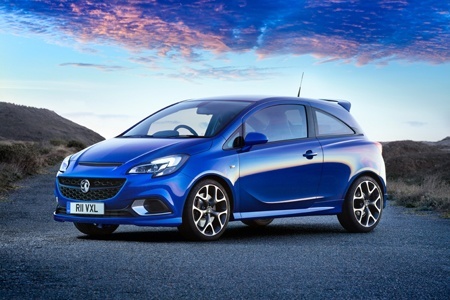 And the 'oomph' gives the new car some impressively swift performance figures - 0-60mph in 6.5 seconds and a top speed of 143mph – that are a lot quicker than the outgoing Nürburgring and ClubSport models, this time producing 245Nm of torque from between 1,900rpm and 5,800rpm, allowing the new VXR to become particularly impressive in the 50-75mph range, which it can dispatch in just 6.6 seconds in fifth gear.
Staying on the power tip, the new Corsa VXR boasts an overboost facility that provides an additional 35Nm of reactionary torque that is perfect when attempting swift and safe overtaking.
The maximum power achieved from its 1.6-litre turbocharged engine with a second-generation six-speed transmission is 205PS, yet the Corsa VXR still manages to achieve a fuel economy figure of 37.7mpg on the combined cycle with CO2 emissions of 174g/km.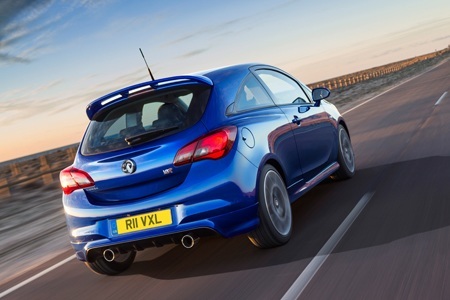 The new Corsa VXR also features a new technology that Vauxhall has created in tandem with damper-supplier Koni called Frequency Selective Damping (FSD) which allows damping forces to keep body control when the car is driven at speed adapt by adapting itself to the body movements - particularly important as the car's ride height has been lowered by 10mm all round.
To allow for this speed machine to react and perform as you would wish , Vauxhall have made some revisions to the steering to improve car feedback through the wheel to make steering more direct and precise, helped along by the 308mm front brake discs and he standard Michelin 215/45 R17 tyres.
With the whole emphasis on the Corsa VXR being performance, Vauxhall is offering a two-stage switchable electronic stability programme (ESP) and traction control (TC) with the car, where the traction control is immobilised in Competition Mode with the ESP relaxed enough to allow less intervention (and fully disableable when used on a track.)
If you want an even more dynamic car then Vauxhall offers an optional Performance Package, which includes such highlights as a Drexler limited-slip differential, larger 330mm-diameter Brembo front brake discs, 18-inch alloy wheels and more focused FSD damper settings.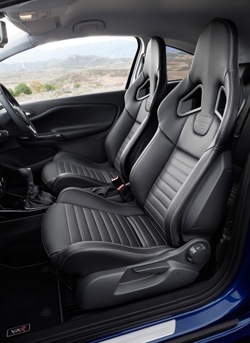 YOU WANT TO LOOK GOOD TOO!
Whilst showing off the dynamism and performance of the new Corsa VXR you will obviously want to look your very best too, so Vauxhall have added in standard bi-xenon lighting and a choice of six exterior colours to help the new car stand out in its class - as if it didn't stand out enough with its aggressive new front-end design that features large air intakes and an aluminium-framed opening below the headlights and rear spoiler and twin Remus exhaust pipes that further distinguish it from regular Corsas.
The six exterior colours includes a brand new colour – Flash Blue - that is unique to the Corsa VXR and is just the wrapping to the delightful interior that has standard Recaro seats, a leather, flat-bottomed steering wheel, sports pedals, a VXR gear-lever and instruments, heated front windscreen and Intellilink connectivity for Apple iOS and Android smartphones - all as standard.
The new Vauxhall Corsa VXR will be appearing on a forecourt in the UK in May but you'll have to be quick - because it sure as hell is!