The new Ford Transit Minibus is now available to lease from Nationwide Vehicle Contracts complete with everything that you would expect from Ford, and space to put it in!
Available with 11/12, 14/15 or 17/18 seats, the Ford Transit Minibus is there for everyone to enjoy a journey in complete comfort.
Driving
A journey at the wheel of a minibus can often be an arduous task, but Ford offer technology to make it an experience rather than a chore.
• Ford SYNC advanced hands-free technology lets you control your music and make and receive hands-free calls on your mobile, using simple, direct voice commands; even reading incoming texts aloud (depending on the type of mobile phone being used). Music can also be played from a USB or MP3/iPod by voice commands too, as well as streaming from a Bluetooth®- compatible phone.
• Adaptive Cruise Control technology lets the driver choose the driving speed and the system will maintain it. A built-in RADAR sensor is there to detect any vehicles in front, slowing the Transit down to keep a pre-set distance away. Once the road in front is clear, the system accelerates the vehicle to the chosen speed.
• A rear-view camera is there to show what's behind via the centre console's built-in screen. The camera activates automatically when reverse gear is selected, with virtual lines on-screen to help you park into the smallest of spaces, and the camera shows just what is there.
• Driving such a heavy vehicle, hill start technology is a must. So, the Ford Transit Minibus's Hill Start Assist technology will help to prevent any rolling backwards or forwards when making a hill start by keeping the pressure on the braking system for an extra 2-3 seconds - vital when moving the foot from brake pedal to accelerator.
• Ford SYNC Emergency Assistance is an important and potentially life-saving part of Ford SYNC. If an accident happens, the fuel pump is automatically deactivated and the airbag is deployed. Once completed, Emergency Assistance can use a Bluetooth®-paired and connected mobile phone to automatically make a direct call to the Emergency Services. As well as letting them know where you are via GPS coordinates (vital if you are unconscious), the technology allows you to talk to the services too.
• For the actual driving experience itself, the Ford Transit Minibus has a leather gear knob and height-adjustable steering wheel along with a 10-way adjustable driver's seat that has both lumbar support and an armrest, cloth upholstery, Air conditioning, a locking glovebox, and reclinable rear seats with armrests.
• Audio controls are positioned on the steering wheel.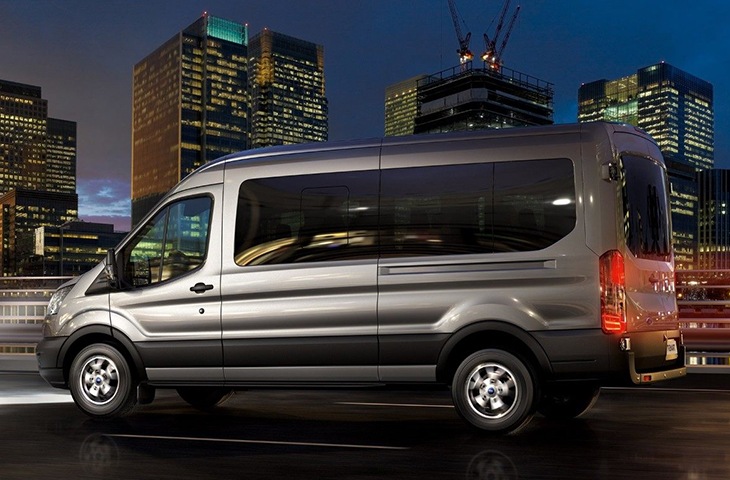 Exterior Features
Being a Ford, you know that you are going to get quality throughout, from the electric front windows, side step and folding and heated door mirrors to the heated windscreen and front fog lights.
Available with metallic paint, the Transit Minibus also features privacy glass, rain-sensitive wipers and auto headlights, a rear bumper with an integral step, rear mudflaps, a silver front grille, static cornering lights and wide bodyside mouldings.
Safety Features
Driving safely is a must in a Ford Transit Minibus, especially with the likelihood that passengers will be on board, so the Minibus has a long list of technologies to cover every safety eventuality and give you and your passengers complete peace of mind.
• Electronic Stability Control automatically applies a braking pulse to individual wheels, stabilising it, when it senses that a vehicle is losing grip. Thanks to advanced sensors within the anti-lock braking and Traction Control System, ESC constantly monitors the vehicle's behaviour.
• Curvature Control is designed to help to keep the Minibus under control if it enters a curve and is travelling too quickly. If the system detects understeer, and feels that control may be being lost, Curvature Control first reduces engine torque then applies braking to help slow the vehicle down. This unique technology is particularly effective on banked curves with a camber, such as motorway turn-off ramps.
• Emergency Brake Assist is controlled automatically via the Electronic Stability Control system, and ensures that maximum braking effectiveness is used when the car is in an emergency situation by increasing pressure on the brakes if it feels that it needs it.
• The Roll Stability Control system is a unique bit of technology from Ford where sensors help to keep the tyres grounded, and offers continuous protection against rolling over.
• An advanced Traction Control System gives the best possible grip, performance and stability by eliminating excessive wheelspin. Like so much of the technologies available, the system constantly monitors the situation and adjusts the power delivered to the vehicle's individual wheels ensuring maximum contact and grip during acceleration.
• A range of airbags is fitted either as standard or as available options. Driver and passenger airbags are standard on the Transit Minibus, with advanced sensors also positioned at key points in the vehicle to ensure a swift and controlled response.
• An optional perimeter alarm protects the vehicle by sounding if the doors or bonnet are opened by force.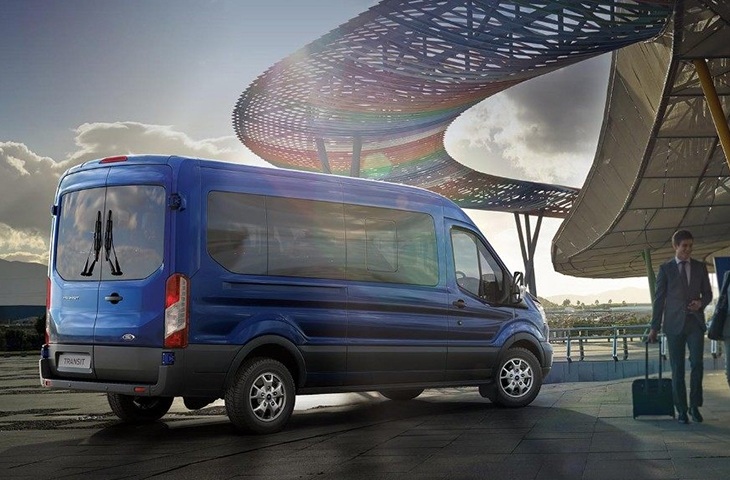 Efficiency
When it comes to engines, the Ford transit Minibus offers a range of 2.2 litre TDCi HD diesel engines 125PS or 155PS RWD with 6-speed transmissions. These are also Euro VI compliant, and deliver high levels of power and torque along with exceptional fuel efficiency to help keep running costs low.
Alongside the efficient engines, the Transit Minibus also offers:
• A Shift Indicator light on the instrument panel that tells you when to change gear for maximum fuel efficiency.
• Auto-Start-Stop technology to help with fuel efficiency. This technology automatically switches off the engine when the car is idling or sat at traffic lights whilst still supplying power to essentials like the headlights, air-conditioning, radio and the Ford SYNC system. To start moving, the driver just needs to depress the clutch and select first gear (or press the accelerator on the automatic version) and off the you go again! Especially useful in the city, Auto Start-Stop can help reduce fuel consumption by up to 10%.
• Acceleration Control that controls the rate of acceleration depending on whether the Minibus is empty, half-full or full, enabling you to lower fuel consumption by up to 15%, and also help reduce the amount of wear and tear on the engine, brakes and tyres, along with other components.
• Fuel Consumption on the Urban Cycle for the Ford Transit Minibus is an estimated 38.2mpg.
Comfort & Convenience
It's not just the driver that needs to be comfortable in a Ford Transit Minibus - Ford understand that. All passengers need to feel comfortable and safe throughout the journey.
That's why the Transit Minibus is specially designed to do the job that it needs to do, offering comfort, convenience and safety to everyone on-board, offering:
• Headlights that turn on automatically when needed. These use a sensor that detects light changes at dusk, or in certain weather or driving conditions.
• An electrically-operated ergonomic heated driver's seat that's fully adjustable.
• Overhead luggage racks (available as an optional extra with the high roof option on the L3 models and as standard on the L4 460 model) with LED reading lights.
• An advanced system to help you stay in lane.
• Lane-Keeping Alert technology that detects if the driver is accidentally drifting out of the lane and informs the driver by not only vibrating the steering wheel but also displays a visual warning.
• An optional separate air conditioning system for the rear passenger compartment, complete with its own rotary controls and two, foot-level outlets for each row of seats.
• Lights that give you better nighttime visibility; including a light within the headlamp itself, on the turning side, that automatically illuminates the side of the road to give you enhanced visibility through the turn.
• Reclining passenger seats with armrests fitted as standard on the Trend series.
• Opening rear side windows with tinted glass as standard. Passengers in row 4 also get an opening window.
• An optional 150 Watt, 230V socket located between the driver's and front passengers' seats, allowing electrical equipment such as laptops and phones to be charged with the minimum of fuss.
• An extra-wide side load door on both sides with an electrically-operated sidestep as standard and passenger assist handles on both sides of the door.
Nationwide Vehicle Contracts offers the Ford Transit Minibus at a great deal, so CONTACT one of our customer service representatives to discuss your options.