Jaguar test new F-PACE in extreme conditions
Coming next year to the Jaguar range is the company's first production SUV, the all-new Jaguar F-PACE, which promises an excellent performance in the most demanding conditions.
Following the success of the award winning C-X17 Concept, the new Jaguar F-PACE is set to rival the Porsche Macan, Audi Q5 and BMW X3 and sits right up against the Land Rover Discovery Sport and Range Rover Evoque in the competitive crossover/4x4 segment.
"The Jaguar F-PACE inspired by the F-TYPE, represents the perfect balance of style, performance and practicality" comments Ian Callum, Design Director of Jaguar.
"It offers a unique combination of Jaguar sports car inspired exterior design, fused beautifully with a thoroughly practical and spacious luxury interior. The F-PACE is our family sports car."
While Jaguar has not released the full technical specifications for the new F-PACE yet, what we do know that it will be available with five seats and is bigger in size than Audi Q5 and BMW X3.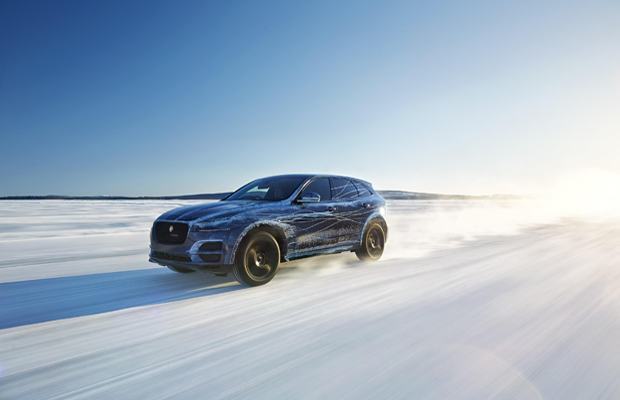 Jaguar has also tested the all-new F-PACE in the most extreme environments to prove its durability at extreme conditions. As a matter of the fact, the Jaguar F-PACE has had an excellent performance in the heat and dust of Dubai and the ice and snow of Northen Sweden.
Andrew Whyman, Vehicle Programme Director of Jaguar F-PACE explains:
"We developed the F-PACE to offer the ride, handling and refinement demanded from a Jaguar, together with exceptional levels of ability and composure on all surfaces and in all weathers."
"Just as we paid obsessive attention to detail over the engineering of every single component, we've exhaustively tested the F-PACE in the most challenging conditions to ensure that it will exceed the expectations of our customers around the world."
It is worth mentioning that during the model's test in Arjeplog, Northen Sweden, winter temperatures were between -15°C to -40°C. Jaguar Land Rover's test included a 60km ride on purpose-built handling tracks, mountain climbs, inclines, split-friction straights and off-road areas in order to optimise the adjustment of the all-wheel drive system.
In Dubai, the Jaguar F-PACE was tested in extreme heat temperatures (up to 50°C in the shade) with all the interior systems like climate control systems and touchscreens performing despite the extreme heat and humidity. This is the first time Jaguar has tested a model in such a challenging environment.
We can't wait to see what the Jaguar F-PACE has in store next. Keep your eyes peeled for more information on this brand-new SUV.