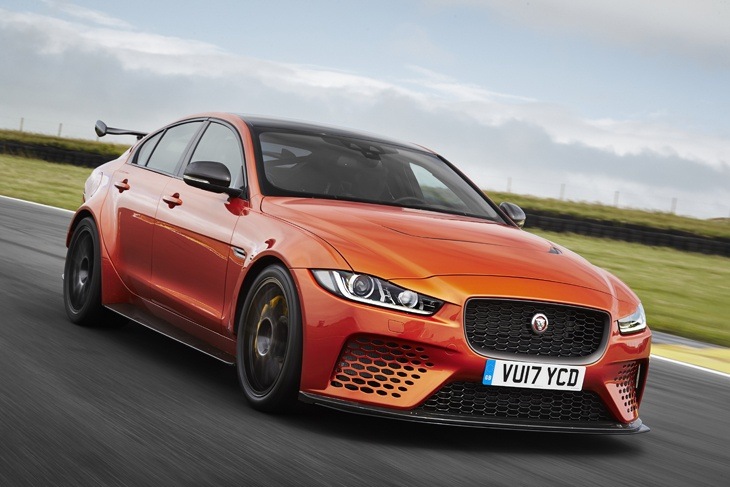 Jaguar has always been the producer of some special cars, even when it comes to day-to-day use, and their mere presence on the road still gives a special tingle to lovers of British cars past and present.
So the news that Land Rover Special Vehicle Operations (SVO) has revealed the most powerful, agile and extreme performance Jaguar road car ever – the 200mph, 600PS XE SV Project 8 sedan - is a goosebump-making statement.
Sure; we aren't going to be able to afford it!
Sure; we aren't going to be able to do the school run in it.
And yes; it is probably sold out already after making its debut at the Goodwood Festival of Speed in June, where it made its dynamic world debut on the famous Goodwood Hill.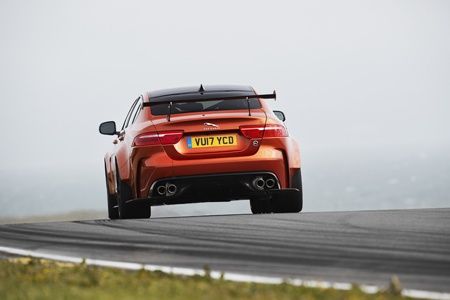 But that still doesn't stop us having car envy as we appreciate beauty in the same way that my grandson does when watching fidget spinner videos.
This second Collector's Edition by SVO follows the successful F-TYPE Project 7 back in 2014, and is a hand-built four-door sedan with supercar performance that is actually road legal. A dramatic combination of explosive power, dynamic agility and all-wheel-drive traction, there will be only 300 built (here in the UK in Coventry at the SVO Technical Centre), and John Edwards, Jaguar Land Rover Special Operations Managing Director, is just one person excited by the Project 8:
"SVO's raison d'être is to produce halo vehicles that push the boundaries in terms of luxury, performance and all-terrain capability. Project 8 is a great example of what happens when enthusiastic designers, engineers and manufacturing specialists are given the opportunity to create an extreme performance sports car without compromise."
Project 8 exclusively features the most highly tuned version of Jaguar Land Rover's 5.0-litre Supercharged V8 petrol powertrain that has yet been created, and has a 600PS power unit with a Titanium Variable Active Exhaust. Add in Jaguar's All-Wheel Drive (AWD) system and motorsport-derived aerodynamics, and the promised top speed of 200mph and 0-60mph in 3.3sec acceleration seems utterly believable. (In fact, Project 8 is the fastest accelerating Jaguar yet.)
It's the "most track-focused car SVO has ever produced", and the Jaguar XE SV Project 8 features a number of specific modifications that have been made to the award-winning XE's lightweight aluminium body panels, including: Carbon Fibre Bumper with enhanced Cooling Ducts, vented Carbon Fibre Bonnet, flared bodywork covering 20-inch forged aluminium alloy wheels, adjustable Front Splitter, Flat Underbody, rear Carbon Fibre Bumper, rear Diffuser and adjustable Rear Aerodynamic Wing. With all this Carbon Fibre, Project 8 becomes the lightest V8 sedan in the Jaguar range.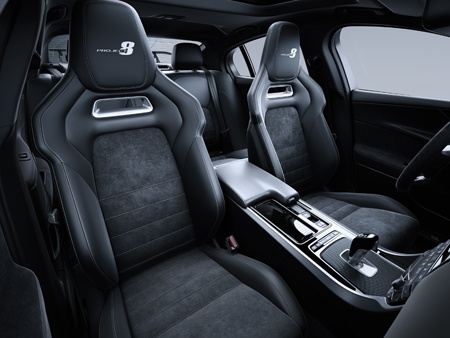 For those of us salivating over the performance of Project 8, we can point to the double-wishbone front, Integral Link rear suspension with stiffer springs, manually adjustable Continuously Variable Dampers, new Carbon Ceramic Braking system, silicon nitride ceramic wheel bearings, and rear Electronic Active Differential (EAD) with oil cooler as reasons for the exceptional.
The high-performance theme continues inside, with Gloss Carbon Fibre trim, Alcantara, Project 8 Sport Steering Wheel, and eight-speed Quickshift transmission operated by either aluminium paddle shifters behind the steering wheel or by a central Pistolshift lever all reasons for the shivers.
And for those drivers who decide that the road isn't good enough for them, the Project 8 is also the first Jaguar to feature a dedicated Track Mode for use where the tin says it should be used, sharpening both throttle and steering responses for ultimate precision and driver feedback.
The Project 8 truly is a labour of love, created, as Mark Stanton, SVO Director, says by a team at SVO "full of performance car enthusiasts that are now briefed to deliver motorsport science and soul in what is effectively a four-door supercar."
Project 8 is available in two specifications, sadly not for leasing but for purchase.
Built in left-hand drive configuration only, the standard four-seat model features Jaguar's latest front Performance seats with magnesium frames, while the optional two-seat Track Pack includes lightweight front Carbon Fibre Racing Seats with Four-Point Harnesses fixed to a Harness Retention Hoop in place of the rear seat.
There are also eight body colour choices – three standard colours: Fuji White, Narvik Black and Caldera Red, plus five enhanced SVO Design options incorporating colours and finishes from the SVO Premium Palette: Valencia Orange, Velocity Blue, Meribel White, Verbier Silver and Corris Grey (satin matte). And there is also the option of personalising it further with further colours and finishes from the SVO Premium Palette range, which includes 19 colours in tri-coat, tinted clear coat, pearlescent, ChromaFlairTM and satin matte finishes.
I am guessing these are all gone by now, and that the only way that I will ever get close to a Jaguar is via leasing, but I can dream, can't I?