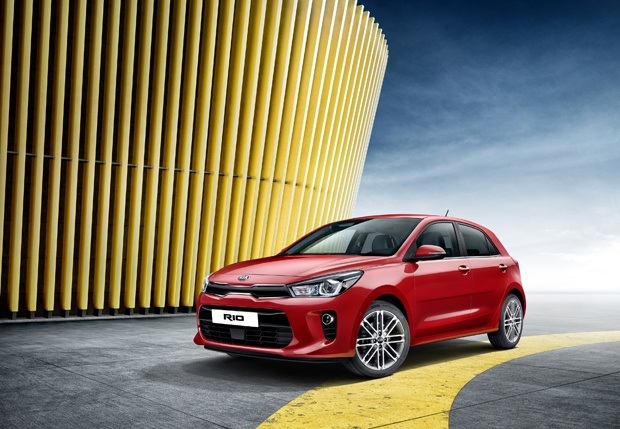 The all-new, fourth-generation Kia Rio made its world premiere in Paris at the 2016 Mondial de l'Automobile, looking good with its progressive new designs inside and out.
A combination of designs from both Germany and California, the new Rio looks distinctive and simply oozes confidence for its new owners.
Outside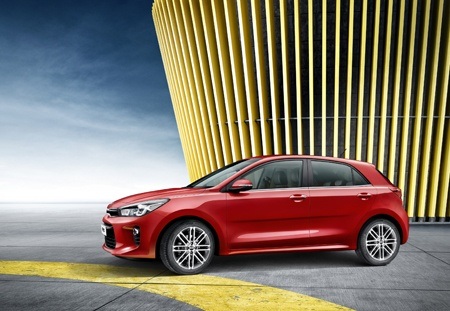 Visitors to the Paris Motor Show were able to see for themselves the latest evolution of Kia's 'tiger-nose' grille that adorns the new Rio right across the front of the car. And this width combines with a repositioning of the fog lamps and thinner and more sculptured integrated bi-function projection headlamps to give more stability and projection to the look of the car from a head-on first impression perception - although it is slightly wider (by 2") than its predecessor.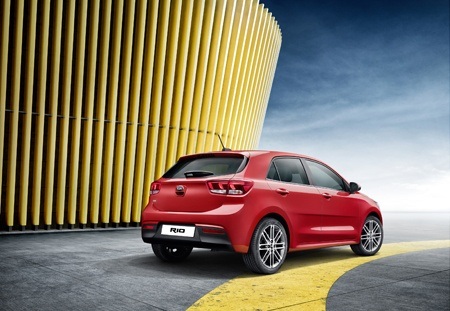 A long bonnet and longer front overhang, a 10 mm longer wheelbase, thinner, more upright C-pillar, and a shorter rear overhang gives the new Rio and stable look in profile, with extra length and less height than before, with straight and clearly-defined lines running down the full length of the car's shoulder and along its doors to further add to the new model's confidence.
And the car's strength is further emphasised with a more upright rear section headed up by a shorter overhang and a near-vertical rear windscreen. Joined to the front of the car by a straight line that runs from the grille, through the headlamps and along the top of the doors, the more sculptured rear lamps now feature a new arrow-shaped LED light signature.
Inside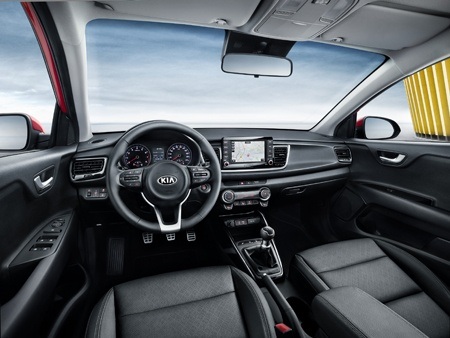 The new Kia Rio has a modern new cabin design, ergonomically designed with the driver in mind with the design itself creating a wider appearance and sense of space for all occupants.
The dashboard is now angled towards the driver, and at its centre is a new infotainment system, a 'floating' HMI with a high-resolution touchscreen that enables the driver to control the Rio's audio, navigation and new connectivity systems, and has enabled Kia to reduce the number of buttons on the centre console itself.
Beautifully packaged with gloss black and metallic trim throughout and a choice of black or grey cloth seat upholstery, or with black or grey faux leather, the new Rio also offers a 'Red Pack' for the fashion-conscious made up of red faux leather-trimmed seats throughout the cabin.
It almost goes without saying that the all-new Rio offers class-leading practicality and safety technology, the latest connectivity features, and more assured and engaging ride and handling characteristics, so when it goes into production for the UK at the end of 2016, there will be a lot of people wanting to make the journey to the world of the Kia Rio.
To stake your claim for a small piece of Korean-led South American sunshine next year, contact one of Nationwide Vehicle Contract's Customer Service Team,