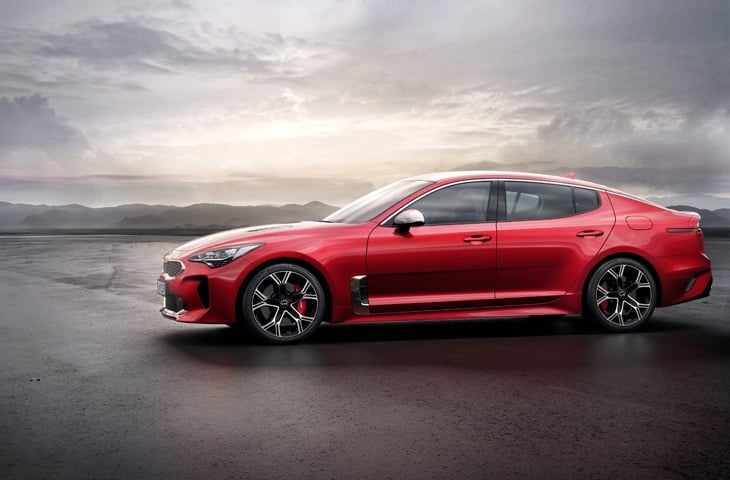 Having been originally launched back in January at the 2017 North American International Auto Show (NAIAS) in Detroit, Kia has now revealed the European specification of the Kia Stinger - a powerful new fastback sports sedan that was originated in the GT4 Stinger concept back in 2014, and has now finally come to fruition.
Once released, the new four-door, five-seater Kia Stinger will be the highest-performance production vehicle in the company's history when it debuts in Europe at the end of 2017 with a choice of three engines: a 2.0-litre turbo petrol engine, a powerful 3.3-litre twin-turbo V6, and – for the first time – a 2.2-litre turbodiesel engine.
Design
Overseen by Peter Schreyer, Chief Design Officer of Kia Motors, and Gregory Guillaume, Chief Designer at Kia Motors Europe's design studio in Frankfurt, Guillaume comments: "The Kia Stinger is a true gran turismo, a car for spirited long-distance driving. It's not about outright power, hard-edged dynamics and brutal styling, all at the expense of luxury, comfort and grace. The Kia Stinger has nothing to do with being the first to arrive at the destination – this car is all about the journey. It's about passion."
So not for nipping to the shops in ,then!
Looking pretty muscular from the outset, the long bonnet and short 830 mm front overhang work with the extended wheelbase to deliver a spacious cabin, and the long rear overhang helps give the car an air of "elegance and athleticism, rather than aggression and brutality."
It looks sporty more than anything else, its aerodynamic efficiency aided by the fastback shape and silhouette, the front air curtains, wheel arch gills, smooth underbody, four oval exhaust pipes, and integrated rear diffuser – all finished off nicely by Kia's signature 'tiger-nose' grille sitting between complex LED headlamps.
Gregory Guillaume described the car as a gran turismo, and this is nowhere better demonstrated than by the layout and atmosphere of the low-slung cabin, with its steeply-raked windscreen and high dashboard. Inside the cabin, the dashboard's centre console is split into two specific areas: Infotainment with a large colour touchscreen, and Climate and Ventilation underneath,
A thick, leather-wrapped steering wheel sits in front of a single instrument binnacle that mixes analogue and digital instrumentation within the large metal ringed gauges with red needles that sit either side of the colour TFT screen.
And performance data such as cornering G-forces, lap times and trip computer information are displayed here, along with driver settings, navigation and diagnostics.
Amongst the feeling of "cocooned intimacy", there is plenty of room for heads and legs both front and rear in complete luxury within the Stinger's deeply-contoured seats (available with ultra-soft Nappa leather), while the driver's seat is available with air-cell bladders in the seatback and side bolsters for optimal support.
Engines and drivetrain
As stated previously, when the Kia Stinger is launched in Europe in the last quarter of 2017, there will be three engines available to "offer drivers effortless gran turismo-style high-speed cruising and instant acceleration when called upon by the driver".
It is estimated that the majority of European sales for the Stinger will feature a 2.2-litre turbodiesel engine capable of producing 200 ps at 3,800 rpm, a maximum torque of 440 Nm across a wide 1,750-2,750 rpm range, 0-to-100kph acceleration in 8.5 seconds, and a top speed of 225 kph.
There then follows a 2.0-litre turbocharged four-cylinder 'Theta' engine that produces 255 ps at 6,200 rpm with a maximum torque output of 353 Nm available from 1,400 to 4,000 rpm.
And then the Stinger's most powerful engine available will be a 3.3-litre twin-turbocharged V6 'Lambda II' petrol engine, with peak power of 370 ps arriving at 6,000 rpm, and 510 Nm torque accessible from 1,300 to 4,500 rpm. This means an acceleration capability from 0-to-100 kph in just 5.1 seconds, making it the fastest-accelerating production Kia ever, up to a top speed of 270 kph.
Fitted as standard with all engines, the Stinger features the second-generation of Kia's electronic eight-speed automatic transmission, which marks Kia's first use of a Centrifugal Pendulum Absorber (CPA) torque converter to reduce torsional vibrations through the drivetrain. The transmission offers up to five different shift and throttle programmes (as well as levels of steering assistance), which drivers can select through the car's electronic Drive Mode Select.
The Kia Stinger is available with either rear- or all-wheel drive – the first Kia sedan to be so - with the rear-biased all-wheel drive system equipped with Dynamic Torque Vectoring Control, monitoring driver inputs and road conditions to allow it to automatically apply power and braking force to the appropriate wheels to maintain course in the wet or dry.
Ride, Safety and Infotainment
The new Kia Stinger features many systems to ensure that everything about the ride in it is as perfect as can be. These include:
A MacPherson strut front suspension system
An electronically-adjustable suspension system, Dynamic Stability Damping Control (DSDC).
Drive Mode Select with five drive modes: Eco, Sport, Sport+, Comfort and Smart.
A variable ratio rack-mounted motor driven power steering system (R-MDPS)
A choice of alloy wheels and high-performance tyres (model dependant)
Kia's latest Advanced Driver Assistance Systems (ADAS), under the brand's DRIVE WiSE sub-brand.
Kia's Vehicle Stability Management (VSM)
Electronic Stability Control (ESC)
Forward Collision Warning with Autonomous Emergency Braking and pedestrian recognition
Advanced Smart Cruise Control
Lane Keeping Assist System
Rear Cross Traffic Alert
Surround View Monitoring System for low-speed manoeuvres
Blind Spot Detection
High Beam Assist.
Driver Attention Alert (DAA) system to combat distracted or drowsy driving.
Height-adjustable Head-Up Display (HUD)
Wireless smartphone charging pad
Bluetooth integration is standard across the Stinger line-up.
Six-speaker base audio system and a 7" haptic touchscreen (Optional nine-speaker system with external amplifiers)
The Kia Stinger will enter production in the second half of 2017, and will go on sale across Europe during the fourth quarter of the year.