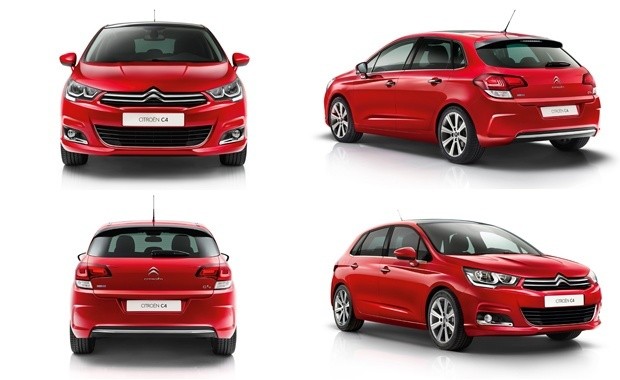 (But available to order now!)
Back on 2010, I wonder if Citroën knew that, at the start of 2015, they would be looking at sales figures of over 450,000 in nearly 5 years, and the eagerly awaited production of the second-generation Citroën C4? If they didn't; it's here with a new light signature, new technologies and the latest-generation engines ready to set new standards for comfort, design and driveability in the compact hatchback sector as it prepares for an April forecourt debut here in the UK with orders available right now.
WHAT'S NEW
For starters there is a new light signature that makes the front end more expressive especially with the addition of LED running lights and the rear a touch more dynamic with new 3D-effect tail lights.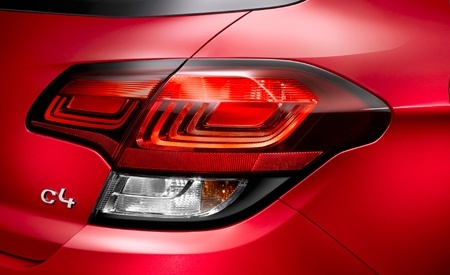 Inside, the seats are upholstered in new materials and there are changes to the dashboard (simpler with a new centrally located 7" Touchscreen), acoustics, the front seats (an option for a massage facility along with the new upholstery) and the panoramic glass roof (now with an electric blind.) Technologically hands-free keyless entry & start has been added along with Hill Start Assist, Intelligent Traction Control and a Blind Spot Monitoring system - all viewable on the touchscreen; and changes to powertrains has seen the new Citroën C4 available with the very latest-generation engines that enhance driveability and reduce fuel consumption with the 3-cylinder PureTech petrol engines and BlueHDi Diesels all meeting Euro 6 standards.
There is also more space as the wheelbase has been modified to 2.61m with split folding rear seats and a boot volume of 408 litres setting the standard in this segment.
A BIT MORE DETAIL FOR YOU
DESIGN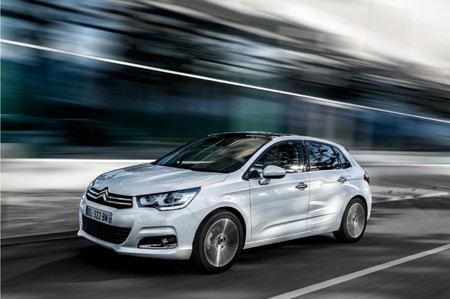 You can see from the pictures here just how classy the new Citroën C4 New Range is as the chrome chevrons connect the headlights and the ribbed bonnet, before curving into the wings to make the front end immediately recognisable, and unforgettable with the new 3D-effect chrome-finished modules in the new headlights dragging the car into the modern days (changing as they do every week, so it seems.)
At the rear, the new rear 3D-effect lights are framed by the touches of chrome on the bumper and help to highlight the sleek, wide tailgate., before finally we can rest with a glance at the new 17" 'Miami' alloy wheels that are available as part of the Plus Pack enhancing the model's premium appearance.
9 colours are available in the C4 New Range including 2 new colours - Platinum Grey and Spirit Grey.
THE INTERIOR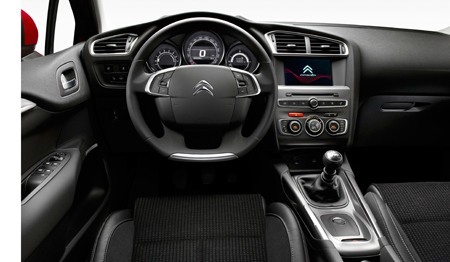 The whole point of these changes to the C4 are so that the new range can deliver its ultimate aim of driver and passenger comfort, customer peace-of-mind and a unique motoring experience that is stress-free.
This is why the decluttering of the dashboard was so important along with the addition of the new 7" touchscreen; the recovering of the seats with a choice of new upholstery options that include Black/Grey 'Rayados' cloth on Feel models and Grey 'Liberal' cloth on Flair models, and touches of chrome on the steering wheel, air vents and gear lever just finish off the look that you know is just going to give you a great ride.
And that itself is something that the designers and engineers have strived to achieve with the Citroën C4; hence the superb on-road handling and precision steering that quite simply translates into exceptional safety and stress-free driving. Contributers to this achievement include the like of the McPherson-type front suspension, a flexible transverse beam at the rear and the electro-hydraulic steering that were inserted both to reflect Citroën's engineering know-how and also to contribute to high standards of comfort and driveability.
CABIN COMFORTS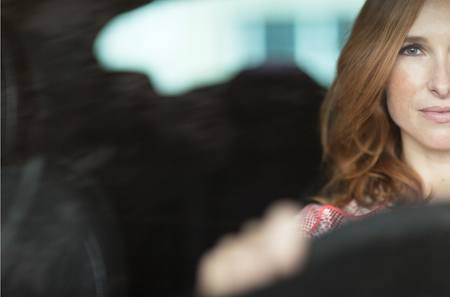 So, before we look at what is there to make the journey a safe one, let's investigate what is there to make it an enjoyable one.
The seats are designed for comfort with the option of a massage function with electric lumbar adjustment; the windscreen has an angle of 27° to ensure optimum visibility; there's a large sunroof as an option too that has an electric blind; In the windscreen there is soundproofing film, vibration absorbers in the engine compartment and sealing barriers on the bodyshell and doors to ensure that the acoustics inside the car are nothing short of excellent - perfect to enjoy the high-performance audio system that uses sound spatialisation technology; a DENON Hi-Fi system with a digital amplifier, rear tweeters and subwoofers make sure that your choice of sound is always heard at its best; and finally the driving position has all controls within easy reach.
SPACE AND VERSATILITY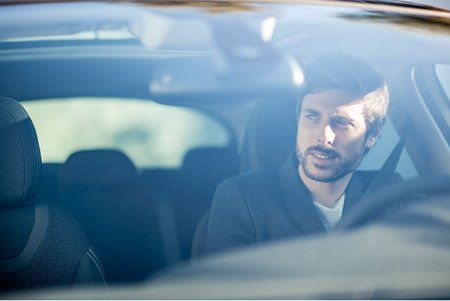 The Citroën C4 provides plenty of interior space, with a 2.61m wheelbase and a rear (split folding) seat with ample elbowroom of 1.45m even though the overall dimensions are unchanged. Storage is no problem with a boot space of 408 litres and other little spatial touches around the car such as a large glovebox, door pockets in the front with space for a 1.5 litre bottle, drawers under the front seats, storage space on the dashboard and under the front armrest.
TECHNOLOGY AND THE DRIVER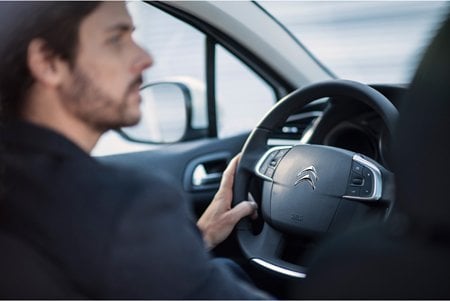 It is part of the auto world now that car manufacturers are producing technologies that have the sole aims of safety and helping the driver. Technologies such as Electronic Brakeforce Distribution, Emergency Braking Assistance and Intelligent Traction Control coupled with ESC all contribute to any car's well-balanced road handling - and they are in place here too as the "Citroën C4 New Range makes daily life simpler and more delightful with an array of useful and intuitive technologies."
The new 7-inch Touchscreen is a standard piece of equipment on Flair versions and an option on the Feel trim level, and it is there to help both the drive and the driver, helping to streamline the dashboard, display maps, speed limits, traffic conditions, Media (including radio, audio streaming and portable-device connectivity).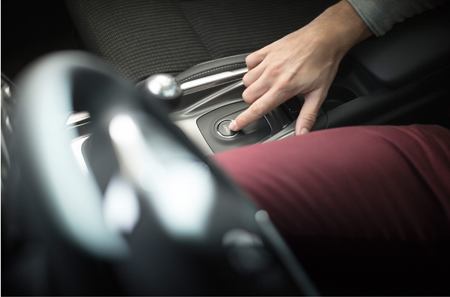 Telephone (hands-free functionality via Bluetooth®, directory access and double-call management) and the settings that the car is using at that precise time.
And then there are the Smart technologies that "make driving easier and trouble-free."
We are talking Keyless entry & start that allows the car to be unlocked and started while the electronic key remains in the driver's pocket (this is optional on Feel and Flair versions), Intelligent Traction Control (ITC) that helps the Citroën C4 provide better grip on slippery surfaces, Hill Start Assist (an electric parking brake that automatically holds the vehicle steady for two seconds to allow an easy start on gradients of over 3%), a static cornering function on the front fog lights that shine an additional beam on the inside of corners when required, and an ultrasonic Blind Spot Monitoring System that warns the driver when a vehicle is in a blind spot.
NEW ENGINES
The Citroën C4 New Range features new Euro 6-compliant engines that combine fuel efficiency with high standards of performance in the shape of two PureTech petrol engines and four BlueHDi Diesel engines.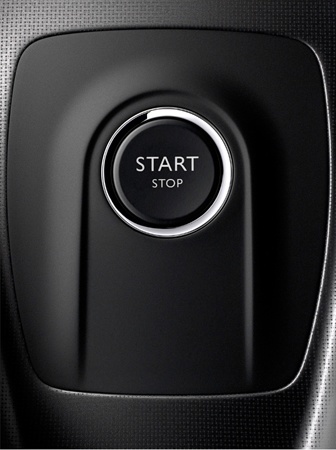 Let us first look at the petrol engines: the PureTech 110 and PureTech 130 S&S
PureTech engines are part of a new family of 3-cylinder petrol powerplants that have been designed and manufactured in France that incorporate innovative technologies designed to get fuel consumption dropped by up to 25%.
These turbocharged versions are based on the 3-cylinder architecture of the naturally aspirated engines in the PureTech family, and come equipped with an advanced, high-performance turbo compressor (240,000rpm) and a central high-pressure direct injection system (200bars).
The PureTech 110 engine with manual gearbox delivers maximum power of 81kW (110hp EEC) at 5,500rpm and torque of 205Nm at 1,500rpm, with performance from fuel economy an impressive 60.1mpg combined cycle and emissions down to 110g of CO2 per km as it combines with the ultra-low rolling resistance tyres.
The PureTech 130 S&S engine is now available with either a 6-speed manual or a new 6-speed Automatic transmission named EAT6 to help deliver a maximum output of 96kW (130hp EEC) at 5,500rpm and torque of 230Nm at 1,750rpm.
On to the diesel engines - BlueHDi 100, BlueHDi 100 S&S, BlueHDi 120 S&S and BlueHDi 150 S&S - which are part of the BlueHDi family (the clue is in their names), a range of engines that were originally rolled out at the end of 2013 to help drastically reduce nitrogen oxide (NOx) emissions and lower CO2 emissions by up to 4% to comply with the more stringent Euro 6 regulations, and used in conjunction with the well-known Stop & Start technology.
Both the BlueHDi 100 and the BlueHDi 100 S&S engines deliver maximum power of 73kW (99hp EEC) at 3,750rpm, with torque of 254Nm at 1,750rpm, with BlueHDi 100 S&S variant delivering combined cycle fuel economy of 85.6mpg with CO2emissions as low as 86g/km.
The BlueHDi 120 S&S with a 6-speed manual gearbox delivers a 78.5mpg combined cycle fuel economy and CO2 emissions of 95g/km with ultra-low rolling resistance tyres. This engine delivers maximum power of 88kW (120hp EEC) at 3,500rpm with 300Nm of torque at 1,750rpm.
A BlueHDi 120 S&S EAT6 powertrain will be available on Feel and Flair versions from May 2015 with the promise of fuel economy of 74.3mpg combined cycle fuel economy and CO2 emissions from 98g/km with ultra-low rolling resistance tyres.
The BlueHDi 150 S&S engine, mated to a 6-speed manual gearbox, delivers maximum power of 110kW (150hp EEC) at 4,000rpm with 370Nm of torque at 2000rpm, yet still manages a combined cycle fuel economy of 74.3mpg and 98g/km CO2 emissions.
Enough for you to consider the all-new Citroën C4? I should think you may at least give it a cursory glance.