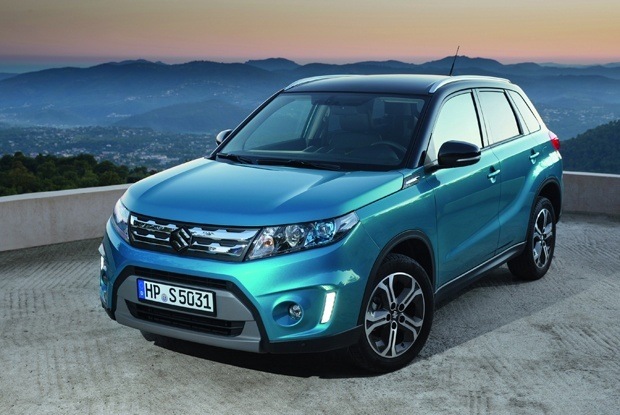 Ever since it launched to the car market in 1988, the Suzuki Vitara series has been renowned as a car with a stylish, city oriented design, compact and easily manageable dimensions, a good on-road performance and the genuine capability to go off-road capability - and through the years, evolution has seen it grow and mature.
But now, over 25 years on from those halcyon days back when Rick Astley and Kylie Minogue ruled the airwaves and the charts, it is time for the Suzuki Vitara to embody itself in a fresh sport utility vehicle incarnation - the all-new 5-door Compact SUV Suzuki Vitara. With smaller dimensions to meet the needs of the new city-led world that we live, but incorporating Suzuki's cutting-edge ALLGRIP four wheel drive system for when the shackles are taken off, the new Vitara enables owners to express themselves.
Specification Highlights
Over the three models available (SZ4, SZ-T and SZ5) the highlights are almost too numerous to mention, and a full list would hardly do the car justice, but let's just give you a little taster of what you can expect from the latest SUV to hit the street (roads, hills, woods....)
Highlights for the SZ4 include seven airbags, 16" alloy wheels, DAB Radio with USB and Bluetooth connectivity, Cruise control with speed limiter, auto air conditioning, front and rear electric windows and projector headlamps.
Moving on up to the SZ-T we add in 17" silver painted alloy wheels, rear privacy glass, Smartphone link audio and navigation system, before ending up at the top of the Vitara tree with the SZ5 and its addition of LED Projector headlights, 17" polished alloy wheels, suede seat fabric, keyless entry with start button, Adaptive Cruise Control, Radar Brake Support and Panoramic sunroof.
You'll be pleased to hear that all models have a comprehensive list of active and passive safety equipment that includes a Radar Brake Support system (available on SZ5 models), a light, impact absorbing body, a speed limiter, an ESP® (Electronic Stability Programme) and a tyre pressure monitoring system (TPMS). SZ5 models also have Adaptive Cruise Control available to make sure that the drive is that much more relaxed and refined.
With the all-new Vitara you find that the power behind the throne is either a M16A 1.6-litre petrol engine or a D16AA 1.6-litre DDiS engine.
On the petrol side, Suzuki have managed to keep fuel economy at a premium by reducing both internal friction in the engine as well as in the overall weight of the powertrain- which also aids the high output and torque of the new car. When it comes to the diesel version, a new EGR (Exhaust Gas Recirculation) system and an electronically controlled VGT (Variable Geometry Turbocharger) work together with other more familiar parts to help achieve powerful performance when it comes to torque together with the production of low emissions and Euro 6.
In fact, the CO2 emissions of the new Vitara are low thanks not only to the engine production and changes, but also to the use of high tensile steel and other weight-saving measures in the actual body of the vehicle and the Engine Auto Stop Start system (as standard) which shuts down the engine when stationary. When it comes to actual figures we are talking 123g/km for the petrol engine with two wheel drive / manual transmission and 127g/km for the petrol engine with two-wheel drive / six-speed automatic transmission.
Even when the car is in full four-wheel drive (typically seen as detrimental to fuel economy and emissions performance), the Vitara makes full use of Suzuki's ALLGRIP system which helps the CO2 emissions to produce figures as low as 130g/km with five-speed manual transmission and 131g/km with six-speed automatic transmission.
The new Vitara also has outstandingly low CO2 emissions with the DDiS engine, emitting just 106g/km with two-wheel drive / six-speed manual transmission and 111g/km with four-wheel drive / six-speed manual transmission.
Personalisation
Right from the start when the Vitara was being developed, Suzuki always had it in mind that the model would be one that customers would be able to personalise to their own taste, with diverse exterior colours and a range of design details available according to personal choice.
With the all-new Suzuki Vitara, customers can choose from 10 body colour possibilities - including two new colours in the shape of Atlantis Turquoise Pearl Metallic and Horizon Orange Metallic - 4 Instrument panel trim colours (turquoise, orange, white, or piano black) and Ventilation louvre rings (turquoise, orange, white, or piano black), and a choice of CARBON or KANJI for the centrally located clock.
There is also an Urban package available consisting of chrome-plated fog lamp bezels, body-side mouldings, and a roof spoiler, and a Rugged package front and rear skid plates, fog lamp bezels, body-side mouldings, and loading edge protection.
Looks like the next 25 years have had a great start!