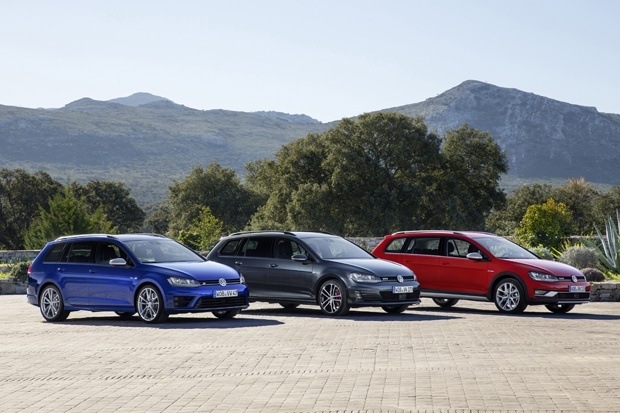 Soon to be part of Nationwide Vehicle Contracts' outstanding options of VW Golf Leasing Deals, Volkswagen have announced the imminent arrival of a trio of hot Golf Estates – the Golf R and GTD Estates and the Golf Alltrack.

The Golf R Estate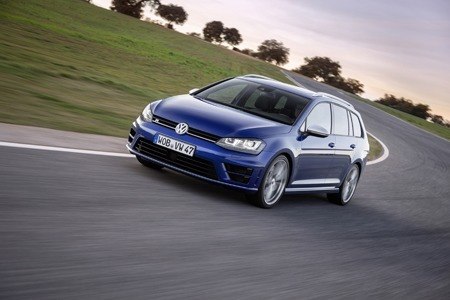 Similar to the Golf R hatch, the Golf R Estate is powered by a 2.0-litre (1,984 cc) four-cylinder turbocharged TSI petrol engine that offers up maximum power of 300 PS from 5,500 to 6,200 rpm with a maximum torque of 380 Nm (280 lbs ft) available from 1,800 up to 5,500 rpm.
Joining the VW Golf Estate family, the Golf R Estate's acceleration to 50mph is a pretty damn impressive 3.8 seconds, with the increase to 62 mph achieved in just 5.1 seconds; all the way up to an electronically-limited top speed of 155mph.
Style-wise and spec-wise, check out the Golf R Estate hatchback - although the Estate is only available with a six-speed DSG gearbox.
The Golf GTD Estate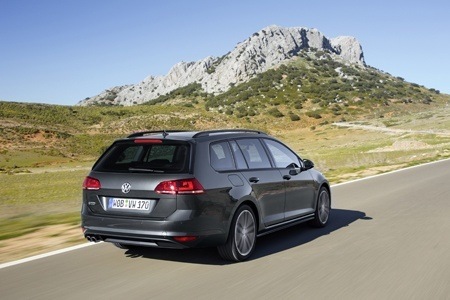 In a nutshell, the Golf GTD Estate is "a booted version of Volkswagen's iconic long-distance sports cruiser," and another welcome addition to the VW Golf Estate family.
At the heart of the new estate model is a massive 2.0-litre (1,968 cc) common rail TDI engine producing 184 PS from 3,500 to 4,000 rpm and giving maximum torque of 280 Nm (380 lbs ft) from 2,500 to 5,000 rpm.
Despite the size of the model, and because of the engine, the Golf GTD Estate can accelerate from 0-62mph in just 7.9 seconds up to a 143mph top speed - yet still is an economical beast. On the combined cycle, fuel economy is 64.2mph and emissions are just 115 g/km.
A six-speed manual gearbox is standard, while an optional six-speed DSG version is available.
The Golf Alltrack
Back in 2012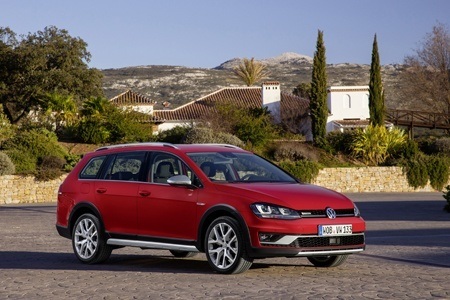 , Volkswagen released the VW Passat Alltrack, and the Golf Alltrack follows its not inconsiderable footsteps, closing the gap between the on- and off-road worlds, both visually and technically, and proving to be a more than adequate rival to the Seat Leon X-perience and Skoda Octavia Scout.
The Golf Alltrack is perfectly designed for an off-road lifestyle with on-road benefits, and features (amongst other things):
A standard 4MOTION all-wheel drive system
Six-speed twin-clutch, four-wheel drive
Off-road driving profile
Higher ground clearance (up to 20 mm)
Flared wheelarches and side sills
Newly designed bumpers.
17" alloy wheels
For the Golf Alltrack there are 3 engines available for UK customers, all from the existing Volkswagen Golf range: A 1.6-litre TDI 110 PS (a version of the engine used in the Golf BlueMotion), a 2.0-litre TDI 150 PS and a 2.0-litre TDI 184 PS (available with DSG gearbox only).
Both the Golf R Estate and Golf GTD Estates have all the attributes of their popular hatchback counterparts, including like for like trims, but also benefit from an increased boot space from 380 litres to 605 litres – increasing to around 1,620 litres when the rear seats are folded flat. The Alltrack and the R Estate also offer 4MOTION four-wheel drive.
Book your interest in the VW Golf Alltrack with one of our representatives, and prepare for the off-road VW journey.