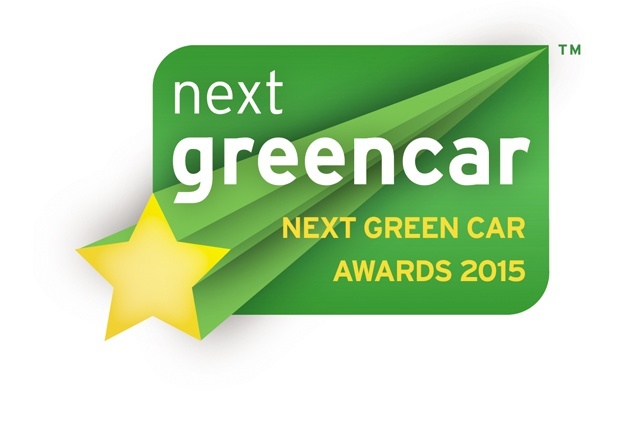 Yesterday we revealed the Next Green Car Awards shortlist with some of the biggest names in low-emission cars fighting it out for to spot in these prestigious awards.
And today sees those awards handed out as the Next Green Car website recognises the UK's best green cars for 2015.
Carefully selected from the green car shortlist featuring 44 new models competing across 10 categories (nine vehicle segments plus a 'Next Generation' award), Ben Lane, Managing Editor at Next Green Car was quick to comment: "Despite the recent emissions scandal, the NGC Awards 2015 demonstrates that vehicle manufacturers are continuing to innovate and offer genuinely low emission models to UK car buyers. This is being enabled by the use of electric drivetrains as evidenced by the fact that 40% of this year's winners are either a plug-in hybrid or a pure EV."
In fact, 80% of the winning and commended models this year emit less than 100 g/km tailpipe CO2, (with six have plug-in capability - four PHEVs and two pure EVs), with the average CO2 figure of the cars receiving an award in 2015 coming out as just 72 g/km.
All of the shortlisted and winning models were either launched in the UK during 2015 or have UK release dates in 2016, with all cars also receiving Next Green Car's unique NGC Rating which rates the environmental impact of all new cars on the UK market.
So, to the winners
Citycar Award 2015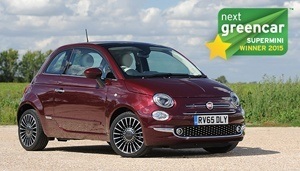 WINNER: Fiat 500 0.9 TwinAir - 90 g/km CO2 - NGC Rating 29
NGC Verdict: "Fiat has taken the popular and successful 500 and made it even better. Economy figures rival the best in its class and the characterful citycar offers a great blend of frugal fun and practicality."
COMMENDED: Smart fortwo 1.0 – 93 g/km – NGC Rating 30
Supermini Award 2015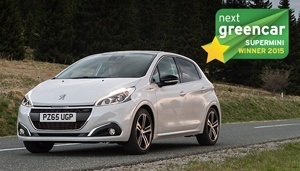 WINNER: Peugeot 208 1.6 BlueHDi – CO2 79 g/km – NGC Rating 27
NGC Verdict: "Peugeot's stylish supermini towers above the sector with exceptional economy figures. Low running costs combine with a great town driving experience to make the new 208 a top small car pick."
Peugeot comment: "We are absolutely delighted to have won this Next Green Car 2015 award. As leaders in the CO2 'race' with a CAFE* rating of just 106.3g/km, our best-selling 208 with CO2 from 79g/km fully deserves recognition as the most efficient non-hybrid car on the UK market." Neil Moscrop, Peugeot Brand Director [*Corporate Average Fuel Emissions]
COMMENDED: Mazda 2 1.5 Skyactiv-D- 89 g/km – NGC Rating 30
Small Family Award 2015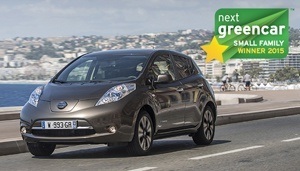 WINNER: Nissan Leaf 30kWh EV – CO2 0 g/km – NGC Rating 28
NGC Verdict: "The best-selling electric Leaf gets better still with a longer range and more kit. Now with fewer charges needed, the Leaf is an award-winning car in its own right, not just a winning EV."
Nissan comment: "Nissan is delighted that the recently launched longer-range 30kWh LEAF has won the [Next Green Car] Small Family Award 2015. This accolade is yet more recognition of the all-round practicality of the LEAF, particularly as a family car." Robert Tweedie, Nissan Motor (GB) EV Category Manager
COMMENDED: Volkswagen Golf GTE – 39 g/km – NGC Rating 34
Large Family Award 2015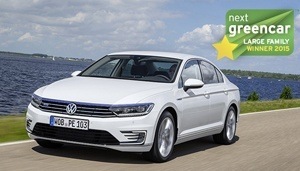 WINNER: Volkswagen Passat GTE – CO2 39 g/km – NGC Rating TBC**
NGC Verdict: "Volkswagen's Passat is an excellent large family car that performs well in every area. Add to it the plug-in hybrid powertrain that effortlessly provides drive for all situations and the Passat GTE becomes a dominant model in the large family class."
Volkswagen comment: "Success for the Passat GTE in the Next Green Car Awards' Large Family class, coming soon after other influential award wins for the Golf GTE in recent months, clearly underlines the real-world appeal of Volkswagen's plug-in hybrid models." Alex Smith, Director of Volkswagen UK
COMMENDED: Skoda Superb 1.6 TDI Greenline – 95 g/km – NGC Rating 34
Estate Award 2015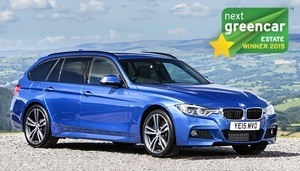 WINNER: BMW 3-Series Touring 320d ED Plus – CO2 104 g/km – NGC Rating 36
NGC Verdict: "The big-booted BMW 3-Series Touring models aim to be all the car you will ever need – frugal, fast, safe, comfortable and practical. In 320d ED Plus Auto guise it succeeds and offers an enjoyable car to drive every day."
COMMENDED: Skoda Superb 1.6 TDI Greenline – 95 g/km – NGC Rating 34

MPV Award 2015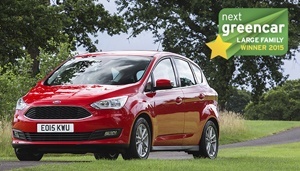 WINNER: Ford C-Max 1.5 TDCi – CO2 105 g/km – NGC Rating 36
NGC Verdict: "In the highly competitive MPV market, where value for money and space are the top considerations, Ford's C-Max adds an element of fun to these attributes while still offering low running costs."
Ford comment: "C-MAX has earned a reputation for providing a balance of great fuel economy, responsive, sporty handling and a flexible, roomy interior package. The new Ford C-MAX family also delivers levels of refinement often found in larger, more upmarket vehicles, while all powertrains benefit from CO2 improvements without sacrificing the car's great driving dynamics" Roelant de Waard, Vice President, Marketing, Sales & Service, Ford of Europe
COMMENDED: Volkswagen Touran 1.6 TDI – 111 g/km – NGC Rating 39
Crossover Award 2015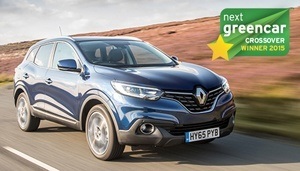 WINNER: Renault Kadjar 1.5 dCi – CO2 99 g/km – NGC Rating 34
NGC Verdict: "While it's taken some time for a new King of the Crossovers to arrive, Renault's all-new Kadjar easily takes the title. Efficient, comfortable, spacious and good value for money, the Kadjar raises the bar in the crossover segment."
COMMENDED: Mazda CX-3 1.5 Skyactiv-D – 105 g/km – NGC Rating 35
SUV Award 2015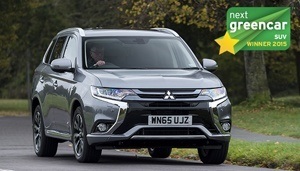 WINNER: Mitsubishi Outlander PHEV – CO2 42 g/km – NGC Rating 38*
NGC Verdict: "The new and significantly improved Outlander PHEV builds on the considerable success of the outgoing model. While still cheap to run, now with a refined cabin and driving experience, the new model secures Mitsubishi as a key player in the PHEV market."
COMMENDED: Volvo XC90 T8 TwinEngine – 49 g/km – NGC Rating 53*
Executive Award 2015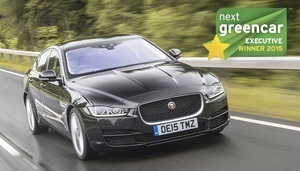 WINNER: Jaguar XE 2.0d – CO2 99 g/km – NGC Rating 36
NGC Verdict: "A true Jaguar, the new XE beats its rivals for style, comfort and fuel-frugality. A great driving experience combines with advanced engines to offer a superb – and very British – executive car."
COMMENDED: Mercedes Benz C-Class C350e – 48 g/km – NGC Rating 37
Next Generation Award 2015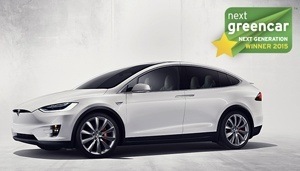 WINNER: Tesla Model X EV – CO2 0 g/km – NGC Rating TBC**
NGC Verdict: "As Tesla's most advanced electric car yet, the Model X is smart in form and function. With its added space and falcon-wing doors, it has the potential to be even more popular than the Model S. Tesla continues to move from strength to strength."
COMMENDED: BMW 330e PHEV – 49 g/km – NGC Rating TBC**
* NGC – Rating estimated
** TBC – Awaiting official data
At the announcement of the 2015 winners, Melanie Shufflebotham, Sales and Marketing Director at Next Green Car added: "The ten winners of the Next Green Car Awards 2015 are low emission models that are also great to drive. These awards seek to provide an independent assessment of the best new cars on the market, and, coupled with the NGC Rating and the suite of Next Green Car tools, help car buyers make good choices when looking for a more economical and lower emission car."
For more information on low-emission cars, and for some great leasing deals, browse our selection of fuel efficient car leasing deals, including electric and hybrid vehicles, here.