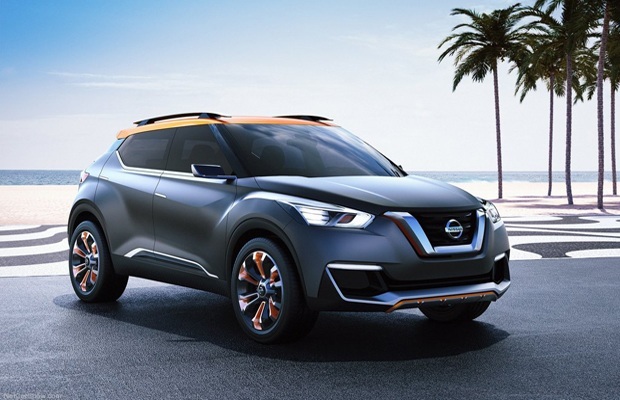 When you've already got three of the world's best crossover vehicles in the shape of the Juke, Qashqai and X-Trail, isn't it just showing off to produce another one – but this time a new supermini-SUV? Because that's just what Nissan have produced and are showing off at this week's Sao Paulo Motor Show with a car squarely aimed at the booming Brazilian market.

Nissan seem to be making a habit of giving special cars a debut in Sao Paulo, having debuted their EXTREM coupé concept back in 2012, and the Nissan Kicks Concept is certainly something to make you sit up and take notice, designed as it is to strike the 'sweet spot' between a typical Nissan performance car and what could well be considered a traditional compact SUV/

Executive design director Mamoru Aoki is that excited about the whole concept that he has gone maybe a little overboard with the description: "Where the stance of the Frontier pick-up might be compared to a power lifter and the GT-R a world-class sprinter, the Kicks Concept is like a Brazilian Jiu-jitsu fighter – coiled for action and precise in every movement," he said.

Nissan Brazil President François Dossa is a little more restrained: "The new Nissan Kicks concept takes the nissan EXTREM from pure fantasy to a market position that is a little closer to reality – and possibly toward a future production vehicle. While the exaggerated form of EXTREM, as the name suggests, was all about fun, the Kicks Concept adds elements of robustness and security that are highly appropriate for today's fast-moving Brazilian professionals."

The whole Kicks Concept car was the brainchild of collaboration between the Nissan Design Studios in San Diego and Rio, and overseen by the Global Design Centre in Japan and has a lot in common with the crossovers already in existence – but with some (not-so) obvious changes.

For a start there is what Nissan have called a 'floating' roof (something new when it comes to the design on a Nissan SUV), full wraparound glass and 19" aluminium-alloy wheels, with the promise of more to come.

In fact, it could be said that the whole kit and caboodle brings to mind the Range Rover Evoque, although with a longer wheelbase – but then again we need to remember that this particular concept has been created for the growing South American market where roads are so bad in some places that a high suspension and body cladding are necessary to even get out of the house!

Shiro Nakamura, Senior Vice President and Chief Creative Officer for Nissan, explained the importance of teamwork and local knowledge in the production of the Kicks Concept. "The Kicks Project has been an outstanding example of how our global design network works to create vehicles that are well suited to the regions where they will be seen and enjoyed. For this concept car, we called on our Rio de Janeiro team for their expertise and local insight. This type of collaboration between different studios has long been a strength of Nissan and is a key to our design leadership."

Whether or not we see Nissan Kicks over here in Europe is matter for the Nissan hierarchy, but there certainly is enough there to keep us all interested at the thought of it. In the meantime we can only cast envious eyes towards the South American Continent.