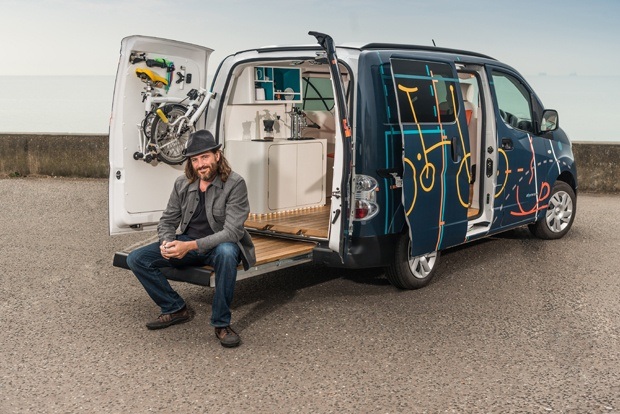 As flexible working and 'hot-desking' increases around the world, Nissan has collaborated with UK-based design firm Studio Hardie to create a cost-effective desk space solution in the shape of the first all-electric e-NV200 WORKSPACe concept.
Nissan's zero-emission e-NV200 van has been transformed to provide a showcase of Nissan's Intelligent Mobility vision, highlighting the customisable potential of its electric van.
As you can see in the video below, a professional office environment on wheels has been created, featuring an integrated fold-out desk, touchscreen computer, wireless internet, smartphone-controlled LED lights, wireless phone charging, Bluetooth® audio system, mini fridge and barista-quality coffee machine - almost everything you need in an office.
The Nissan e-NV200 WORKSPACe concept
Although initially a concept, Nissan are deadly serious about the viability of the e-NV200 WORKSPACe, using the undoubted benefits of the existing Nissan e-NV200, part of Nissan's popular zero-emission range, that combines the best elements of two multi-award winning vehicles – the Nissan Leaf and Nissan NV200.
It is already a zero-emission light commercial vehicle solution, with low vehicle running costs of £2 per 100 miles and a range of up to 106 miles on a single charge, and with the addition of the office option, it transforms a van that is already a great transportation option for businesses both big and small into a great working option for the business on-the-go.
Inside the best-in-class 4.2m³ load bay of the e-NV200, with the e-NV200 WORKSPACe we find a bright working environment thanks to a special panoramic glass roof, LED floor lighting (that can be customised to whatever colour scheme the user desires via a smartphone app) coloured trim, and decked-oak flooring. Even the front seats are office-orientated by being reupholstered in white.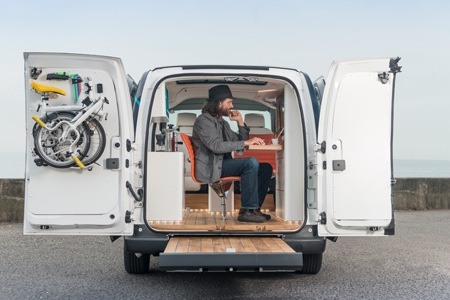 On the odd day in the UK that the weather is good, both side sliding doors can be opened along with the split rear doors, to create a real open-plan office, a clever floating deck that can be pulled out having been added to the rear to provide an outdoor area from which to take a phone call, work from a laptop or just chill out with a cup of coffee courtesy of a barista quality coffee maker concealed in the van. It rises mechanically from a console in the load bay with a full array of coffee-making equipment, stored in the overhead locker, for crafting the perfect espresso or cappuccino.
Inside the e-NV200 WORKSPACe there are two chrome and leather desk chairs, anchored to the van's oak flooring on custom mounts that can be configured to suit work or meeting occasions, with a wooden console positioned between that contains a wireless charging dock for smartphones, Bluetooth® music speaker and a drawer-based mini-fridge.
One of the chairs can be moved to a central mounting point where the user can sit at the fold-down desk console, which houses a touch-screen computer, wireless mouse and keyboard and array of stationary supplies, each with its own storage space.
The e-NV200 WORKSPACe can be rapid charged from empty to 80% power in just 30 minutes, and if you need to go to a meeting or a lunch appointment while the van is charging, the van provides an internal mount for a folding Brompton Bike, allowing users to make short trips.
Gareth Dunsmore, Director of Electric Vehicles, Nissan Europe said: "The Nissan e-NV200 is already a smart, sustainable transport solution for forward-thinking businesses, making it the ideal vehicle to be used as the basis for a mobile work place. The e-NV200 WORKSPACe takes the ingenuity of our 100 percent electric van a step further and by enlisting the design expertise of Studio Hardie - renowned for its creative eco approach - the e-NV200 has been re-imagined as an innovative, zero-emission working environment."
William Hardie, celebrated UK-based designer and founder of Studio Hardie, said: "We specialise in creating amazing spaces in unexpected places, but we've never done anything in an electric vehicle before. Given the van's green credentials we wanted to maximise the space with smart and considered features such as sustainably sourced materials and efficiently-powered technology. We believe the future of technology is a return to quality craftsmanship, so we've also looked to hone an environment that professionals will really enjoy working in. All the comfort and connectivity of a modern office, with a few surprising touches thrown in!"
Why has the e-NV200 WORKSPACe concept been created?
According to Deskmag.com, during 2015, "the number of co-working and hot-desking spaces worldwide increased by 36% as small businesses and working professionals looked for increased mobility and a more cost-effective alternative to traditional city-centre office space." And this has been accelerated by the costs of working in big cities like London.
The TUC stated that the average UK commuter already spends £358 on travelling to work each month, with London office space costing around £1,619 per square metre a year, with estimates suggesting that these costs are estimated to rise a further 1.4% over the next year.
Taking advantage of these facts, the e-NV200 WORKSPACe offers the opportunity to work for free in some city-centres that offer free EV charging bays, as well as providing extremely low fuel costs as befits an electric vehicle. You can even work away from the city in the countryside, the seaside, the lakes.....
"With property prices in our capital cities at such a premium and the modern professional needing to be ever more mobile, businesses will need to think smart and consider what the workplace of the future looks like," Gareth Dunsmore added. "With hot-desking and remote working on the rise, it is not too big a leap to see a future where our vehicles will become connected, energy efficient, mobile workspaces and the e-NV200 WORKSPACe project could become more than just a concept."
Although the e-NV200 WORKSPACe is a concept at the moment, there is no doubting the rise of electric options when it comes to vehicles in the UK, especially with Chancellor Philip Hammond signalling the Government's support of the idea in his Autumn statement (as reported in the Financial Times). So if you want to get yourself involved with the electric revolution, take a look at the green car options from Nationwide Vehicle Contracts, or contact one of our Customer Service Representatives to discuss options for vans such as the Nissan e-NV200.