The Nissan GT-R is already known around the world as one of the best performing supercars in superfast sphere of automobiles, so when Nissan teamed up with brand motorsport specialists Nismo to make the ultimate Nissan GT-R, you can be sure that it will BE the ultimate. And at the 2014 Geneva Motor Show at the start of March, the European debut of the Nissan GT-R Nismo will be something to behold.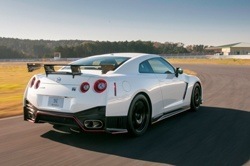 Even peeking a look at the DNA that it gets from the legendary Nismo global racing team is a dream come true for any supercar fan, and it's no wonder that the ultimate GT-R delivers on its promise of "supercar dynamics with revolutionary enhanced aerodynamics and ultra-precise handling."
The Nissan GT-R Nismo, currently available in Japan prior to its European sale launch in September. Looks like it is; part of a longstanding racing philosophy through style and form following function, with a whole stackload of motorsports-inspired technologies to make sure that the car's performance is at its very peak and perfectly well-balanced through the utilisation of optimised aerodynamics, suspension and powertrain.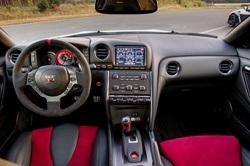 The Nissan GT-R Nismo is now available in Japan, and will go on sale in Europe in September. Complementing its authentic Japanese racing heritage, the new GT-R flagship also has roots in Europe, having been developed and tested at, widely considered to be one of the most challenging circuits in the world.
Nissan CEO Carlos Ghosn, speaking after yet more trials at Germany's famous Nürburgring Nordschleife, said this is the fastest Nissan GT-R ever: "With a 7:08.679 lap time, we can authoritatively say that the Nissan GT-R Nismo holds the volume production car lap record at the Nürburgring Nordschleife, which is the gold standard of high performance achievement."
For lovers of the finer details, here's a little taster of just what you can expect to find with the Nissan GT-R Nismo.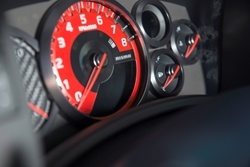 When it comes to the engine, there's a 3.8-litre V6 VR38DETT engine rated at 600PS (441kw) and 652 Nm of torque.
Available in 5 body colours - Brilliant White Pearl, Meteor Flake Pearl Black, Ultimate Metallic Silver, Vibrant Red and a unique Dark Matte Grey -  the car has undoubted style (as you can see) flanked by black 6-spoke wheels, and aerodynamic features created using the latest Computational Fluid Dynamic simulation techniques to analyse airflow.
Inside the cockpit the Nissan GT-R Nismo driver can cruise with confidence in ergonomically sculpted carbon-fibre-backed reclining RECARO seats using a three-spoke Alcantara® dressed steering wheel framed by a carbon-like instrument panel.
It's not just your everyday car really, is it?