Moving on from the flagship Nissan GT-R Nismo, flagship itself of the Nissan Juke range, the Nisssan Juke Nismo RS previews at the Geneva Motor Show this week with more power, sharper chassis, stronger brakes and extra equipment.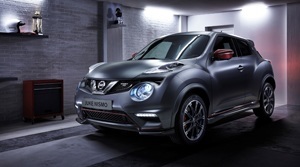 Taking all that is good about the existing and hugely popular Nissan Juke Nismo, the designers have infused the RS with motorsport inspired design, aerodynamics and engineering to create a more extreme version of the top selling compact crossover.
"With Nissan Juke Nismo already accounting for 3% of all Juke sales in Europe, the enthusiasts' desire for more performance is clearly there. The new Nismo RS version offers just that and cements Nismo's reputation as creators of digital age performance," said Guillaume Cartier, Senior Vice President, Sales and Marketing for Nissan in Europe
Considering the high standards that the team started from, it is pretty amazing that they have managed to find improvements to make; but make them they have.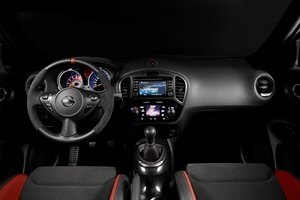 The advanced 1.6-litre DIG-T engine has been fine-tuned in the Nismo RS so that power is increased from 200PS (147kw) to 218PS (160kW) from 200PS (147kW) with torque being boosted (in two-wheel drive/manual transmission versions) from 250Nm to 280Nm thanks to the mechanical Limited Slip Differential (LSD) that is added to 2WD models on the driven front wheels.
Four-wheel drive versions of the Nismo RS don't need an LSD because they already have Torque Vectoring, Nissan's Xtronic transmission (with steering wheel-mounted paddle shifts fitted as standard to control the eight-speed manual mode) and 250Nm of torque.
Both strategic body strengthening and brakes enhancement have taken place too to accommodate the retuned engine performance – and in the case of the brakes front disk size has been increased and rear discs ventilated to accommodate the expected resistance to fade under repeated hard use.
And it not only SOUNDS like a sports car it LOOKS like one too!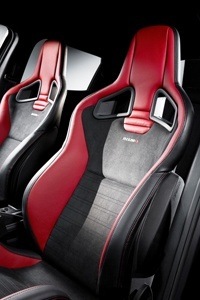 The new Juke Nismo RS is available in a choice of three exterior colours - White Pearl, Black Metallic or Silver Grey - with just a single bespoke interior treatment: the predominantly black Nismo cabin.
Red brake callipers and discreet 'RS' badging on the front and rear set the Nismo RS apart with the RS logo also making an appearance in the rev counter before a distinctive suede wrap on the instrument binnacle and an unusual water print finish on the shift knob/paddle shifters and the central cluster finish off the look.
As you would expect from a would-be sports car, the exterior of the Nismo RS is designed to be aerodynamic, and aerodynamic it is with lower front and rear bumpers, wider wings, sill side skirts, a dark chrome V-motion grille emblazoned with Nissan's new brand signature, and a tailgate spoiler all combining to do the job that they were designed to, having been developed using experience gained on the racetrack.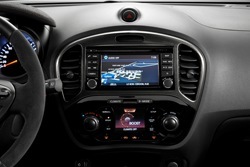 To fully complete the "look at that Sports Car" look, the Nismo RS sports red door mirror caps and a red pinstripe encircling the bottom of the car before new LED daytime running lights and 18" alloy wheels finish the job.
Inside there's a performance-oriented steering wheel, pedals, gauges, gear knob and door trims; special suede-trimmed Nismo sports seats with red stitching; redesigned upper lamps; revised 'boomerang' tail lamps and door mirrors which incorporate LED side turn strip repeaters.
And performance isn't everything (although to most Nismo drivers it is!); so practicality rears its head with a 40% increase in carrying capacity including a revamped luggage area, two stage floor and folding rear seats.
And once you decide on the Nissan Juke Nismo RS, you'll find that there are many options available including special Recaro sports "bucket" seats, Xenon headlamps, Nissan's Around View Monitor and Safety Shield which includes Lane Departure Warning, Blind Spot Warning and Moving Object Detection.
"New Juke Nismo RS conforms exactly to the Nismo ethos, providing an instant performance feeling in a premium design inspired by our motorsport activities. The result is engaging, exciting and accessible," cocludes Guillaume Cartier.