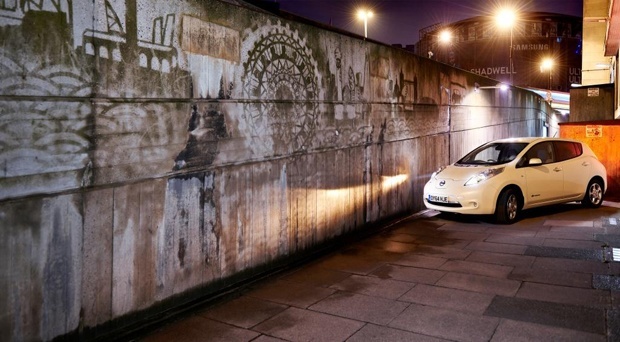 We all know that the 100% Nissan LEAF is the world's best-selling electric vehicle (EV) and that it produces zero emissions into a world with air quality way beyond what it should be – so what better way to promote all this than to get a Nissan LEAF involved with a reverse Graffiti piece of street art in Waterloo, London that depicts the Capital's iconic skyline.

I am guessing that not many readers will be aware of what Reverse Graffiti is, let alone have heard of Reverse Graffiti artist, Moose who Nissan commissioned to create the mass-scale mural that was unveiled last week. I will admit to not knowing either until I read the article promoted by Nissan to promote their involvement.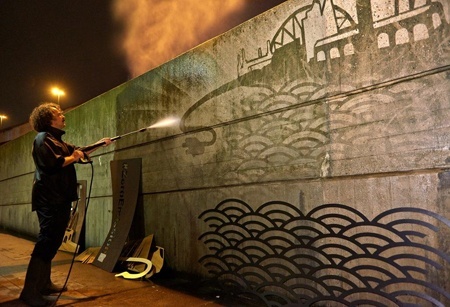 Basically Reverse Graffiti is using the dirt and grime that gathers on walls to create images by washing off the aforementioned 'muck' by using, as Moose does, a jet washer or wire brush; in effect the image is created in negative on the wall without using the usual paint or chalk used by conventional graffiti artists.

As the dirt on the wall is usually caused by particulate matter from vehicle exhausts, the whole idea is a perfect opportunity to promote the Nissan LEAF's zero emissions levels as this dirt will have been created over the years by the emissions from vehicles that often exceed guidelines and limits in busy areas of London and other European cities.

"I've been using reverse graffiti for fifteen years now," explains Leeds-born Moose; "In fact I named it. My whole ethos is about highlighting the amount of pollution we endure daily using a very positive harmless method that never fails to ask questions about what we accept and what we shouldn't accept in our environment. For these reasons I was keen to be involved in this project."

The artwork is on show in the subway on Station's Approach, Waterloo, and is made up of images of a whole host of London's most famous landmarks including Buckingham Palace, The Shard, Battersea Power Station and The London Eye: all sketched by hand by Moose who then created stencils that pieced together to produce the finished artwork, standing some 2.5 metres tall and 10 metres wide.

It was then that the Nissan LEAF got itself involved as part of this project to highlight the growing issue of poor air quality across Europe's biggest cities (by showcasing just how much cleaner they could be if more people adopted electric vehicles) by powering the jet washer that was used to clean the wall. The washer made use of the LEAF to Home equipment from the Nissan LEAF – a portable device that converts electricity from the car's battery to provide as much as two days-worth of power to a household on a single charge.

Moose praised Nissan's involvement: "Electric cars and alternative fuelling systems provide the brightest future we've ever known in the history of the automotive industry in terms of protecting our environment. It's a pleasure to be given the opportunity to create public art in this way and I'm very pleased with the iconic simplicity of the mural and its message."

And Nissan, in encouraging the public to come out and see the mural and project for themselves, were equally as pleased.

Jean-Pierre Diernaz, EV Director, Nissan Europe, added: "This piece of art is a striking call to action that air quality is one of the biggest issues facing the citizens and visitors of Europe's largest cities today. It is a reminder that electric vehicles don't have an exhaust to emit the kind of air pollution which has stained the wall Moose has created his piece on.

"Working with Moose to highlight the effect of air quality on our cities through a piece of art powered by the Nissan LEAF is an exciting and powerful way of reminding people about the benefits of zero emission vehicles."

Let's hope that other graffiti artists with less environmental concerns don't get there before you get a chance to see it.