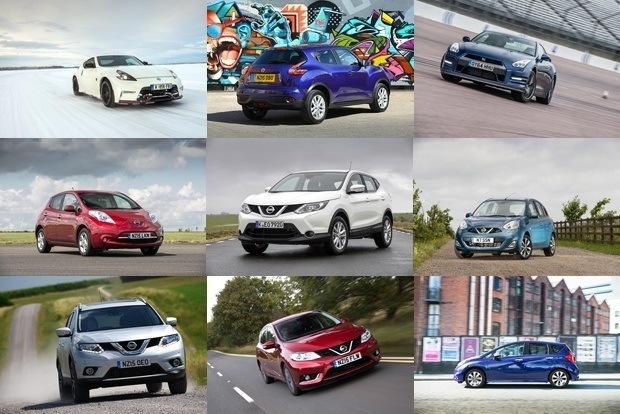 In a world of financial turmoil, there has been some good news for Japanese car manufacturer Nissan who have been named in the Top 50 of the world's most valuable brands for 2015, according to Interbrand, the world-leading brand consultancy. Ranked at Number 49 in the Best Global Brands Study with a brand valuation of $9.082 billion, an increase by 19% from last year's estimated value of more than $7.6 billion; and a rise from its position at 56 in 2014 and 90 in 2011 - the fastest-rising automotive brand in this year's study.
"Nissan's rapid ascent in five short years from place 90 to now 49 shows we're playing in the right spaces and engaging with consumers while always remaining authentic", said Roel de Vries, Nissan Corporate Vice President and global head of Marketing and Brand Strategy. "Growing a global brand that's exciting and innovative is an integral part of our company's success."
And one of the reasons for this rise in brand awareness and worth is the automotive division, alongside the company's effective use of sponsorship opportunities.
In fact, many observers put Nissan's current success down to the popularity of one car - The Nissan Qashqai - amongst the great choice of Nissan cars available.
Nissan Cars
At Nationwide Vehicle Contracts, we offer some great leasing deals on 166 Nissan vehicles across 9 models from the popular and award-winning Qashqai, Juke, and Micra to the trail-blazing all-electric Nissan LEAF.
The Nissan Qashqai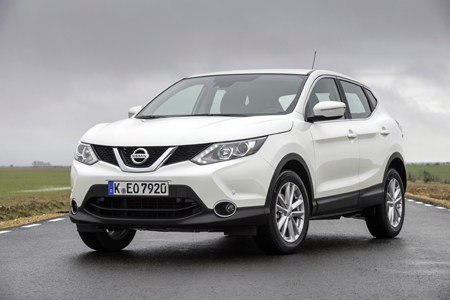 The record breaking 500,000th Qashqai has just rolled off the production line in Sunderland; and the "the ultimate city crossover" SUV with the bold, commanding presence, truly state-of-the-art technology and luxuriously comfortable interior has certainly fulfilled its promise to dominate the streets.
Nationwide Vehicle Contracts offers the Nissan Qashqai for both business and personal customers at competitive and affordable car lease prices.
Holder of many award, including WhatCar? Car of the Year 2014, the Qashqai SUV has 4x4 looks, yet has all the running costs of a hatchback in a driving environment that you would expect of a higher grade car.
The new Nissan Qashqai is available with a choice of four engines - two petrol and two diesel - and offers some very impressive fuel economy figures and overall low running costs, with no compromises on power or performance.
The entry-level engine is a turbocharged 1.2 litre petrol, which is ideal for dynamic city driving, but there's also a 1.4 litre petrol option that's better suited for longer journeys. The diesel options include a mighty 1.6 litre unit that delivers the sort of torque you'll need for fully-loaded excursions, but the 1.5 litre unit offers the best combination of power and efficiency. With this engine, the Nissan Qashqai is capable of over 70mpg, with CO2 emissions as low as 99g/km.
But no matter what engine you choose, the advanced chassis control system guarantees a smooth and responsive ride. Body motion control deploys brake torque to reduce bounce, whilst the brake force control allows you to take corners with effortless confidence. There's even an all mode 4x4-i option, which instantly and automatically distributes torque as and where it's needed for optimum traction at all times.
To help with the drive, the new Nissan Qashqai is fitted with advanced Nissan Safety Shield technology (which features 16 sensors, Blind Spot Warning, Lane Departure Warning and Autonomous Emergency Braking) as well as a 360° Around View Monitor (AVM) and motion sensor, Park assist, and a brand new NissanConnect navigation system with a a sparkly 7" screen.
The Nissan 370Z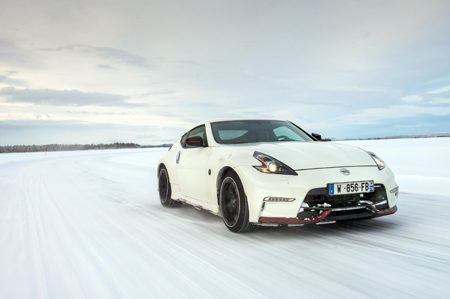 Available as both a Coupe and a Roadster, the head-turning Nissan 370Z is a sports car that delivers exhilarating performance in both models but, unlike many sports cars, there is no need to compromise performance and comfort. That's because the interior space and cabin in a 370Z is generous to a fault, offering plenty of head room and leg space - there's even room for a couple of luggage bags!
The Nissan 370Z is powered by a zesty 3.7 litre V6 petrol engine with an intuitive start stop button contributing to effortless acceleration with power being delivered smoothly and predictably at all times.
Both the 370Z Coupe and Roadster handle fantastically and give a drive that is engaging and exhilarating. Around corners, there is plenty of grip and an effective traction system keeps the tail intact when travelling at high speeds. Body lean is minimal and steering is weighty making for a fun to drive sports car that is assured on the road.
The Nissan Leaf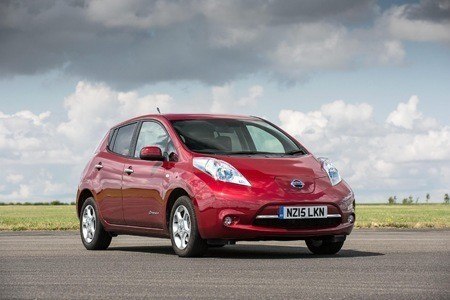 The all-electric car that set the bar high for all its competitors and inspired competition from a number of rival manufacturers to produce a fully electric vehicle that not only looks great, but emits zero emissions and can be charged from home.
The ideal lease choice for city dwellers, the Nissan LEAF is the primary recipient of Nissan's 'smart fluidity' principle where the exterior design of the Leaf combines flowing lines with aerodynamic efficiency.
Inside the cabin, the Leaf boasts ample space for up to five adults and feels larger than any of its electric rivals with a well equipped, logically laid out, comfortable and well insulated cabin.
The Leaf is built upon sturdy foundations and features a generous array of safety equipment including ABS, Electronic Brake Distribution, six airbags and a rear-view camera for safe and easy parking. No wonder that it scored a maximum five out of five stars in its recent NCAP crash safety testing. In the unlikely event of a short circuit, the supply of electricity is immediately interrupted.
Underneath the bonnet lives an innovative electric motor that produces a power output of 108bhp, enabling the Nissan Leaf to reach 62mph in 11.9 seconds with, of course, zero emissions. It is a great lease choice for urban driving as the climb up to 30mph is particularly strong, and the car handles just like any other family car that is powered by a normal combustion engine.
The Nissan Pulsar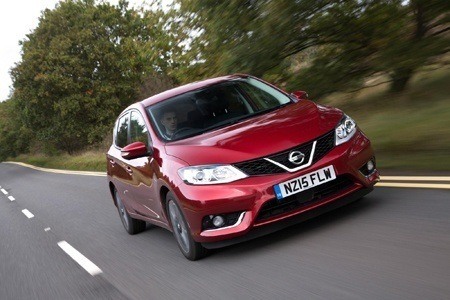 A refined and comfortable hatchback with huge amounts of rear legroom, the Nissan Pulsar is positioned by Nissan slightly below the Qashqai with the Pulsar a direct competitor to the Hyundai i30.
A well finished and sturdy car, the Pulsar is incredibly quiet and smooth, making it one of the most relaxed hatchbacks around. Available in just two engine variants, a 1.2 DIG-T petrol and a 1.5 dCi diesel, both offer great fuel economy with the diesel version claiming 78.5mpg and CO2 of just 94g/km.
And with the smoothness on the Pulsar comes some excellent standard specification, even at entry level (Visia) with a 5" colour screen, steering wheel mounted controls, air conditioning and Bluetooth as standard.
The Nissan GTR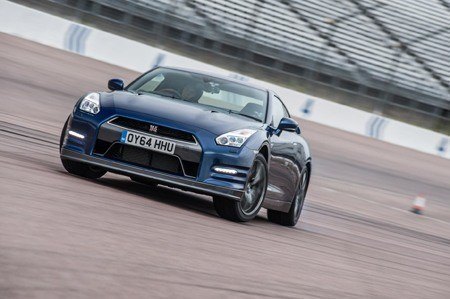 The Nissan GTR is a car for those that want a car that looks great and is exhilarating to drive. In this case, not only does the interior look as good as the outside does with a sporty design created with the highest quality materials, but it also offers comfort that you would not normally get with a sports car.
But it's the performance of the Nissan GTR that stands out head and shoulders on the 'wants' list with the potent 3.8 litre petrol engine making acceleration from 0-62mph in 3.5 seconds a breeze on its way to a top speed of 195mph. No wonder that the car broke the lap record for a production car at the famed Nurburgring back in 2008.
Steering is responsive and grip is limitless when faced with sharp corners, meaning that the GTR also caters for those who are not entirely confident when driving enthusiastically, meaning that the GTR is as easy to drive around town as it is around a track. It is a great choice for those who do not consider themselves faint hearted, who are seeking an exciting car with plenty of pizzazz.
When it comes to high performance sports cars, there is often some sort of compromise on safety. Nissan have made sure that this is not the case here. The GTR boasts a comprehensive list of safety measures as standard, including six airbags, four-wheel drive traction, stability control and tyre pressure monitoring.
The Nissan Micra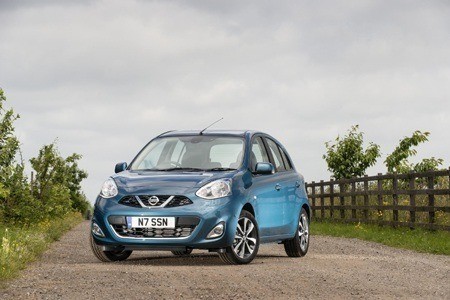 The new Nissan Micra is a 5-door eco-friendly city car that is compact enough to navigate urban environments with ease and stylish enough to turn heads wherever it goes. It is a popular choice for those wanting a sprightly supermini - a choice that will be widened when the Micra N-Tec arrives next year.
Having been almost completely revamped back in 2013 with new features such as the latest generation NissanConnect navigation system with its integrated 5.8" touch-screen incorporates satellite navigation as well as Bluetooth, USB and iPod connectivity, and other advanced and intuitive in-car technology, the Nissan Micra also had a style makeover with a refined interior with new high quality trims.
At entry-level the Nissan Micra is designed to be as affordable as possible, but the mid to high range models are most generously equipped with the latest in high-tech features and equipment. Across the range expect to find alloy wheels, an optional glass roof, electric power steering, cruise control, an anti-dazzle rear-view mirror and LED lights.
When it comes to power, there is a choice of 2 eco-friendly engines that have been optimised for city driving, both of which can be fitted with either manual or CVT automatic gearboxes, starting with the entry level 1.2 litre 79bhp petrol engine, but most will probably prefer the supercharged 1.2 litre 97bhp DIG-S engine.
The DIG-S engine is fitted with Stop/Start technology as standard which, combined with an overall reduced weight and and a new aerodynamic exterior design, has resulted in a 4% improvement in fuel economy. As such, when fitted with a DIG-S engine and manual transmission, the Nissan Micra is capable of up to 68.9mpg with sub 100g/km CO2 emissions.
Both engines have been optimised for eco-friendly city driving, and the Nissan Micra feels even more at home in the city thanks to its Parking Slot Measurement system. Capable of measuring potential parallel spaces and ranking the difficulty of parking there, this system can safely guide you into even the tightest of urban parking spaces.
With a substantial 265 litre boot, the Nissan Micra is also a surprisingly practical car despite its compact size as its storage space can be further boosted by the split-folding rear bench, available on all models except the entry-level Visia.
The Nissan Juke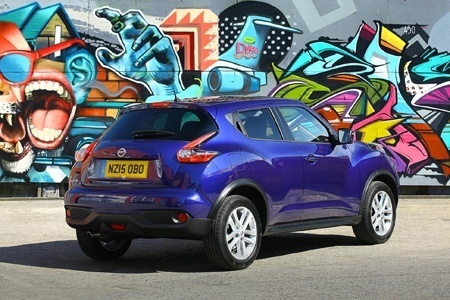 Combining the street tough power of an SUV with the dynamic looks of a sporty compact, the Nissan Juke Crossover is ideal for those seeking an adrenaline boosting vehicle with little compromise on practicality.
When driving, the Nissan Dynamic Control system that is available on the Acenta trim and above has three settings- Eco, Normal and Sport - to choose from to help adjust to your requirements.
When it comes to choosing an engine for the Nissan Juke, there is plenty to choose from. Petrol options contribute to punchy performance and a responsive drive that is great fun too. Diesel options are great for those who are keen to cut running costs to a minimum along with emissions, along with a choice between the standard 5-speed manual gearbox and a five speed semi automatic transmission.
The Juke handles brilliantly with bundles of grip and responsive steering. It is at home when nipping in and out of tight spots and traffic, as it is when cruising up the fast lane. The top of the range petrol model is available with optional four wheel drive – making it ideal for those who want a small car to meet big needs.
The Nissan X-Trail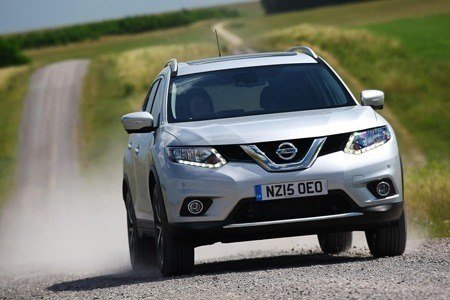 The Nissan X-Trail is a 5-door SUV designed to take all that life could possibly throw at you as you search for the ultimate adventure.
Featuring advanced navigation and innovative ALL MODE 4x4-i technology, an advanced parking system and folding rear seats amongst a plethora of exciting specifications, the Nissan X-Trail offers a great deal of versatility, making it as comfortable on the city streets as it is in the untamed wild.
The Nissan X-Trail comes with a choice of powerful yet economically-responsible diesel engines starting with the 2.0 dCi 173 6-speed manual that delivers 173PS, is capable of 44.1mpg on a combined cycle, and can accelerate from 0-60mph in an impressive 10.0 seconds.
With transmission available in either 6-speed manual or 6-speed automatic, there's also the option of the 2.0 dCi 150 6-speed automatic. And both engines are fitted with a Diesel Particle Filter, which makes them considerably cleaner than other SUVs on the market.
The Nissan Note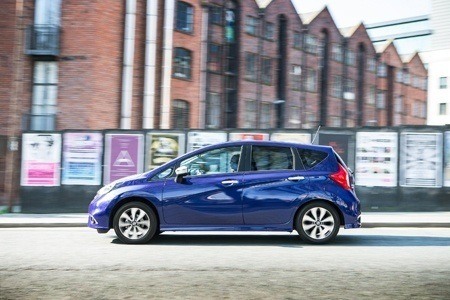 The Nissan Note is a high-tech 5-door hatchback that was revitalised in 2013 with a new dynamic design and top of the range safety features, the focus being spacious, comfortable and safe family driving, but the supercharged engine should satisfy those looking for a sportier experience.
Available at three trim levels – Tekna, Acenta and Visia – with a choice of three engines across the range, the entry-level petrol engine is a 79bhp 1.2 litre unit, whereas fans of diesel will be more than satisfied by the 89bhp 1.5 litre option. But by far the best overall choice is the 1.2 litre DIG-S petrol engine.
This supercharged option generates 97bhp and also comes with springs, dampers and anti-roll bars optimised for a more responsive and sporty performance. 16" alloy wheels add a sense of style, making this the ideal choice for those who want their Nissan Note to be something more than a safe and reliable family hatchback.
The 1.2 litre petrol engine is only available with 5-speed manual transmission, but the DIG-S and diesel options can also be fitted with an automatic CVT gearbox. Also standard across the range is automatic stop/start technology, making the Nissan Note capable of up to 65.7mpg.
When it comes to safety, the Nissan Note doesn't scrimp, and offers the advantages of the innovative Nissan Safety Shield that draws information from a groundbreaking self-cleaning rear view camera to give you unprecedented awareness of your surroundings. Using sounds and visual indicators, the Nissan Safety Shield prevents you from drifting from the driving lane, warns you of objects near to your car and can even help you to monitor your blind spot. On top of that, the Around View Monitor makes for almost effortless reversing and parking.
And for the drive itself and in-car connectivity, there is the latest-generation NissanConnect system that is nothing less than a comprehensive means of connecting you and your Nissan Note to the wider world. This advanced system integrates satellite navigation, Bluetooth and music connectivity – all controlled through an intuitive touchscreen system - giving you real-time information on flights, weather and fuel-prices, whilst clever Google apps even allow you to plan your trip in advance on a home computer before sending the route directly to your Nissan Note.
With all these great cars available to lease from Nationwide Vehicle Contracts, and with all the future innovation that is planned by Nissan, the boast from Roel de Vries that Nissan are "..growing a global brand that's exciting and innovative [that] is an integral part of our company's success" isn't an idle one.