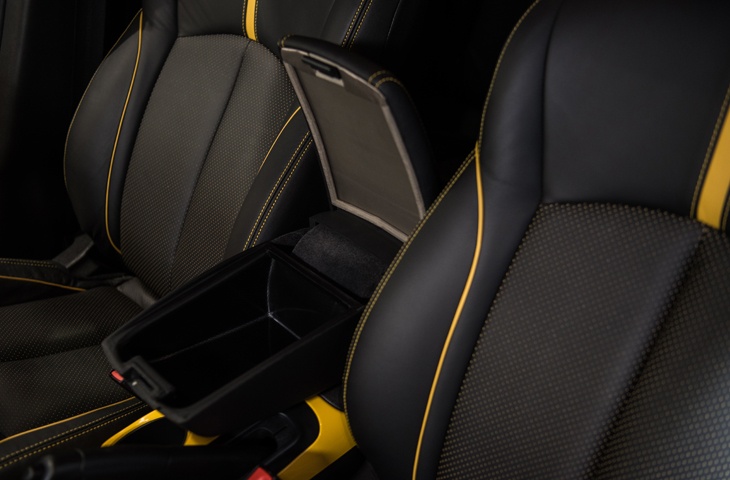 Distracted Driving has been a problem in recent years, especially when it comes to mobile phone use - as highlighted by this RAC article here. Which is why Nissan GB has developed their Signal Shield Concept in an attempt to reduce smartphone distraction at the wheel.
The basis of the concept lies in the past, as way back as Victorian times, with an invention called the Faraday Cage, which is an enclosure used to block electromagnetic fields. This idea is used to create a 'silent zone' within the arm rest of a car such as the Nissan Juke, blocking all of the phone's incoming and outgoing cellular, Bluetooth and Wi-Fi connections.
Once a mobile device is placed in the compartment and the lid closed, the Nissan Signal Shield concept therefore stops the phone ringing, giving "drivers a choice about whether to eliminate the distractions caused by the millions of text messages, social media notifications and app alerts that are 'pushed' to smartphones each day."
The need for such a concept has arisen because drivers are becoming naturally more tempted to check any notifications that arrive on their phones while they are driving - from text messages to social media notifications - with Nissan's own research stating that almost one in five drivers (18%) admitted to having texted behind the wheel.

This isn't necessary as all Nissan crossovers are available with Bluetooth connectivity with hands-free technology, and NissanConnect and Apple CarPlay is available on the likes of the all-new Nissan Micra.
The Nissan Signal Shield concept
The whole idea behind the concept is that a driver gets the choice as to whether they be contacted whilst driving or to journey in a 'phone-free' space. "It means a digital detox and a drive that's free of incoming distractions."
It is still possible to listen to music or podcasts on the smartphone by connecting to the car's entertainment system via the USB or auxiliary ports.
Because the whole innovation is based on the phone being placed in the Faraday cage-based enclosure which distributes incoming electromagnetic signals across the cage's external conducting material, preventing them from reaching the device, the signals can be restored by simply opening the arm rest to expose the device to them.
Alex Smith, Managing Director, Nissan Motor GB Ltd. said: "Nissan produces some of the safest cars on the road today, but we are always looking at new ways to improve the wellbeing of our customers. Mobile phone use at the wheel is a growing concern across the automotive industry, and indeed society, particularly with the high number of 'pushed' communications, such as texts, social media notifications and app alerts that tempt drivers to reach for their devices.
"The Nissan Signal Shield concept presents one possible solution for giving drivers the choice to remove all smartphone distractions while driving. This is about delivering more control at the wheel, not less. Some drivers are immune to the activity of their smartphone, but for those who struggle to ignore the beeps and pings, this concept provides a simple solution in this very 'connected' world we live in."
For those of you who may say "I never check my phone when driving", that is indeed commendable, but the temptation is always there. Research by Nottingham Trent University has found that the average user checks their phone 85 times a day and that 'rapid mobile phone interactions', less than 30 seconds, are turning into a habit for smartphone users, with many people not realising the frequency with which they check their phone.(4)
We've already told you that police are cracking down on mobile use and that fines have now been doubled if caught, so the Nissan Signal Shield Concept is certainly an idea that should be considered by all drivers, not just those in Nissan cars.
For those of us who do not drive a Nissan, here's an idea of what to do with your smartphone while you are driving, and don't have access to a spare Faraday cage.
Turn your phone off!