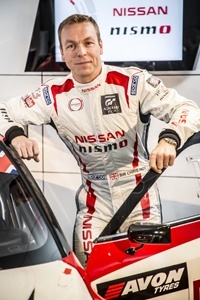 Obviously Sir Chris Hoy is a star on two wheels as an eleven-time world and six-time Olympic cycling champion. Now, thanks to Nissan, the Official Automotive Partner of the British Olympic Association (BOA) and British Paralympic Associations (BPA), Sir Chris Hoy will get the chance to show just how quick and agile he is on four wheels as he aims to be able to compete at the Le Mans 24 Hours in 2016.
To help him achieve this aim, Nissan will not be taking it easy on their newly-appointed Brand Ambassador on the Road to Rio 2016 – Oh No! Chris Hoy will have to undertake Nissan's advanced Driver Development Programme as part of the fast-tracking into top-level motorsport that he has his eye on. The Driver Development Programme is currently enjoyed by the winners of the Nissan PlayStation GT Academy competition, many of whom are showing great promise already.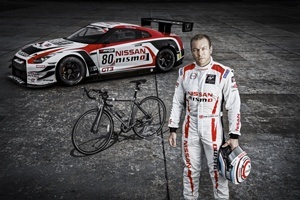 Already a driver in a few club races that he has taken part in, and having shown great promise, Sir Chris will be competing in this year's British GT Championship in a Nissan GT-R NISMO GT3 with his eyes firmly on the ultimate prize of competing for Nissan in the world's most famous endurance race in 2016.
Hoy explained: "Nissan is already a huge contributor to the British economy with its investment in manufacturing, technology and design – now it is also investing in British sporting success via the Team GB and Paralympics GB programmes. It's fantastic for me to be working with Nissan GB on this.
"When we sat down to discuss the relationship, we talked about how we could make things a two-way street. When I learned what had been achieved through Nissan's Driver Development Programme I was keen to take my enthusiasm for motorsport to the next level. This won't be easy - but I could not turn down the chance to give it a go. My ultimate ambition is to race at Le Mans. That is the dream, but I'm taking this one step at a time."
"This makes perfect sense to us," said Nissan's Director of Global Motorsport, Darren Cox. "The Le Mans 24 Hours is the Olympics of motorsport so who better to take on an epic challenge such as this."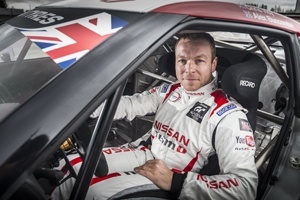 It is certainly not just a publicity stunt (even though it does generate publicity that Nissan will be taking the utmost advantage of as they advertise their involvement in the Road to the Rio Olympics in 2016) because it would be much too dangerous to throw anyone inexperienced into the cauldron that is the British GT Championship, let alone the volcanic heat of the Le Mans 24 Hours, but there must be something in both the attitude of the Olympic gold medallist and his ability that has allowed Nissan to take this gamble as Hoy races for the experienced Nissan GT Academy Team RJN. Partnering him in the Nissan GT-R NISMO GT3 for the majority of the season's seven race weekends will be NISMO Athlete Alex Buncombe, who has helped all of the GT Academy graduates transition from gamer-to-racer.
There's not long for Sir Chris Hoy to adjust to all the pressure as the 2014 British GT Championship gets underway on Easter weekend (19-21 April) at Cheshire's Oulton Park circuit with Chris competing as a 'bronze' driver – the first time he has ever seen bronze, certainly in Olympic competition. (Six Golds and one silver, if you are interested.)
Nissan GB Marketing Director, Guillaume Masurel concludes: "At Nissan, we always do things differently. As Britain's biggest vehicle manufacturer, we are proud to commit our support for both the British Olympic Association and British Paralympic Association on the road to success in Rio 2016. Through our #uniteandexcite campaign we will be giving fans exclusive access to our team of athletes and showcasing their stories and preparation as we count down to Rio 2016.
"Now we can offer another new story, which is a further demonstration of Nissan's innovative thinking.  We will be supporting the new talent and new technology through our partnership with BOA and BPA but in this case the new talent happens to be Britain's most successful Olympian. Sir Chris has already shown that he is a very capable driver and by combining our expertise in driver development, a great car and an experienced team with his natural ability, drive and determination, this will be a fascinating journey."