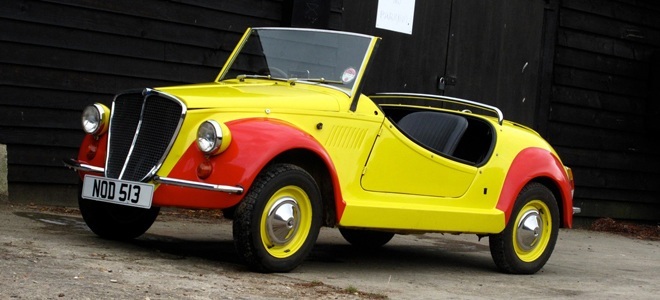 PARP-PARP, NODDY CAR UP FOR SALE
If you fancy a trip to Toytown to catch up on a few things with Noddy, Big Ears, Mr Wobbly Man and Bumpy Dog, then you might take up on an opportunity available on Saturday 27th July at Silverstone.
That's where the original Noddy Car once owned by Enid Blyton's company will be going up for sale at the Silverstone Auctions-hosted Classic Sale.
The car, unmistakeable with its red and yellow paintwork is estimated to fetch between £20,000 to £25,000 at the auction, and Will Smith, classic car specialist at Silverstone Auctions is understandably a little bit pleased to be offering up the iconic little motor car which is almost an exact mirror of the one that appeared in Enid Blyton's timeless classic tales.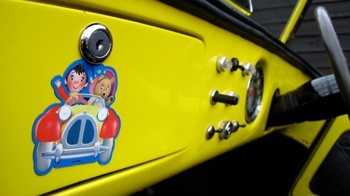 "This amazing Noddy Car has got to be one of the most easily recognisable cars anywhere on the planet, and it doesn't get any closer to the one that Noddy actually drives with his friends in their adventures in Toytown. Our auction at the Silverstone Classic is a great opportunity to own a fascinating piece of automotive history, which can most accurately be described as 'the' Noddy Car having previously been owned by Enid Blyton's company."
For the pedant in our readers, the actual car is a 1969 Fiat Gamine Vignale, a small two seat roadster produced by Carozzeria Vignale from 1967 to 1971, fitted with a larger capacity 594cc engine and syncro gearbox, and based on the Fiat 500.
Pedantic bit over. Let's go back to our childhood!
Having been driven only around Toytown and the countryside around it, it has only done 4,553 miles from new. Following Noddy's (alleged) sale of it to an undisclosed buyer, it has only had 4 owners (including Noddy), although recently it has been looked after by marque specialists Middle Barton Garage in Oxfordshire.
The car is said to be roadworthy, so can you imagine turning up at home with it, your little blue hat with a bell at the end (not included in the sale) ringing away, yellow and red spotted scarf tied around your neck and red shoues tied tightly on your feet?
Will Smith can: "We expect a huge amount of interest in this Noddy Car from Enid Blyton fans and Fiat collectors, and who can blame them for wanting to get their hands on a car that takes us back to our childhood.
"The number plate – NOD 513 – is the finishing touch which makes this unique car extra special and we can't wait to see how it does at our auction on Saturday 27th July."
The auction takes place in The Wing at Silverstone, the circuit's new £27 million building, and if you are lucky enough to become the new owner, watch out though for Mr Plod on the way home.
And it might be an idea to lock the car away in a garage in case The Gollies (long retired) or Sly and Gobbo try to take it!