But is the love affair coming to an end?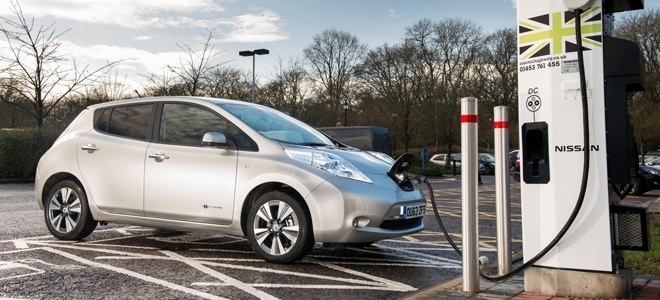 An interesting article by John Vidal in the Guardian newspaper about how Norwegians have fallen in love with the electric car has given a little insight into how British roads could be in the future – and also the possible problems that could arrive along with an electric car invasion.
What has happened is that Norwegians have embraced the electric car revolution with open arms as demonstrated by the fact that, in the final three months of last year, the two best-selling car models in the whole of Norway were the luxury electric sports car the Tesla Model S and the Nissan Leaf family electric car; knocking all the conventional cars like the ever-popular Volkswagen Golf out of the proverbial ballpark.
And along with these sales came traffic jams that were clean and quiet on the upside, and long queues at the free charging points around the country as a flood of electric car drivers utilise hydro-electric technology.
To put the electric car sales into perspective in comparison with the UK; Norway is a country with a population of 5 million people of whom 21,000 of them own all-electric vehicles (EVs) – and this is on the increase with electric car sales running very quietly at 1,200 a month (or 10% of all sales) – as against the UK with a population of 63 million and electric car ownership of just 5,000. The comparison is worse when you learn that there are 70,000 electric cars owned in the USA with its population of 313 million and that experts predict that within a year there will be more electric vehicles in Oslo than Los Angeles and San Francisco combined.
So it seems that Norway has welcomed in the electric car with greater vigour than the reserved UK customer and the American dreamers, but it seems that the apparent Nordic rush for zero-emission vehicles has more to do with generous governmental incentives and free bus lane commuting than a concern for the environment.*
This is because battery-powered cars aren't just exempt from high rates of purchase tax, and VAT, but also find themselves spared the expense of road and ferry tolls, parking fees and charging fees (courtesy of the aforementioned free charging points that the government has very kindly supplied), costing less to insure and eligible for subsidies to install charging points at home – all of which research estimates can be worth up to £5,000 a year per car.
Snorre Sletvold, president of the Norwegian electric vehicle association explains with a few figures: "You can buy a Nissan leaf for 280,000 NOK (£26,500) which compares with 300,000 (£29,400) for a VW Golf. Over 10,000 km, it costs about 1,800 Nok (£176) to run, but the same for a petrol car would be 8,000 Nok (£784). On top of that I save save 35Nok (£3.20) a day on tolls but some people are saving far more."
There are obviously some people who want to get an electric car for ecological and environmental reasons; people like Maren Esmark, CEO of Friends of the Earth Norway. "We needed a new family car. We got a Nissan Leaf because it was really cheap and we did not want to pollute the air. We felt we were supporting the technology but the reason why most Norwegians are buying them is because they have a lot of money and can afford two cars, and because they can use them in the bus lanes. At the start we got comments like 'do you really think you can save the environment with that car?' but now they are so common that they are not noticed."
Car manufacturers have noticed the headlong rush by Norwegians to get themselves battery-powered, with the Nissan Leaf finding itself Norway's third best-selling passenger car last year, and the Tesla Model S out-selling all other cars in September and December 2013, which is why Volkswagen and BMW are feverishly preparing their electric car portfolios to get themselves a piece of the action.
"Electric cars started as an Oslo phenomenon but they are now selling all over Norway. By the end of February we expect to be the first country in the world where 1 in 100 cars on the road are electric," said Snorre Sletvold.
But will VW and BMW be too late to jump on the bandwagon, which may soon find that its batteries are going to be running out of juice? Because when the number of electric cars in Norway reaches 50,000 – or in 2018 whichever is sooner – the government will either be removing all incentives or reconsidering them at the very least; and at the current rate of take-up the 50,000 figure could well be reached in Summer 2015!
And it also seems that the Norwegian public are getting a bit fed up with the electric car too, especially in rush hour with 75% of the traffic allowed in the bus lanes being electric, defeating the very object of bus lanes. And besides that, for the driver of an electric car it is getting increasingly difficult to find empty public charging spaces.
So could that be the UK in the future? The sudden rush to get an electric car if the incentives are right and the options are there to get to work quicker (if you have a job) followed by jealousy in the bus lanes, frustration at chargepoints and a battery/fuel divide similar to the North/South divide of the 80s? Maybe there will be an increase in leasing electric cars rather than buying; and then there are the Car Clubs?
And will it all be worth it? Watch this Norwegian space.
*It should also be pointed out (as a comment on John Vidal's excellent article did) that, although Norway is the world's fourth richest country, actually keeping a car in the Nordic country is a very expensive option in comparison to the UK. In Norway; new cars are twice as expensive as in the UK, nearly every road has a toll on it (let's hope that our government doesn't get THAT idea) and as the road infrastructure is pretty poor you have to drive through towns rather than round them and most towns also have a toll to enter. There is also an annual car tax and the value of the car is added to your 'wealth' so you pay a tax on that. Even buying a second-hand car is expensive because you have to pay a tax to license it and you pay 25% VAT on all servicing and repairs.
Maybe we are luckier than we think?