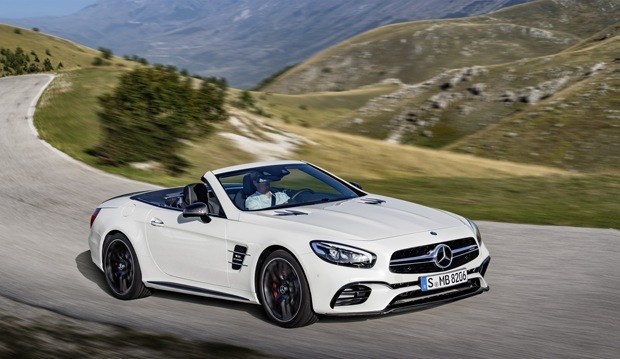 The Mercedes-Benz SL has always been an integral part of the Mercedes-Benz reputation for sheer class and the new Mercedes-Benz SL (available from April 2016) with a host of significantly enhanced technical and visual features, more powerful engines, and new, more sporty look is no different.
Already a top performer in a wide variety of disciplines from relaxed, comfortable cruising to sporty trips on winding roads. Ola Källenius, Member of the Board of Management of Daimler AG, Mercedes-Benz Cars Sales & Marketing is am enthusiastic supporter of the new car: "The SL is an all-season vehicle that is fully suited for daily use, but above all it is a dream car for those special moments as a couple. Whatever its owner desires - it fulfils the expectations with technical perfection."
With two new Mercedes-AMG models also available in the guise of the SL 63 and SL 65 - the latter with a V12 engine - beauty is extended even further.
The new Mercedes SL
Design
The front end of the new Mercedes SL has been revised to make the new model look particularly eye-catching with the standard, unique diamond radiator grille extending downwards with two new powerdomes having been added to accentuate the long, drawn-out bonnet as an obvious influence to the legendary 300 SL Panamericana racing car.
Also adding to the unmistakable new appearance of the SL is the new standard-fit LED Intelligent Light System with headlamp housing that extends far to the outside along with a torch-shaped unit made up of the daytime running lamp/position lamp and direction indicator - all housed in black.
From the side, iconic sports car proportions are revealed, characterised by the long bonnet, the AMG side sill panels, the broad wheelbase and rear-based passenger compartment along with enlarged cosmetic air outlets with wing-like chrome inserts in the dynamic, broad vehicle wings.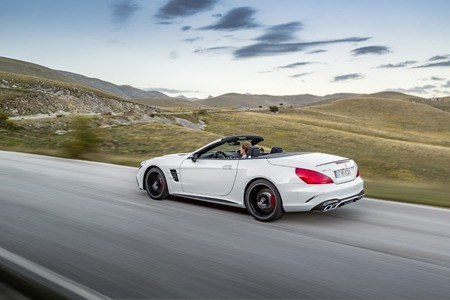 As a convertible, the roof comes down to create the roadster look even more so with attractive lines, short, steeply angled A-pillars and frameless side windows. And at the rear, the AMG rear apron with side air intakes is joined by the integral tailpipe trim elements, a centrally arranged rear fog lamp and reversing light to finish off the sporting appeal of the new Mercedes SL.
The model is available in 2 new colours (Brilliant Blue and Designo Selenite Grey Magno) along with a range of light-alloy wheels in the size that now includes 19", a 10-spoke wheel and a 5-spoke wheel, both with a high-sheen finish in high-gloss black, along with a range of six additional new AMG wheels as accessory options.
Interior
The Mercedes SL has always embodied top-class standards, and the new model, with the addition of the likes of minimal gap dimensions and fully padded beltlines, is no different.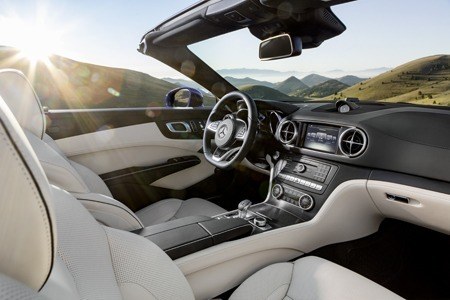 Ambient lighting with three selectable colours (solar red, polar blue, polar white) ensures an relaxed and emotional lighting mood, while the upper part of the dashboard forms a unit with the door beltlines, looking sporty with its four round air vents, three-spoke sports steering wheel with a magnesium structure, ergonomic grip area, high-quality finish and flattened bottom section, and silver-coloured steering wheel shift paddles.
Twelve control buttons provide access to the menu navigation in the instrument cluster as well as the audio system, telephone and voice entry, with the instrument cluster having a 2-tube look that displays classic circular instruments with modern display technology.
And the whole thing can be individualised with a broad selection of leather finishes and trim elements available in nappa leather in saddle brown as well as Exclusive.
Assisting The Drive
You would expect a drive in the new Mercedes SL to be relaxed, smooth and a comfortable experience, and you'd be right.
And to help with the drive, the new model comes with (as standard) Active Brake Assist (Collision Prevention Assist Plus) that uses the a radar-based system to automatically activate the brakes if required, as well a some optional packages to make sure that the journey is as safe and easy as possible.
This includes the Driving Assistance package with stereo camera that includes:
Distance Pilot DISTRONIC and Steering Pilot to help keep a safe distance from cars in front
Active Brake Assist with cross-traffic function
PRE-SAFE® Brake
Active Blind Spot Assist
Active Lane Keeping Assist
Also available as options are PRE-SAFE® PLUS, Parking Pilot, and Parking Assist PARKTRONIC.
Keeping with the safe drive, especially at night, is the standard-fit LED Intelligent Light System that automatically adapts to all light and driving conditions to give optimum visibility on country roads and motorways, when cornering and on bends. Of course, with LED technology, you get low energy consumption, a long service life and a white light which approximates the daylight spectrum, but the LED Intelligent Light System also includes motorway mode, cornering light function, camera-based active light function, roundabout light function and also the enhanced fog light function.
Anti-dazzle continuous high beam comes courtesy of the optional Adaptive Highbeam Assist Plus, so you can be sure of not dazzling oncoming cars when in full-beam mode, automatically.
The Roof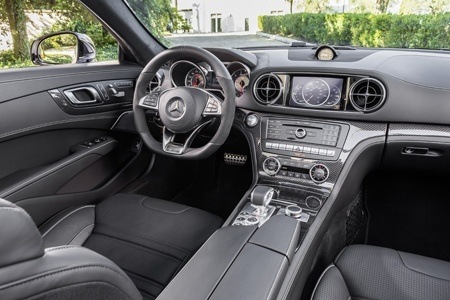 Fans of the Mercedes SL appreciate the sportiness of the car, especially when it comes to the operation of the electrohydraulic vario-roof up to speeds of around 40km/h.
The roof is stored in the boot (which itself features an automatic boot separator that moves depending on roof position) and is operated at the press of a button, with the boot itself remotely opening courtesy of a kicking motion with the foot beneath the rear bumper via the KEYLESS-GO Convenience package.
There is also the unique optional extra Magic Sky Control that changes the panoramic vario-roof colour (when closed) from dark to transparent or vice-versa within just a few seconds, and Magic Vision Control, an intelligent and highly efficient wash/wipe system that controls the cleanliness of all screens, even with the roof open.
Connectivity
There is a communications module with an on-board SIM card fitted as standard which enables the use of Mercedes me connect services; services that include:
Accident Recovery
Breakdown Management
Maintenance Management
Telediagnostics
The Mercedes-Benz emergency call system which automatically connects occupants with the Mercedes-Benz Emergency Call Centre and sends the position and status of the vehicle to the rescue operations centre should an emergency or situation arise.
There is also an optional Remote Online feature that provides the technical basis for the Mercedes SL to use Remote Services such Geofencing, Vehicle Tracker and Parked Vehicle Locator, Remote Door Locking and Unlocking or Remote Retrieval of Vehicle Status, as well as a Smartphone Integration package whereby compatible smartphones can be integrated into the vehicle via Apple® CarPlay® to make and receive calls, aid navigation, listen to music, receive and send text messages and emails as well as supporting Siri ® voice control, Stitcher Radio® and Spotify®.
The Mercedes SL also has a Frontbass sound system, with the option of a Harman Kardon® Logic 7® surround sound system with 10-channel DSP amplifier with a total output of 600 watts and 11 high-performance speakers including Frontbass, or a Bang & Olufsen BeoSound AMG sound system with 16-channel DSP amplifier with a total output of 900 watts in conjunction with 12 high-performance speakers including Frontbass and twin-lens tweeters that give a futuristic show effect with LED light strips.
Even more choice when it comes to powertrains
The model range now comprises of the SL 400 with V6 engine uprated to 270 kW (367 hp) and 500 Nm (additional 25 kW/35 hp and also 20 Nm), and the SL 500 with the powerful 335 kW (455 hp) V8 engine as well as the SL63 and SL65 (which we detail later.)
As standard the power transfer is handled by the new 9G-TRONIC nine-speed automatic transmission which uses Dynamic Select to allow adjustment in seconds at the touch of a button to modify the setup of the engine, transmission, suspension and steering as the driver would want.
The transmission modes available are:
Eco (E), fuel-efficient setting with "sailing" function
Comfort (C), comfortable setting for long journeys or on rough roads
Sport (S), sporty setting for a dynamic driving style
Sport Plus (S+), extremely sporty setting - particularly suitable for flat road surfaces
Individual (I) allows individual adjustment of the various parameters to suit the driver's requirements.
and there is also available Active Body Control (ABC) with curve tilting function that reduces body movements when moving off, braking and cornering, and other small adjustments to suspension movements and settings to aid comfort in the drive - all at the press of a button.
When it comes to the SL400, Acceleration from 0-62mph is achieved in 4.9 seconds to a top speed of 250kmph, and emissions of 175g/km. The SL500 is slightly quicker at 4.3 seconds with higher emissions of 205g/km.
The new Mercedes-AMG SL 63 and SL 65
Both the Mercedes SL63 and SL65 have been enhanced into high-performance roadsters with updated technology and expressive design as all Mercedes SLs have.
The new design of the front section and the highly comprehensive scope of standard equipment all are taken as read, but it is the new engines that help the new models set the benchmark in the high-performance roadster segment with a 5.5-litre V8 biturbo engine on board the SL 63 generating an output of 430 kW (585 hp) and peak torque of 900 Newton metres, and the SL 65 being powered by a 6.0-litre V12 biturbo engine rated at 463 kW (630 hp) and delivering 1000 Newton metres of peak torque.
Technical highlights include the sports suspension based on Active Body Control, the rear-axle differential lock which now features as standard, the even more responsive AMG Speedshift MCT 7-speed sports transmission (on the SL 63 only) and the five AMG DYNAMIC SELECT driving programmes.
Tobias Moers, Chairman of the Board of Management of Mercedes-AMG GmbH describes it thus: "Our updated SL 63 and SL 65 high-performance roadsters offer a unique driving experience, combining hallmark AMG "Driving Performance" with the pleasures of open-air motoring and superior comfort on long journeys."
With an electronically-limited top speed of 250km/h on both models, with an AMG Driver's package available that includes an increase in the top speed to 300 km/h, acceleration on the Mercedes-AMG SL65 from 0-62mph is faster by 0.1 seconds at 4.0 seconds than on the Mercedes-AMG SL63. Emissions on the SL63 are around the 230g/km mark while the SL65 tops out at 279g/km.
Both powerhouses incorporate numerous high-tech components to ensure high power output combined with low fuel consumption: in addition to spray-guided direct petrol injection, further features include an all-aluminium crankcase, twin turbocharging, four valves per cylinder with camshaft adjustment and an air/water intercooler. And to make sure that you are noticed when driving, the sound of both engines is both individual and striking.
Performance is also boosted by the sports suspension based on Active Body Control, the high-performance composite brake system and the redeveloped AMG SPEEDSHIFT MCT 7-speed sports transmission (SL 63) or AMG SPEEDSHIFT PLUS 7G-TRONIC (SL 65).
Five different driving mode programmes - Comfort, Sport, Sport Plus, Individual, and RACE - allow the driver to influence the characteristics of the SL 63 and SL 65 from throttle response to engine sound, enabling the utmost in individualisation, and the striking design emphasizes the two high-performance roadsters' self-assured character. Coming with 10-spoke light-alloy wheels, painted in titanium grey and with a high-sheen finish, in size 9 J x 19 with 255/35 R 19 tyres at the front and in size 10 J x 19 with 285/30 R 19 tyres at the rear (SL63) and multi-spoke ceramic polished forged wheels in size 9 J x 19 fitted with 255/35 R 19 tyres (front) while the rear wheels in size 10 J x 20 are fitted with 285/30 R 20 tyres on the SL65.
All models are available to order now by contacting the Customer Representatives at Nationwide Vehicle Contracts with deliveries due just after Easter in April. Other Mercedes models are available on some great deals here.