You know that a car manufacturer has got a lot to show at a Motor Show when they use the phrase 'Something For Everyone' in their pre-Show press releases; but with 40 cars on show across a 4,000sqm stand in Hall One of the Paris Motor Show, Peugeot can't be accused of bending the truth at all as they show off a revitalised and unified range for 2014.

From the future QUARTZ and EXALT Concept cars to the revolutionary 208 HYbrid Air 2L, new 308 GT and 508, and the 208 GTi 30th from Peugeot SPORT, it seems that there really is something for everyone.

PEUGEOT QUARTZ and PEUGEOT EXALT Concepts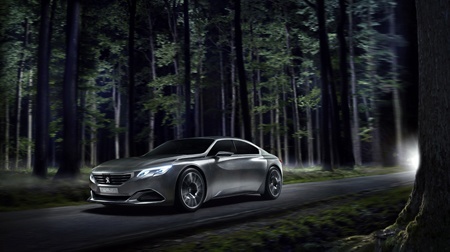 The PEUGEOT EXALT was first introduced to the world at the Beijing Motor Show back in April, but changes have been made following that appearance and the car now appears in a different guise; although the EXALT on show at the Paris Motor Show is still a premium car that uses locally sourced and recycled materials.

In an attempt to pay some sort of homage to the art of the French car industry from the twenties and thirties, the bodywork is hand-formed by a master panel beater and has a new finish that uses 'Newspaper Wood' created from the pages of the business dailies. At the back, the rear is trimmed in a textile known as 'Shark Skin', showing off a sophisticated tone-on-tone transition between the bare steel and the grey of the textile through a clear line.

There's even a gaze into what Peugeot see as the future beyond the EXALT as the car's boot's low load sill allows easy access to the HYbrid-Kick concept, a foldaway electric scooter stowed below the boot floor that comes with the car, ready for use by the driver to get where they want to go after having parked. It may seem a bit futuristic, but this joint project between PEUGEOT and MICRO to create a scooter that is easy to ride, fold and transport, is serious business and the "hallmark of simplicity and sophistication" according to Peugeot.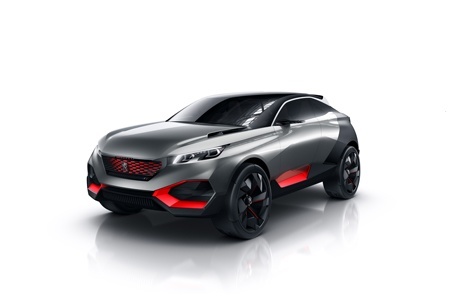 The PEUGEOT QUARTZ is a demonstration of what the French car manufacturer thinks that the next generation of SUVs will look like. And it is a dramatic change, especially as it does away with the traditional central B pillar, replacing it with scissor doors that combine with a retractable 'running board' to ensure easier access to the cabin.

And then there is the cabin itself – a combination of high-tech and natural materials. For the first time ever in the world, digitally woven textile is used, in this case together with basalt, a volcanic rock that blends strength and light weight; and the internal design moves onwards and upwards from there with the pillars and roof trimmed in black leather while the seat cushions and backs covered in fawn-coloured chiné leather.

The seats themselves are bucket seats with exposed structures and four-point harnesses, power is provided by a 500hp plug-in hybrid drive train comprising a petrol engine plus two electric motors, and there's a head-up display plus a large configurable touch screen..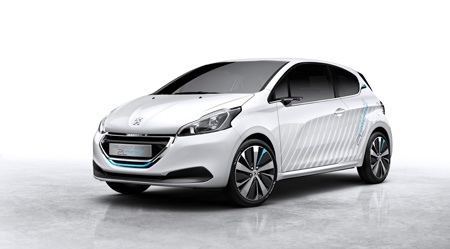 THE PEUGEOT 208 HYbrid Air 2L demonstrator and new engines

Technical expertise is an everyday occurrence for the team at PEUGEOT, especially when it comes to air pollution – demonstrated by the fact that the average CO2 emissions for new PEUGEOT vehicles sold in Europe stood at 111.1g/km at the end of June 2014 in comparison to 115.1g/km for the same period in 2013. This puts Peugeot on the honours table as one of the most successful car makers in Europe in terms of carbon reduction.

The main reason behind this impressive performance is the rapid roll-out of Peugeot Euro 6 engines like the impressive BlueHDi diesel and the three-cylinder PureTech petrol variants; not to mention the 1.2-litre PureTech 130 S&S engine which is the first petrol engine to feature PEUGEOT's Stop & Start in conjunction with automatic transmission (and is now available with the new six-speed automatic gearbox on the Peugeot 308 range.)-

Not content with standing still, PEUGEOT has decided to push things a little forward with the 208 HYbridAir 2L demonstrator which manages to halve the consumption of the already highly efficient 208, resulting in a superb fuel economy figure of 141mpg (2.0l/100km). This is also helped by a significant reduction in weight thanks to a mix of steel and aluminium, and an improvement in aerodynamics and rolling resistance due to an intelligent air intake, a lower stance and large diameter, narrow tyres.

HYbrid Air combines an internal 1.2-litre PureTech 82 combustion engine that's already been made 4% more efficient and some hydropneumatic features such as a compressed-air tank, a low-pressure tank that acts as an expansion chamber, and a combined engine-pump system that is mated to the transmission. When it is in operation this system generates, stores and releases compressed air to assist and even replace the petrol engine . The result is maximum efficiency during transition phases, such as acceleration and getting off the mark.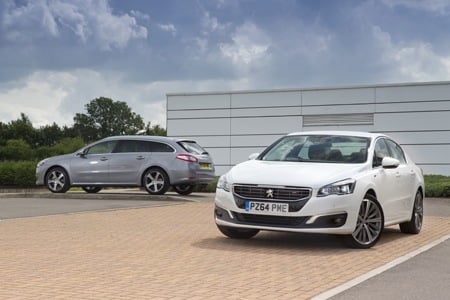 THE NEW PEUGEOT 508

We've already given you details of the Peugeot 508 updates on this blog, but for a quick overview, here are the salient points.

The new 508 features a new front grille with the famous PEUGEOT lion in the middle, a re-profiled bonnet, bumper-integrated daytime running lights as standard and is also jam-packed with technology.

All models at level two and higher come with a 7" touch screen that incorporates the majority of the car's functions along with Open & Go (keyless entry and start), an automatic electric parking brake, a reversing camera and blind-spot monitoring as well as eight engine options; two petrol and six diesel.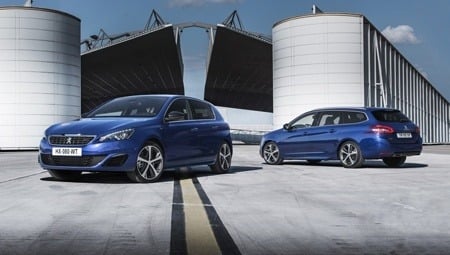 THE PEUGEOT 308 GT

Having said that Peugeot have something for everyone, here is a car especially for driving enthusiasts that boasts distinctive style, outstanding performance, an exceptional drive, impressive fuel efficiency and low CO2 emissions – all inside either a hatchback or SW estate body.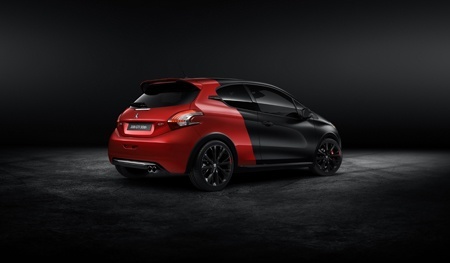 In all Peugeot offer four versions, with both the GT 205 and GT 180 available as a hatchback or SW, powered by either a 1.6-litre THP S&S petrol engine delivering 205hp or a 2.0-litre BlueHDi developing 180hp. Both of these powertrains are mated to an automatic gearbox, and both have impressive figures when it comes to fuel efficiency and green credentials. (The 1.6 offers 50.4mpg with CO2 emissions of 130g/km, and the 2.0 litre 70.6mpg with only 103g/km.)

Sports styling fans will love the 62-LED headlamp units, side skirts and 18-inch Diamond alloy wheels as well as the cabin trimmings with an anthracite-coloured roof headlining and red stitching on the upholstery, dashboard, door panels and gear lever.

And Sport driving fans will be enamoured of the fact that all PEUGEOT 308 GT models feature the Driver Sport Pack which offers up sharper power steering and accelerator pedal performance.

Like they said: "Something For Everyone".