SAME ICONIC DESIGN, COMPLETELY DIFFERENT POWER
Peugeot are pushing the boat out – or should we say 'pushing the race forward' – as they reveal the most powerful road-going car the brand has ever sold – the Peugeot RCZ R, chock full of mechanical upgrades set to blow the socks off anyone who drives, with a guarantee of a thrilling ride for anyone who gets behind the wheel inside a car that looks as good as it drives.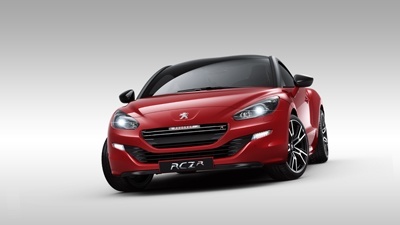 It's no surprise really, considering that it was inspired by the Peugeot RCZ Racing Cup track car, even down to it sitting 10mm lower to the ground (look out for those speed bumps then!) And if further proof were needed that this is one beautiful beast, this new range-topping two-seater sports coupé is powered by a 1.6-litre THP turbocharged petrol engine developing 270bhp that will help the car sprint from 0-62mph in just 5.9 seconds and accelerate on to an electronically limited top speed of 155mph.
Why create the Peugeot RCZ R? Because they can!
How? That's all down to the engineers at Peugeot Sport deciding to rework every component behind the RCZ to create a boost in power that would not only be considerable but would also prove a real challenge to any of their competitors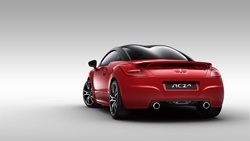 They started with the engine and the big call to downsize the engine to 1.6-litre capacity against all other performance cars and their 2.0-litre units. This makes the road car almost identical to the Racing Cup car in output and actually sets a record for specific power in the category. Under the bonnet, this new performance-oriented unit – given the code name of EP6CDTR to keep it from the ears and eyes of those who would copy– has many parts created and evolved just to fit in with and exploit the full potential of the car. Amazingly enough it still meets the stringent Euro 6 emissions standard whilst exhibiting maximum power of 6,000rpm and maximum torque of 330Nm at 1,900rpm to 5,500rpm.
Under the demanding conditions of the road, durability would normally be called into question; but the whole block has been reinforced by a specific heat treatment prior to machining, including new forged pistons with a compression ratio of 9.2:1 and a grade of aluminium usually only found in Formula One, and the con rods and uprated bearings have also been produced and treated so that they can accommodate higher cylinder pressures.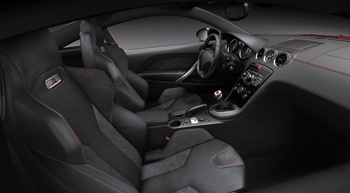 Add in a new specially strengthened six-speed manual transmission, uprated clutch, larger intercooler and new twin-scroll turbocharger and we are talking, to borrow phrase from "Charlotte's Web"; 'SOME CAR'. And pedestrians and other road users will know it's coming because the exhaust has also been modified and linked into the draw of the engine's air intake, to create an enhanced 'sound system' that will be used to let the world know that the new RCZ R is not only on its way but is also a sporting character par excellence.
If it were a racing car on a normal road, we all know that traction would be a problem; so the engineers at Peugeot have added a Torsen® differential to provide some extra grip, along with wider front and rear tracks so that traction is enhanced. Worriers of the world need to know that revised dampers settings, increased stiffness in the springs, a new fixed boot spoiler and anti-roll bar have all been included as standard to make sure that aerodynamic efficiency is not compromised and nor is high-speed stability – in fact both have been improved with these additions and tinkering.
Wheels are almost as important as the car itself when it comes to the higher performance models, and the Peugeot RCZ R does not scrimp on these either, sporting two-tone 19-inch alloys which accommodate new larger four-piston brakes bearing red calipers at the front displaying the Peugeot Sport name. Brake discs of 380mm diameter and 32mm thickness are mounted on an aluminium hub (thus saving on weight and cooling time) and carry Goodyear Eagle F1 Asymmetric 235/40 R19 tyres for to grip the road in outstanding fashion.
And with environmental concerns to the fore in any member of the public, despite these performance promises, CO2 emissions of only 145g/km and fuel economy of 44.8mpg on the Combined Drive Cycle show that the RCZ R leaves class rivals trailing in its wake in all ways.
Peugeot believe that the RCZ R is a Peugeot like no other; a result of countless hours of bespoke development and attention to detail: and the result is a "sports coupé par excellence, a performance car with outstanding acceleration, braking and cornering stability; a Peugeot with the aggression of a lion at its heart."
Having been originally debuted at the Goodwood Festival of Speed last July and was formally revealed at the Frankfurt Motor Show in September, the RCZ R will be seen on these shores in January 2014, in Moroccan Red, Nera Black, Mercury Grey and Opal White.
But you'll need to be quick – just like the car itself.