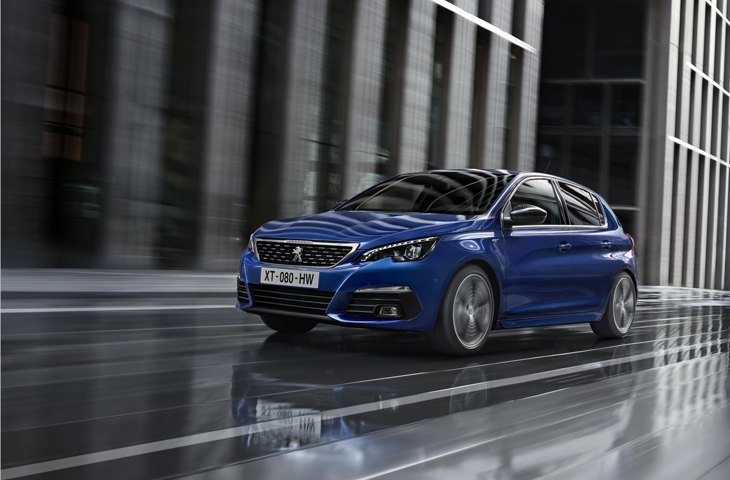 Peugeot has revealed the latest generation of the 308, available in hatch, SW and GTi, and available to order for leasing from Nationwide Vehicle Contracts now, ready for delivery in September.
The existing Peugeot 308 is a popular choice in the UK, but this new-generation model is the boldest and most high-tech model yet from the French car manufacturer. There has been a whole raft of changes, including sharpened styling, improved and updated powertrains and touchscreen connectivity, and enhanced comfort, making the car an even more compelling option.
Stand-out premium styling
No matter which body style or trim level you choose, you can be guaranteed that your new PEUGEOT 308 will have "perfectly balanced proportions."
It boasts a sleek new bonnet that slides down to the vertical grille adorned with the central Lion badge and Peugeot name sculpted into the upper trim, flanked by new elliptical headlights with integrated DRL LEDs.
Also on the distinctive front is a new front bumper with three generous lower grille openings, to ensure effective engine cooling, while at the back, the rear lamps show off a proud three-claw light signature night and day. And if you add in short front and rear overhangs, and a large glass roof as standard on Allure, GT Line and GT trims, you can see why Peugeot have great hopes for the new 308.
Latest generation connectivity and driver assistance systems
It's Peugeot's i-Cockpit® that helps the new 308 to boast seamless in-car connectivity, complete with Mirror Screen, a triple-play system which duplicates the user's smartphone on the vehicle's touchscreen. (It is naturally compatible with MirrorLink®, Android Auto®and Apple CarplayTM protocols.)
There is also a rapid-response new 3D Sat Nav system with voice control that is connected to the TomTom® Traffic realtime traffic monitoring service, and eight latest-generation driver assistance systems, including Active Safety Brake, Active Lane Departure Warning, Park Assist via Visiopark 1 with 180° rear camera, and Adaptive Cruise Control.
Efficient new powertrains
The new PEUGEOT 308 is powered by a choice of highly efficient petrol and diesel engines allowing customers the chance to make a decision between high performance and low fuel consumption.
High-precision injection control on the PureTech 130 Stop&Start engine enhances combustion efficiency (and also offers a new six-speed manual gearbox for maximum benefit) while the new BlueHDi 130 S&S Diesel engine makes its Peugeot 308 debut.
The BlueHDi 180 Stop&Start Diesel engine is exclusive to the New Peugeot 308 GT, and is available with a new-generation EAT8 automatic transmission, an eight-speed unit featuring slick, smooth, linear response, plus Stop&Start capability from 12mph. Perfect for the GT, with the powerful and highly efficient powertrain offering a rapid and direct driving experience.
David Peel, Managing Director at Peugeot UK, commented: "The new PEUGEOT 308 offers the complete package for car buyers, fusing eye-catching styling, the latest in-car connectivity and up-to-the-minute powertrains.
"Across the board, we've enhanced the 308's unique personality with a strong and high-tech look, and that feeling has been applied inside too with features such as the i-Cockpit® bringing seamless connectivity, as well as driver assistance systems that help to take the stress out of driving. Factor in a range of new, highly efficient powertrains, including an eight-speed automatic, and the new PEUGEOT 308 adds up to a compelling package."
To register your interest, and to discuss leasing a new Peugeot 308, 308 SW or 308 GTi with Nationwide Vehicle Contracts from September 2017, contact our Customer Service Advisors now.