It's a line-up of stars at the first ever Practical Classics Restoration Show taking place at Birmingham's NEC on Saturday 12th and Sunday 13th April 2014 – and that is just the personnel there, not including the stellar line-up of cars.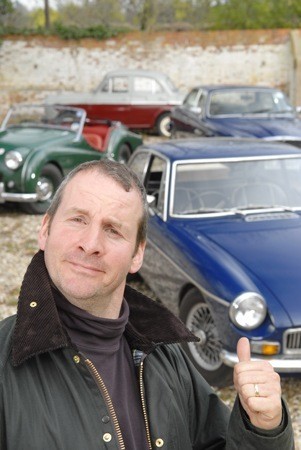 Chris Barrie, Arnold Rimmer in Red Dwarf and Gordon Brittas in The Brittas Empire TV Shows amongst other acting jobs, is a very keen classic car restorer Chris Barrie and will be at the show offering advice and showing off some of his work, as will ex-Pop Will Eat Itself drummer and presenter of National Geographic's Car SOS Fuzz Townshend, along with racing driver and presenter of TV's Fifth Gear Vicki Butler-Henderson.
You'll also find car restoration aficionados Mike Brewer and Edd China right at the top of the Practical Classics Restoration Show bill, donning their overalls and getting oil and dirt under their fingernails on the Practical Classics Live Stage, offering advice on buying cars for restoration and selling projects on – just as they do every week on the Discovery UK series Wheeler Dealers.
And it wouldn't be a motoring exhibition without motoring presenter and all-round good bloke Quentin Willson will also be on hand to fight the corner for every UK motorist as well as offering advice on all motoring issues that affect drivers every day.
THE LIVE STAGE
As well as featuring the presenters offering advice and ideas, sharing restoration stories and experiences as well as visiting stands, signing autographs and no doubt being part of many photographs, the team will also be on the Practical Classics Live Stage taking part in an exclusively live and brand new game show called 'Would I 'Really' Lie to You' where we find out all about their own motoring misdemeanours.
One person hoping that those misdemeanours won't be taking place live will be Vicki Butler-Henderson who will be watching her first ever car – a 1979 Ford Fiesta L – having the full-on restoration experience on the stage over the two days of the exhibition. Fingers crossed Vicki!
It's not just those whose lives touch fame and (perhaps) fortune who will be on the stage. There will be 10 finalists who have been shortlisted for the much coveted national title of 'Restorer of the Year'; amongst them a couple of local classic car enthusiasts and their beautifully restored cars.
Birmingham born Brian Rollins has lovingly restored the 1936 Austin Seven Opal Tourer that he'd once owned 58 years previously, while Kevin Price from Bewdley, Worcestershire, has restored the 1962 Volvo P1800 that stared in the very first episode of the 60's mystery spy thriller 'The Saint'; and both are hoping to be holders of the title when it is announced on Sunday at 4pm.
THE SHOW
For anyone interested in restoration and restoration challenges, the Practical Classics Restoration Show seems to be the place to be with the UK's biggest display of barn finds, restoration projects for sale via Silverstone Auctions, task and marque specific master classes from leading experts, an extensive trader village and autojumble, and just great cars from all around the UK in every available square foot.
For more information on the show and how to book tickets, visit www.necrestorationshow.com or call 0844 858 6758.