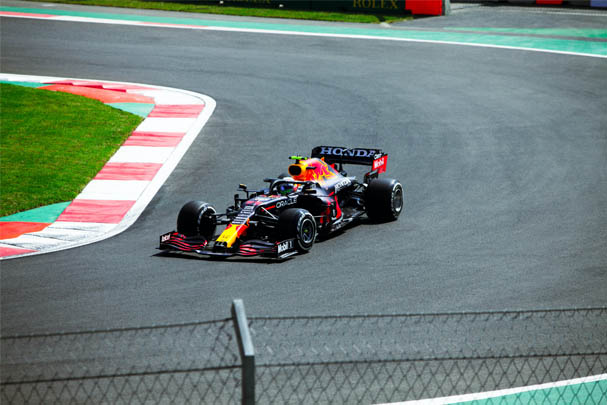 Nationwide Vehicle Contracts explores the lives of legendary race car drivers and the impact they've had on the racing world.

Motorsport is an industry that provides the perfect recipe for stardom. Its inherent dangers, pizzazz, and showmanship have led it to become one of the world's most popular sports, and because of this, it's created some iconic race car drivers.
From legends like Sir Stirling Moss and James Hunt to modern icons like Lewis Hamilton, we take a look at racing's iconic drivers over the years.
The Thrill of Motorsports
Race car drivers are a unique bunch. They strap themselves into machines with the world's most powerful engines and try to drive them as fast as possible. But that's why we love them!
The dedication to honing their craft, the calculated risks at every turn, and the split-second decisions made at dangerously high speeds showcase the extraordinary skill and mindset required to excel as a race car driver.
As well as their immense skill, race car drivers come with big personalities. They often find themselves on the front pages of the papers and are talked about across the globe.
Sir Stirling Moss – The Sporting Gentleman
Stirling Moss is one of the UK's most celebrated racing legends. Described as 'the best driver never to win the Formula One World Championship', Moss's career as a racing driver spanned ten years from 1951 to 1961, in which he secured 16 Grand Prix victories.
Although he was one of the finest drivers in F1, Moss's prowess extended beyond. He participated in various racing disciplines, from endurance races like the 1,000-mile Mille Miglia to breaking various speed records throughout the 1950s. He became renowned as a man who could extract the maximum ability from any vehicle he drove while always doing so with great charisma.
During his career, Moss was one of the most recognisable celebrities in the UK. The phrase "Who do you think you are, Stirling Moss?" was supposedly asked by policemen when questioning an individual for speeding.
Ayrton Senna – The Brazilian Maestro
Ayrton Senna was one of the finest racing drivers ever to grace Formula One. Winning three World Championships in 1988, 1990, and 1991, Senna won 41 Grand Prix and 65 pole positions, a record until 2006. Unfortunately, he died in an accident while leading the 1994 San Marino Grand Prix.
On the track, Senna was known for his intense rivalry with Alain Prost, who was his teammate in the 1988 and 1989 seasons at McLaren-Honda. Both drivers dominated F1 in the late 80s and pushed each other to the limit on the track, highlighting Senna's determination and never-back-down attitude.
Although a fierce competitor on the track, he cared about the safety of his rivals. He advocated for improving safety regulations in F1, and on the morning of his death, he initiated the reformation of the GDPA safety organisation. He was also heavily involved in charity work, and his legacy lives on through the Ayrton Senna Institute, which is dedicated to improving education and opportunities for poor children in Brazil.
Sir Jackie Stewart - The Flying Scot
Jackie Stewart, known as the 'Flying Scot', won three Formula One World Championships in 1969, 1971, and 1973. The only British driver to win three championships until Hamilton in 2015, Stewart was a fan-favourite driver and was hugely influential in improving the safety of motor racing.
During his career in F1, Stewart became a tireless advocate for safety reforms, and his efforts led to pivotal changes in track design, car construction, and safety equipment. These reforms have saved the lives of countless drivers and have drastically reduced the risk drivers face when getting behind the wheel.
Sir Lewis Hamilton - A Modern Icon
Lewis Hamilton is undoubtedly the modern great of Formula One. The British racing driver has won a joint-record seven World Championships and holds the record for most wins (103), pole positions (104), and podium finishes (195).
The standout feature of Hamilton's career is his ability to remain at the top of his game for so long. Winning his first championship in 2008, Hamilton has continued to push himself to new heights, resulting in him becoming one of the best race car drivers of all time.
Hamilton has become the face of Formula One in the modern era and has been credited with furthering F1's global following thanks to his high-profile lifestyle, environmental and social activism, and exploits in fashion.
Nigel Mansell - The Lionheart
Nigel Mansell might not have the skill or natural talent of other iconic drivers, but what he lacks in those areas, he makes up for with determination and his never-give-up attitude. He clinched the Formula One World Championship in 1992 and is the second most successful British driver of all time with 31 victories.
Mansell was an exciting driver, thanks to his determination and win-or-bust approach. He crashed 32 times in his F1 career and was hospitalised various times but carried on out of sheer love for the sport.
Not just restricting himself to Formula One, Mansell tried his hand at CART racing in 1993. In his debut season in 1993, he won the IndyCar World Series Championship, becoming the first person to win the CART title in their debut season.
Graham Hill - The Only Triple Crown Winner
Graham Hill is the only driver in history to win the 'Triple Crown of Motorsport' by winning the Indianapolis 500, 24 Hours of Le Mans, and the F1 World Drivers' Championship in 1972. A highly accomplished driver, Hill won the World Championship twice, and by the time his career was up, he had 14 wins and 36 podiums.
A legend off the track as much as on it, Hill was known for his exuberant personality and iconic moustache. He'd host regular parties at his house, which would be attended by most of the Grand Prix paddock and other celebrities, making him become a highly popular individual.
Hill set up his own Formula One team, Embassy Hill, in 1972. Although short-lived and having limited success, its creation showed Hill's ambitions and determination to succeed in racing.
James Hunt - The Maverick World Champion
One of the great characters of Formula One, James Hunt won (or lost) as many fans through his off-track exploits as he did on it. The biggest personality in F1 in the 1970s, Hunt was a divisive character who drove aggressively on the track, often leading to spectacular accidents, which helped to create his nickname of 'Hunt the Shunt'.
A fast driver who ran off adrenaline, Hunt found success when he controlled his explosive emotions, resulting in him winning the World Championship in 1976. Throughout his career, Hunt shared a rivalry with Nikki Lauda, with the latter training rigorously compared to Hunt's lavish lifestyle as F1's 'Golden Boy'.
After winning the championship, Hunt's interest in racing dwindled, but nevertheless, he was a big hit with the wider public and tabloid media. He drank heavily, reportedly smoked 40 cigarettes daily, and lived a social life comparable to Jay Gatsby. After he retired from racing, he established himself as a motorsport commentator.
Damon Hill - Continuing the Legacy
Although Damon Hill was born to racing legend Graham Hill, he had to make his career in racing off his own back. After Graham Hill's premature death in 1975, Damon funded his transformation from motorbike racer to race car driver, and in 1996, he won the Formula One World Championship.
Initially a test driver for Williams in 1992, he was promoted to the race team in 1993 and took his first win at the 1993 Hungarian Grand Prix. Through the rest of the mid-90s, Hill established himself as one of the best drivers and competed regularly with Michael Schumacher for the world championship.
After a shock departure from Williams in 1996, Hill went on to drive for Arrows and Jordan, before retiring in 1999 with 22 wins to his name.
Which icon is your favourite? Nationwide Vehicle Contracts has produced various blogs on motorsport, from the Most Dangerous Motorsport Races to the Top Ten Car-Themed Sports Movies.
We are also one of the UK's largest car leasing brokers and offer a range of leasing deals to suit your every need. From our Used Car Service to our Fast Lease Service, take your pick from a range of lease deals.