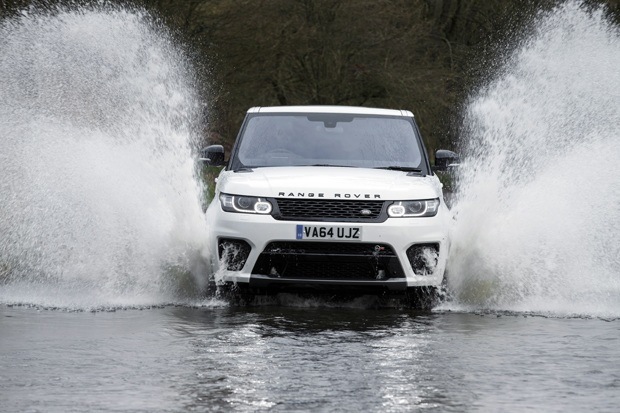 The fastest Land Rover ever has arrived on British forecourts in the shape of the Range Rover Sport SVR with its 550PS/680Nm V8 supercharged engine, revised chassis and high performance tyres.
The Range Rover Sport SVR's new exhilarating dynamics keeps a firm grip on Land Rover's class-leading all-terrain capability with an active exhaust providing a thrilling V8 soundtrack as it performs to high standards - standards that it sets itself with acceleration from 0-60mph in 4.5 seconds with a top speed of 162mph that allowed it the car to do a Nürburgring lap time of only 8 minutes 14 seconds.
The Engine's Performance
Under the bonnet of the Range Rover Sport SVR is a range-topping 5.0-litre supercharged V8 engine that has had its Pferdestärke increased by 40 to produce 550PS, and Newton Metre torque by 56 to 680Nm – all without compromising any fuel economy. And if you add optimisation of the advanced ZF 8HP70 8-speed automatic transmission and four-wheel-drive chassis, then you'll benefit from some astonishing performance, whatever the weather.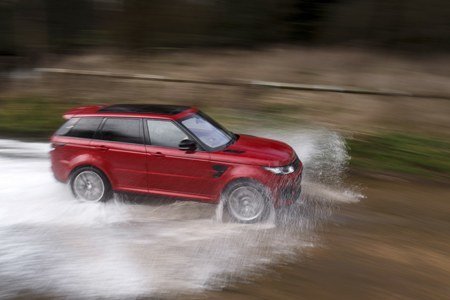 In top of all this astounding power and performance, in a world first for Land Rover, the Range Rover Sport SVR has been equipped with a two-stage active exhaust that uses electronically controlled valves that ensure that the system optimises sound quality, performance and aesthetics. This all means that the car provides a race car-inspired soundtrack at higher engine revs whilst still making sure that the drive is fully refined.
Making sure that the drive is as smooth as possible, more firsts in the optional shape of four unique 22" alloy wheels with performance-optimised 295/40 R22 Continental SportContact 5 tyres complement the driver-focused chassis. Or there is the standard option of new 21" alloy wheels with 275/45 R21 all-season tyres to enjoy along with unparalleled all-terrain capability.
John Edwards, Managing Director of Land Rover's Special Operations, said: "The Range Rover Sport SVR is a natural progression beyond the core vehicle's outstanding on- and off-road capabilities and leading-edge design. Its' exhilarating performance will satisfy a particularly demanding customer set.
"A thorough range of revisions specially developed by Land Rover's Special Vehicle Operations combine to make this premium derivative even more distinctive both inside and out, as well as taking its dynamic capabilities to the next level without impacting on comfort, refinement or all-terrain versatility. The Range Rover Sport SVR is truly the world's most capable performance SUV."
The Proof Is In The Performance
If you want to see just what sort of performance the Range Rover Sport SVR is capable of, take a look at this sensational footage released by Land Rover with Mike Cross, Chief Engineer Vehicle Integrity at Jaguar Land Rover lapping the Rockingham circuit.
In it he "demonstrates the adjustability, poise and outstanding body control of the fastest and most powerful Land Rover ever produced... explaining how the Range Rover Sport SVR's sophisticated drivetrain and advanced four-wheel drive chassis technology deliver supreme high speed handling characteristics."
The Range Rover Sport SVR's Silhouette and Build
Simply by taking a look at the photos you can see that the exterior design enhancements that Range Rover have made to the Sport SVR give the car a striking visual impact, but it is the things that you can't necessarily see that are some of the most intriguing and effective for drivers - boosting cooling and aerodynamic efficiencies.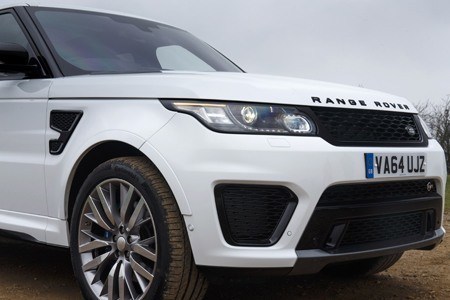 You can see the bespoke interior that features some pretty unique sports seats but surrounding all that is the car's all-aluminium monocoque which reduces weight by 39% (in comparison to its predecessor) and provides a segment-first strong, stiff and lightweight structure that the Range Rover Sport SVR is built upon. The fact that it is lightweight helps unleash the sport side with the robust all-aluminium architecture assisting the off-road capability for which Range Rover is world renowned.
The Range Rover Sport SVR comes with:
A permanent four-wheel drive
A two-speed transfer case (with a low-range option to allow for journeys on ultra-demanding terrain)
A 50/50% torque split front-to-rear
An upgraded air suspension system that automatically varies between two ride heights
The ground-breaking Terrain Response® 2 system that automatically selects the most suitable terrain programme.
Wade Sensing™ technology that provides 'depth' information when driving through water
A towing capability of up to 3000kg.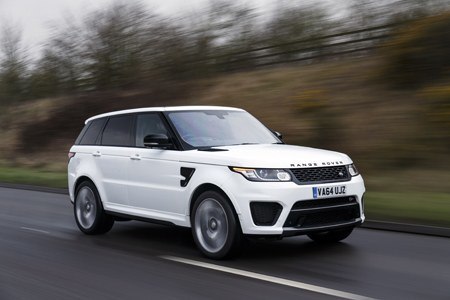 Created by Jaguar Land Rover's Special Vehicle Operations team, the Range Rover Sport SVR's lightweight aluminium suspension is fully-independent, with wide-spaced double-wishbones at the front and an advanced multi-link layout at the rear, and is certainly up there in the list of the finest cars ever produced by Jaguar Range Rover with the SVR badge.
So much so that the Range Rover Sport SVR has recently been awarded the coveted Autocar Star Award reserved for an elite set of cars that achieved an overall five-star rating in the Autocar's in-depth road test.
John Edwards, Managing Director of Jaguar Land Rover Special Operations, said: "Obtaining a full five-star verdict in Autocar is a fantastic achievement and one which we are extremely proud of. Receiving such an award from one of the most experienced road testing teams in the industry independently endorses the SVR's outstanding dynamics, pace and overall capability.
"This award is made all the more special by the fact that the Range Rover Sport SVR is the very first product to emanate from the SVO division and it's a fantastic achievement for the team."