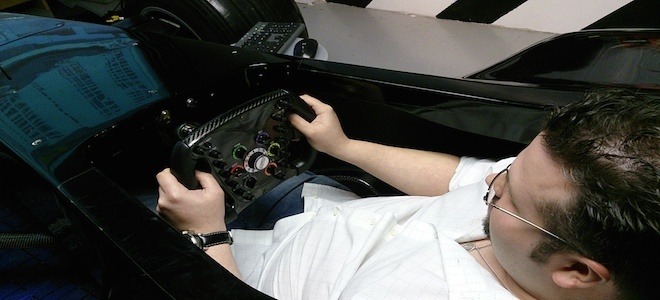 Garage51s, which is based just outside of the centre of Northampton and a matter of minutes from the Cosworth headquarters, provides a truly immersive experience unlike any other. Its body is that of a 2005 F1 racecar, which really gave me a fuller understanding of just how a F1 driver sits in the cockpit.
The F1 Perspective
A first person perspective just by climbing into the adapted cockpit really opened my eyes, as to firstly the driving position. It was surprising how low the shoulders are, as they sit below the top part of the steering wheel, which had all the relevant switches, paddles and buttons.
I was there to mainly have a bit of fun and get a different experience when it comes to simulators. The impressions kept coming when it came to making sure that you hit the apexs, hit the rev limiter, along with braking and changing gear. The simulator also is highly adaptable and gives a lot of options when it comes to what settings are brought into play when it comes to the full-blown experience.
Believe me, it was not easy at all, as with every F1 car, the tyres and brakes have to be warmed up fully and be within their temperature range to get the car at its optimum.
The amount of focus you actually need, even in a simulator, is actually quite astonishing. Your eyes are on stalks and that wonderful V8 noise coming through the speakers makes the hairs on the back of your neck stand on end. The big thing about it is that just to experience it, and it does bring a cheshire cat-like grin to your face.
It also comes down to repetition and consistency, which always counts in the world of F1, but after around 20 laps of trying to negotiate the current Silverstone layout in the 2007 BMW Sauber, my smile said it all. The adrenaline had been pumping well and truly through my veins.
Petrolhead Nirvana
But the good thing about Garage51s, which is a great facility in its own right, is that you can also get your rally fix, as well as give the karting simulator, Scaletrix and Batak a go. It really is one of those facilities that does what it says on the tin. One of the rally simulators is a dune buggy, with the other one being a Golf Mk4 R32, with both giving a lot of feedback through the steering wheel, which really makes it ever the more immersive. The Golf even has an integrated smoke machine and can also provide a full range of motion.
I spoke with owner and proprietor Andrew Rogers at great length, as the whole purpose of doing what he clearly loves, is to get people hooked. He says that it is even more of a joy, especially when he sees the people that are clearly not interested, actually having a go and really enjoying it.
The experience he actually has was shown not only by the amount of lanyards he showed me, which is rather extensive, but also the recommendations book he has of professional racing drivers and just your everyday motorsport fan.
The people that visit are giving him top marks for what does clearly works, and that goes for me too. There is something for everyone, and there are even competitions for those that go and give it their best shot, for a place on the leaderboard.
We all have that competitive urge, and I must admit that my chance of becoming a racing driver may have passed me quite a long time ago… However, just to get a feel of what the drivers in Formula One have to contend with was the high point of my day.
Garage51s is a facility worth visiting, as before you know it, you'll have lost track of the time, so for more information on this great facility, you can visit their website at http://www.garage51s.com, so as to help you get your racing fix.