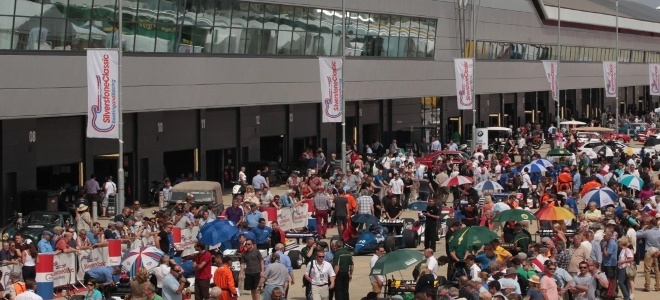 Even their records are record-breaking. Probably.
Silverstone Classic describes itself as "the world's biggest classic motoring festival", and the 2013 event lived up to that title in style, scope and scale.
The amount of records broken over the weekend of Silverstone Classic is incredible. For starters, the weekend saw record attendance rates of 90,000 – that's up from 83,500 in 2012.
Then there's the races. The races! Silverstone Classic had already entered the record books for staging the biggest race meet ever staged anywhere in the world. This they did in 2011, which saw 1,104 entries over the course of the weekend. Well. In 2013 they've only gone and beaten their own record with an unprecedented 1,113 entrants, all of whom were driving beautiful authentic historic racing cars.
That's not all!
But even had the figures not secured this event's place in history, the action witnessed at the 2013 Silverstone Classic weekend certainly would have done.
Oh the things that were seen. 1992 British Touring Champion Tim Harvey leading the Super Touring Car Trophy in they very fiery Ford Sierra Cosworth in which he raced in 1990. Former F1 driver and Le Mans winner Jackie Oliver winning the Royal Automobile Club Tourist Trophy for Historic Cars in the fabulous Ferrari 250 SWB he shared with Gary Pearson. Gary himself, and his brother John, sharing a Jaguar E-type to win the Piper Heidseck International Trophy for GT Cars.
That's just scratching the surface. Even beyond the races and events, Silverstone Classic paid host to over 8,000 classic cars and marked a few very important anniversaries. Aston Martin celebrated their centenary. Lamborghini celebrated their 50th anniversary with the largest gathering of these Italian supercars ever seen in the UK. Then, of course, there was the Porsche 911, the 50th birthday of which was marked by a gathering of 1,208 Porsche 911 models.
In the spirit of the weekend, said gathering was, of course, record breaking.
Phenomenal
"It has just been phenomenal," said event director, Nick Wigley. "Whichever way you look, the Silverstone Classic has gone fantastically well.
"Every year the event just gets bigger and bigger and, once again, we've hit some record numbers.
"It's incredible to see how this event has developed over the last few years and, while the weekend was a huge success, we are already working flat out to ensure the 2014 Classic even bigger and better. I, for one, can't wait!"
See you there, then!