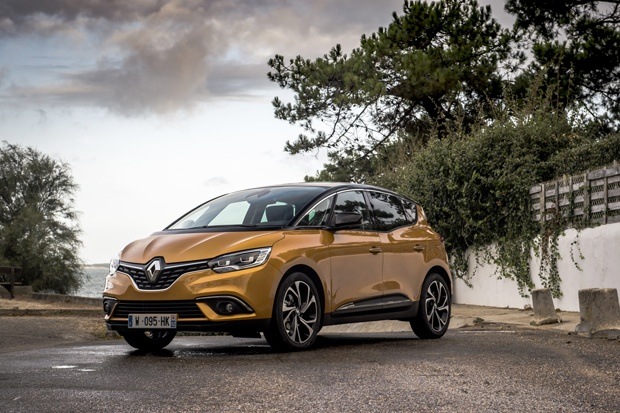 The Renault Scenic has often laid claim, and a very good claim it is too, to being the compact MPV that invented the segment; so when the fourth-generation of both the Scenic and Grand scenic make an appearance, the car world needs to sit up and take notice.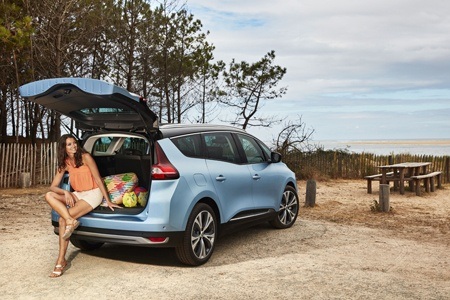 Available now to lease from Nationwide Vehicle Contracts, the Scenic and Grand Scenic 2016 versions boast innovative technology, 20" wheels as standard right across the range, and a range of efficient petrol and diesel powertrain options, including Hybrid Assist version, so check out what deals are available here.
Manufactured in Douai, in Northern France, and based on Renault-Nissan Alliance's CMF platform, Renault has completely overhauled its offering, bringing with it versatility, space, user-friendliness and travelling enjoyment that millions of drivers have enjoyed since the Scenic launched 20 years ago. Based on 2011's R-Space concept, and unveiled at the 2016 Geneva International Motor Show, both the five-seat All-New Scénic and the seven-seat All-New Grand Scénic will be available with asegment-first 8.7" portrait touchscreen, multisense technology, the biggest storage capacity and boot space in its class, and a whole host of driving aids and safety technology.
Design and Dimensions reinvented.
"We wanted the new Scénic to break new ground. It is a sexier and more modern take on the MPV, which carries over the outstanding modularity that has been paramount to the success of the model's three previous generations over the past 20 years. Its proportions and large-diameter wheels draw inspiration from the R-Space concept car." - Laurens van den Acker – Senior Vice-President of Corporate Design, Renault
So just what is new when it comes to the design of the new Renault Scenic and Grand Scenic?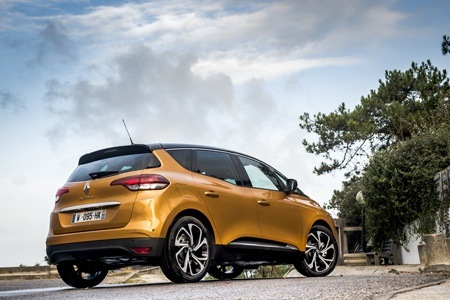 For a start the distinctive MPV body shape of the Scenic is 20mm wider than the Scénic III, has 40mm higher clearance, a longer wheelbase, wider tracks at both the front and rear, and a shorter (by 16mm) rear overhang. All of this adds to the car's fluid silhouette.
Add to this a steeply-raked panoramic windscreen, panoramic glass roof (depending on trim level), specific lighting signature as standard (with C-shaped front lights and 3D-effect horizontal taillights incorporating Edge Light technology), and a two-tone colour scheme, and the external reinvention is complete.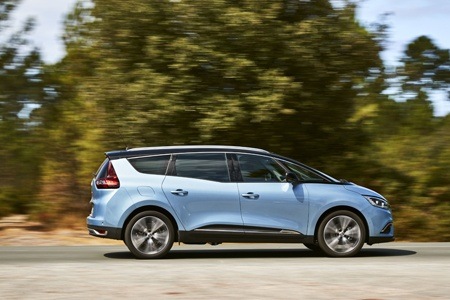 The All-New Grand Scénic is equipped with aluminium roof bars as standard and vertical 3D-effect taillights.
As stated previously, right across the model range, 20" alloy wheels are fitted, filling the wheel arches just like a sports car and making the roofline look lower as the now-unique gets its own dynamism.
"After the revelation of the R-Space concept car, Renault engineers and designers worked hand in hand to make sure that the visual appeal of 20-inch wheels was compatible with the very highest standards in terms of safety, comfort, fuel consumption and running costs. After four years of work, and thanks to the outstanding collaboration we enjoyed with our tyre manufacturer partners, we are very keen to see our customers benefit from this innovation." – Irina Zaretskaya, Deputy Programme Manager, All-New Scénic
Safety and comfort as standard
The extended wheelbase of both the Scenic and Grand Scenic delivers outstanding road holding, aided and abetted by those 20" wheels, making both models amongst the very best in its class when it comes to road manners and braking performance, without detracting from ride comfort.
Braking performance has been improved, seats are wider, and the chassis perfectly tuned and adapted to deliver both first-class comfort and engaging handling, with those wheels soaking up any road imperfections with ease, as well as enhancing the car's environmental credentials via low friction, optimised aerodynamics and the use of low rolling resistance tyre compounds.
The All-New Scénic and All-New Grand Scénic similarly boasts all of the market's major driving aids (Advanced Driver Assistance Systems - ADAS) that can be found in the new Espace, the Talisman and the All-New Mégane. These can all be accessed and activated via the R-LINK 2 tablet, and include:
Adaptive Cruise Control
Active Emergency Braking System (AEBS)
Lane Departure Warning (LDW)
Safe Distance Warning (SDW)
Traffic Sign Recognition with Over Speed Prevention (TSR with OSP)
Blind Spot Warning (BSW),
Reversing camera
Automatic dipped and main beam headlights
Front, rear and side parking sensors
Easy Park Assist (hands-free parking)
Active Emergency Braking System (AEBS) with Pedestrian Detection
Lane Keeping Assist (LKA)
Fatigue Alert
You'll also be pleased to hear, with no surprise at all, that the all-new Scénic has achieved Euro NCAP's highest score of five stars for passive safety, thanks to reinforced steels used in the main beams, side rails, windscreen pillars and B posts, and programmed deflection steels outside of the cabin to enable impact energy to be absorbed while keeping the survival cell intact.
The All-New Scénic is also equipped with two curtain airbags for the front and second-row seats, two lateral airbags at the front and two latest-generation adaptive front airbags which "use sensors to adjust their deployment as a function of the occupant's build."
Space; not just in the final front here.
"As the ultimate family vehicle, the new Scénic has reinvented itself to offer families a thoroughly modern and attractive incarnation of the traditional MPV. Travelling comfort has always been firmly rooted in the Scénic's DNA, and the model remains as unique and impressively practical as ever for all occupants thanks to its superb modularity." Pauline Sapy-Renaudin, Product Marketing Manager, All-New Scénic
The All-New Scénic's One Touch Folding rear seats – a feature carried over from the new Espace – can be folded effortlessly to achieve a flat floor; and this can be done from two different places - inside the boot or by using the R-LINK 2 system.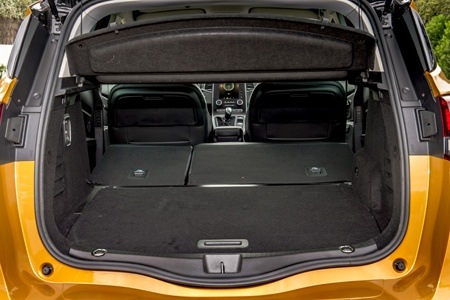 And there is also a large, sliding centre console with 13 litres of storage space, a capacity that is up to four times that of any of its competitors, and exclusive to this sector.
In the front, you'll find a lit stowage area protected by a sliding cover, as well as an integrated armrest that reveals two USB ports and an audio jack socket when opened. And there is the same in the back, along with a 12-volt power supply and a dedicated stowage compartment.
When it comes to the boot area, records are set as the new Scénic has a boot capacity of 572 litres - the largest volume in its class. With just five seats in use, the seven-seat version of the All-New Grand Scénic offers 596 litres of carrying space, which places it second in its class.
You will also find, if you look hard, other ingenious stowage solutions, such as four underfloor compartments that extend the total stowage capacity by 63 litres: up to twice as much space as its competitors.
Advanced technology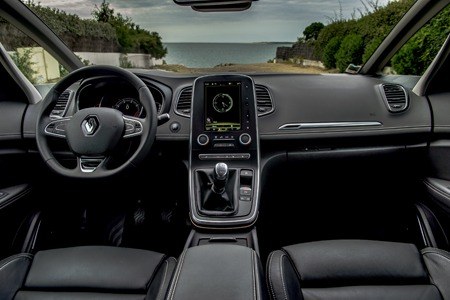 "In addition to its assertive personality, the new Scénic is also innovative and foreshadows Renault's strategy with regard to connected and autonomous vehicles. Its different sensors and cameras enhance safety and travelling comfort, while its multimedia technologies facilitate the control of the different systems." - Cecile Sobole, Product Manager, All-New Scénic
The All-New Scénic and All-New Grand Scénic notably feature:
A colour head-up instrument display
Multi-Sense technology, which grants access to five different driving settings: Neutral, Sport, Comfort, Perso and Eco
R-LINK 2 complete with a portrait-format 8.7" display.
Apple CarPlay and Android Auto functions (from Jan 2017)
Bose® Surround Sound audio
An extensive engine range, including Hybrid Assist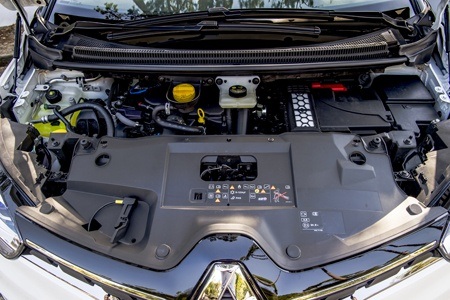 "With Hybrid Assist, Renault has drawn upon its electric vehicle expertise to deliver technology that fits perfectly with its electrification strategy. We are committed to continuing to provide the broadest spectrum possible of motorists with innovative solutions that yield significant reductions in fuel consumption while keeping additional costs to a minimum. Hybrid Assist provides a first-class eco-driving experience without compromising on driving pleasure." - Philippe Cotté –Project Leader, Application of Hybrid Assist to existing engines
The All-New Scénic range provides a choice of five diesel engines, mated to either a six-speed manual gearbox or to six- or seven-speed EDC (Efficient Dual Clutch) automatic transmission, plus two petrol engines which drive through a six-speed manual gearbox.
The list of available engines includes:
The Energy TCe 130 petrol engine
The Energy dCi 160 EDC with 160hp.
The Energy dCi 130 diesel engine with 130hp
The All-New Scénic also breaks new ground by offering Renault's innovative Hybrid Assist engine electrification technology mated to a six-speed manual gearbox with the core-range dCi 110 diesel unit. With this the electric motor is powered by a 48-volt battery to occasionally (when required) take over some of the work of the internal combustion engine to provide low fuel consumption and CO2 emissions without compromising the driving enjoyment and pick-up performance delivered by the dCi 110 engine. In fact, Hybrid Assist allows fuel consumption and CO2 emissions to be reduced by approximately 8-10%per cent in comparison with the standard dCi 110 engine to around 80mpg and 92g/km respectively.
Home, here's the range
The Scénic and Grand Scénic are each offered in a 21-version line-up based on four existing trim levels – Expression+, Dynamique Nav, Dynamique S Nav and Signature Nav - each with their own comprehensive standard specification, rising up to the luxurious and technologically advanced at the top-of-the-range.
There are also six high-value optional equipment packages available, to personalise the All-New Scénic and Grand Scénic, depending on version.
The Safety Pack for Dynamique Nav and above delivers Lane Keeping Assist and Safe Distance Warning
The Safety Pack Premium, also for Dynamique Nav and above, provides Adaptive Cruise Control on top of Lane Keeping Assist and Safe Distance Warning.
The Parking Pack Premium, available on Dynamique S Nav and Signature Nav, includes hands-free parking, 360-degree parking sensors and blind spot warning.
The Look Pack Premium, an option on Dynamique Nav only, offers up a panoramic fixed glass sunroof with electrically operated sunblind, extra tinted rear and tailgate windows and an electrochrome rearview mirror.
The BOSE Pack adds in a BOSE sound system with seven speakers, amplifier and subwoofer on certain variants of Dynamique S Nav models and above.
The Leather Pack Premium provides Dynamique S Nav with full leather upholstery, electric front seats, heated seats, driver seat with memory and courtesy functions and front passenger seat with ISOFIX and underseat storage.
There are also other options available, including (depending on trim level): a rear parking camera, full LED headlights, 8.7" portrait touchscreen, Nappa leather steering wheel and metallic paint.
To find yourself behind the wheel of the groundbreaking new Renault Scenic and Grand Scenic, contact one of our Customer Service Representatives now.