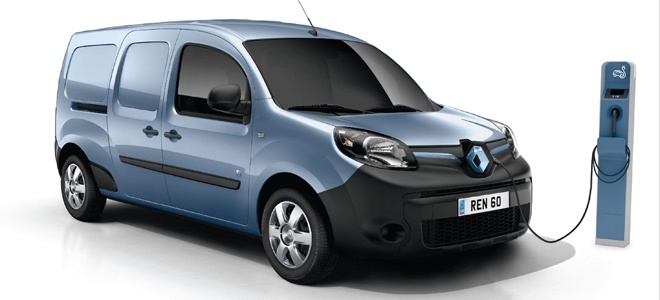 This time, the already award-winning Renault Kangoo Van ZE has managed to win (and thereby retain) the GreenFleet Awards 'Electric Vehicle of the Year' title, picking up the award at the ceremony held at Arsenal's Emirates Stadium, home of one of France's favourite sons.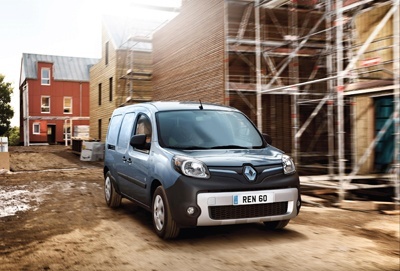 Last year's International Van of the Year had its award presented to it by Fifth Gear presenter Jonny Smith late last week with the judges, including the editorial and research team from Greenfleet as well as independent representatives from the likes of ICFM (Institute of Car Fleet Management), deciding that there was no better Vehicle in the field for the second year running.
GreenFleet's Colin Boyton, one of the judges, said of the Kangoo Van ZE: "As well as winning last year's Electric Vehicle of the Year award from GreenFleet, it scooped 'Ecovan of the Year' and 'International Van of the Year' accolades.  It is more than a worthy winner again."
Only launched in June 2011, the Kangoo Van ZE was restyled in June this year to reflect Renault's new branding identity, and is the best-selling small electric van in Europe with sales of over 11,000. No wonder really, since it received international praise on launch, and has been continually acclaimed by the media to the extent that it picked up the International Van of The Year award in 2012.
Made on the same production line as its older brother, the Kangoo, the Kangoo Van ZE is just as reliable as its sibling, just as practical, just as functional, but without the emissions as it is fully electric.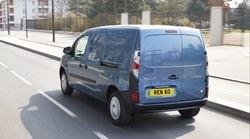 Both have a loading space that ranges from 1.3 to 4.6 cubic metres and a 650 kg load capacity, are available in two lengths and in four versions (Count them: two seat, two seat Maxi, five seat Maxi and CAB Maxi.)
Having added in the restyled  dashboard from which drivers can programme the battery to charge remotely to benefit from off-peak electricity rates using their computer or smartphone (courtesy of the 'My ZE [email protected]' pack), the Kangoo Van ZE also has, as standard, 15" wheel trims with low friction tyres, ABS with EBD (Electronic Brake Distribution), an Eco mode and Econometer (to maximise the van's range and monitor its efficiency), an unglazed left side loading door and Radio with USB, Bluetooth and Jack Connection.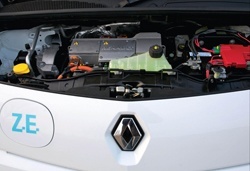 The Kangoo Maxi 2 seat ZE adds extra load (a total of 4.6 square metres if you need it; the Kangoo Maxi Crew 5 seat ZE adds in 3 more seats to enable the carrying of both passengers and goods (with a load carry of 3.4 square metres); and top of the shop Kangoo Maxi Crew Van CAB ZE gives those 5 seats, an extra 0.2 square metres of space, a folding passenger rear seat, and specific Crew Cab with integrated mobile partition.
All of these, of course, are Zero emission vans and 100% electric with a range of, depending on road, weather and usage factors, of up to 110 miles.
No wonder it won the Greenfleet 'Electric Vehicle of the Year' again!