ACCORDING TO EURO NCAP
With safety high on the priority checklist for car buyers/leasers, Euro NCAP's annual 'best in class cars' tables are essential reading, and those customers looking for a supermini will no doubt be pleased to see that the Renault ZOE has topped their table for both electric and internal combustion-engined superminis when it comes to those cars evaluated last year in terms of safety performance.
And if you add this to the maximum five-star rating from Euro NCAP that the Renault ZOE earned in March 2013, you'll understand why not only ZOE drivers but Renault's safety engineering experts are feeling pretty pleased with themselves.
It's justification and a great reward for all those involved in the development of the Renault ZOE as from the start there was a determination from the French car manufacturer not to compromise on safety in any way. And the objective could not have been any clearer: To make the new 100% electric hatchback car as safe as Renault's internal combustion-engined models.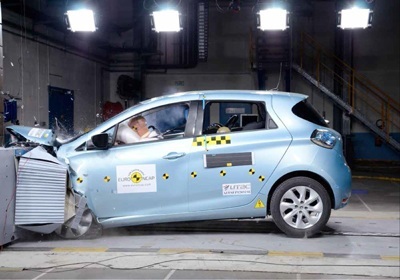 From the start it had bit of an advantage, benefiting from Renault's already extensive expertise and know-how when it comes to both passive and active safety, so from its initial design right through the intensive and exhaustive testing phase, no stone was left unturned and no corners were cut to get to the holy grail – especially when it came to two areas outside of Euro NCAP requirements; the battery and the car's noise whilst running.
THE BATTERY
In electric vehicles, the battery is not only the equivalent of a conventional car's fuel tank, but just as sensitive, so Renault's safety experts concentrated on this area of the car, reinforcing the casing to protect the modules inside and making sure that the wires were in the best way possible to prevent the risk of damage.
The battery itself was then subjected to a comprehensive range of tests that included some that one of Marvel's Superheroes would find difficult to overcome including exposure to flames, immersion, combustion, electrical overload, short circuiting, compression, dropping from a height and the 'nail penetration test' (which does exactly what it says on the tin!)
And then the car itself was crashed, as in all car testing, which left the battery intact; but just to make sure that all would be OK, an automatic circuit breaker was incorporated into the system as an added precautionary measure.
THE NOISE
Electric vehicles make very little noise at speeds of up to 18 mph, which is a good thing for noise pollution but could be considered a problem for pedestrians and other road users when it comes to knowing that an electric vehicle is approaching; so Renault have put in Z.E. Voice into the Renault ZOE to warn them when it is approaching at speeds from 1 to 18 mph.
The sound of the car can be chosen by the driver and is available in three versions - 'Pure', 'Glam' and 'Sport' – all of which have been developed to mirror what Renault consider is the character of the ZOE in association with sound perception and design specialists from France's Acoustic/Music Research and Coordination Institute (IRCAM).
These noises can be switched off by the driver, but will automatically turn back on next time the car is started.
You could say that the Renault ZOE is pretty much Safe and Quietly Sound!