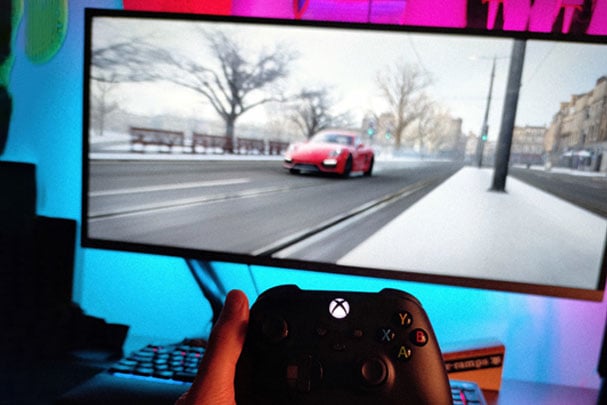 Nationwide Vehicle Contracts provides an overview of the cars available to players in Gran Turismo 7.

Gran Turismo as a franchise has been loved by car racing gamers since its release, with each new instalment offering more realistic graphics and an ever-expanding list of cars.
The latest game, Gran Turismo 7, offers players an impressive 468 cars, making it one of the most content-rich games in the franchise's history.
To help you master the car list, this blog provides an in-depth guide to the cars available to players in Gran Turismo 7.
Gran Turismo 7 Car List
There are over 400 cars available from 70 manufacturers in Gran Turismo 7, ranging from classic and vintage models to modern supercars and concept vehicles. Most performance car brands are included, from superpowers such as Lamborghini to more regular brands like Volkswagen and Ford.
In-game, the cars are divided into various categories, such as sports cars, race cars, and rally cars. This means it's straightforward for players to find a vehicle that suits their driving style and preference.
However, although there are over 400 cars available, some models stand out more than the rest:
Toyota GR Yaris – To the eye, it's a cute hatchback, but scratch beneath the surface, and the GR Yaris has the heart of a lion. Coming with all-wheel drive and a turbocharged engine, it's a strong contender in various racing scenarios and provides players with a unique driving experience.
Porsche 911 GT3 – the 911 GT3 will raise the hair on the back of your neck with the howl of its flat-six engine, so hats off to the sound team. In-game, it responds well to modifications making it a good choice.
Audi R8 LMS GT3 – The R8 LMS GT3 offers players an authentic and exciting racing experience, especially in long-distance and high-speed races. In-game performance depends on player skill and track conditions, but it's definitely one to try.
Ferrari SF90 Stradale – A hybrid hypercar with a powerful V8 engine combined with an electric motor, the SF90 Stradale returns nearly 1,000 horsepower. It provides gamers a challenging drive in fast-paced situations, but it's incredibly rewarding if you master it.
New Features and Improvements
Since the release of its predecessor Gran Turismo Sport in 2017, gaming mechanics have significantly evolved. As a result, there are various new features and improvements available to racing gamers in Gran Turismo 7:
Improved graphics – Because of the modern hardware available to the game's developers, Gran Turismo 7 features stunning graphics and detailed car models and tracks.
Advanced physics – Gran Turismo 7 will feature a more advanced physics simulation that accurately replicates racing, including aerodynamics, suspension, and tire wear and tear.
Dynamic weather – Introducing dynamic weather provides another challenge to drivers as the weather could change during the race. This will make races more engaging as players must adapt their driving style to the conditions.
New tracks – Gran Turismo 7 has 35 different tracks available to play at launch, including classic racing circuits and fictional tracks made to challenge players of all skill levels. Some standout classic tracks include the Nurburgring, Daytona, and Watkin Glen.
As well as new additions, Gran Turismo 7 keeps some iconic cars from previous games, such as the Nissan Skyline GT-R, Ferrari F40, and the Mitsubishi Lancer Evolution.
Customisation and Tuning
One of the most exciting elements to any Gran Turismo game is carefully customising your car to your liking. Gran Turismo 7 is no different, with loads of customisation and tuning options available to players.
Performance – Players can upgrade their car's engine, suspension, brakes and other key components to improve its on-the-road performance.
Aesthetic – Players can customise their cars' appearance with various paints and cosmetic enhancements. They can also create their own livery using various tools and design elements.
Tuning – Gran Turismo 7 offers various tuning options that allow players to fine-tune their car's performance and meet the requirements of different tracks.
Because of the amount of customisation available, you can completely change your driving style if you want to. Players can alter their cars based on certain track conditions through performance and tuning upgrades, making importance to detail more important.
For the competitive scene, the customisation available offers so much to players. Those who spend time thinking about their car build can massively benefit, while those who gloss over certain details can be worse off. Each race will become a level playing field thanks to customisation, with gamers having their fate in their own hands.
The UK Perspective
Gran Turismo has always had a large following in the UK, thanks to the franchise's emphasis on realism and attention to detail. This has contributed to the significant growth of the esports racing scene in the UK.
The UK also has several prominent esports teams, including Red Bull Racing Esports Team. Also, it houses one of the biggest esports events, the Le Mans Esports Series in Birmingham.
As a result, the release of the highly anticipated Gran Turismo 7 has significantly impacted UK racing fans. We've seen greater participation and interaction in esports racing in the last year. As a direct consequence, this has helped the industry to grow financially through new partnerships and sponsors.
Also, the more people that play Gran Turismo 7, the more they become associated with the UK racing scene. This brings increased attention to iconic tracks such as Silverstone and Brands Hatch.
Have you played Gran Turismo 7? Nationwide Vehicle Contracts produce various blogs focusing on video games, such as Real-World Car Manufacturers in Video Games and The Best Car-Related Easter Eggs in Popular Video Games.