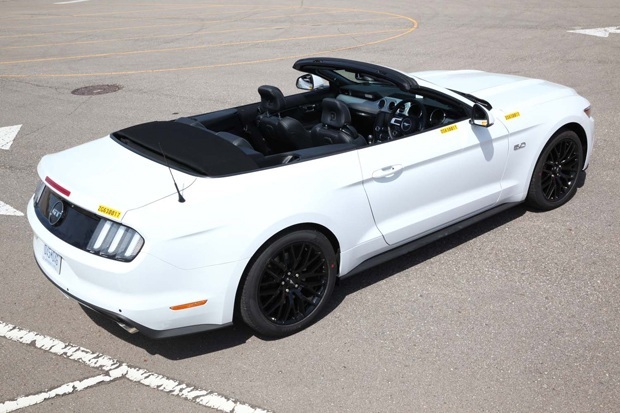 For the first time in its 50-year history, it is planned to have the Ford Mustang available in a factory-built right-hand-drive configuration, allowing one of the United States' most iconic motors access to more than 25 new right-hand-drive markets including the United Kingdom, Australia and South Africa.

The new Ford Mustang, the sixth-generation of what is known as the 'pony car' will be going on sale in the United States in the Fall (our autumn) before it rolls out to more than 120 countries around the world next year – and a right-hand drive model will be amongst them, Mustang engineers having recently finished construction of the very first right-hand-drive sixth-generation Mustang that will be used as a prototype Mustang to undergo various development tests before the world launch.

The Ford Mustang has been in continuous production for 50 years – making it a member of a very exclusive 50 year club – and has the biggest number of Facebook fans than any other vehicle nameplate; 7.6 million worldwide.

No surprises really because, right from the start, "Mustang's unique combination of style, performance and affordability established an entirely new class of sporty cars, and it has led the segment ever since."

The largest market for the Ford Mustang is still the United States with more than 9.2 million sales since the car's debut in 1964, but outside of the USA there have been more than 161,000 Mustangs sold, and it is growing in popularity if recent figures are maintained. In 2012, over 4,000 Mustangs were sold in 35 countries outside of the United States finding itself in countries as diverse as the United Arab Emirates, Chile and the Philippines.

And it's not just owners who love the Ford Mustang because there are nearly 100 Mustang clubs outside of the United States - the most for any American car – in places as far flung as Scandinavia, South Africa, France and New Zealand, with the groups gathering with increasing regularity for car shows, rallies and swap meets where owners can get hard-to-find parts for vintage Mustangs.

In fact, according to a survey of more than 75,000 users of online car portal AutoScout24, the Ford Mustang is Europe's most desirable classic car with a total of 37% of Europeans – from Austria, Belgium, France, Germany, Holland, Italy and Spain – naming the Ford Mustang as the classic car they would most like to own, ahead of the BMW M1 (20%) and Volkswagen Beetle (11%).

"Ford Mustang is more than a car, it's the freedom of the open road and the spirit of performance driving," said Roelant de Waard, vice president, marketing, sales and service, Ford of Europe. "Mustang has been a fundamental part of global automotive culture for almost half a century and is one of the world's most recognizable vehicles."

And it is hoped that bringing a right-hand-drive Mustang to market will allow more enthusiasts to experience the car than ever before.