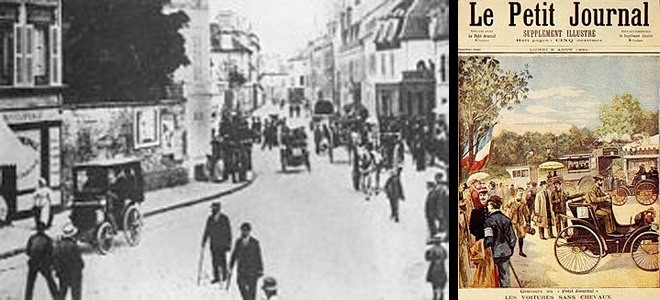 Imagine setting up a big race from city to city that hundreds of people who had the chance to show off their new-fangled motor-vehicle-thingies promised to come to on a lovely summer's day in one of the most beautiful cities in the world – and hardly anyone turns up!
That was the case back in 1894 when the newspaper Le Petit Journal organised a Paris to Rouen city to city 'exhibition' that many consider to be the first ever official motor race – although the newspaper said "Non" when asked if it was a race.
Before the (not actually a) race, the Concours du 'Petit Journal' Les Voitures sans Chevaux (Le Petit Journal Competition for Horseless Carriages) there were 4 days of vehicle exhibition and qualifying rounds that attracted great crowds and excitement (according to the paper) before the 79 mile main event on the 22nd July.
The competition was organised by the newspaper Le Petit Journal and run from Paris to Rouen in France on 22 July 1894. It was preceded by four days of vehicle exhibition and qualifying events that created great crowds and excitement. The eight 50 km (31 mi) qualifying events started near the Bois de Boulogne and comprised interwoven routes around Paris to select the entrants for the 127 km (79 mi) main event.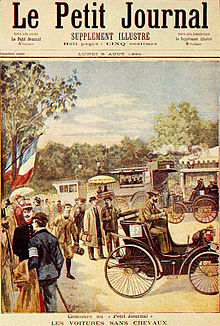 Pierre Giffard was the man behind both the newspaper and the race (sorry; event) and he used it as a double-edged sword; promoting it as a chance to show off French motor manufacturers and stimulate interest in motoring, whilst at the same time publicising his own newspaper. (Can you imagine such a thing happening in this day and age?)
But it had one clause in the ce ne sera pas une course (It's not a race) that would prove to be bad news for a gentleman called Jules-Albert, Comte de Dion – the vehicles had to be easy to drive (as well as cheap and safe to drive too!) This means that any vehicles that needed a travelling mechanic or technical assistant such as a stoker would be excluded from taking home the 5,000 gold francs first prize for finishing first across the finishing line in Rouen - and that was the case for the good Comte de Dion, despite him paying his 10 francs entry fee..
There was also 2,000 francs for finishing 2nd, 1,500 for 3rd ; 1,000 for 4th , and 500 for 5th.
102 people had paid the 10 franc entrance fee including manufacturers like Peugeot, Panhard, de Dion-Bouton and Serpollet as well as amateur owners and a few self-made models, but of the 102, 78 didn't even turn up for the qualifying rounds. Mind you, I'm not surprised because I guess that some of the 'entrants' probably didn't even exist by the time the race took place as they were 'over-ambitious concepts'. (These had included 9 vehicles powered by gravity, 5 by compressed air, 3 by gas, 3 by electric (maybe forebears of today's electric cars?) and others by liquid, pedals, propellers and levers, as well as 19 petrol powered designs and 26 steam powered cars, quadricycles and tricycles.)
So that left 24 in the qualifying rounds.
In the end, 21 vehicles took part on July 22 and (didn't) race(d) from Paris to Rouen, avoiding all the horses and carriages on the way before stopping for a spot of lunch in Mantes (imagine THAT happening in an F1 race! Pass the sandwiches please Jensen.) before the Comte de Dion crossed the line first 6hr 48 minutes after starting having achieved an average speed of 12mph in his steam driven car.
So; who picked up the prizes as the Comte drove off into the sunset billowing smoke from his coal fire at the front of his car?
First prize, the Prix du Petit Journal for the competitor whose car comes closest to the ideal shared the 5,000 francs equally between MM. Panhard et Levassor and 'Les fils de Peugeot Frères' whose petrol Peugeot took 6hrs 51 minutes and 30 seconds to cross the line .
Second prize, the Prix Marinoni was awarded to MM. de Dion, Bouton et Cie for their interesting steam tractor that works like a horse and gives both absolute speed and pulling power up hills.
Third prize, the Prix Marinoni. 1,500 francs was awarded to M. Maurice Le Blant for his nine seater vehicle poweered by the 'systeme Serpollet'.
Fourth prize, the Prix Marinoni. 1,000 francs was shared between two manufacturers, MM. Alfred Vacheron (No. 24) and Le Brun (No. 42).
Fifth prize, the Prix Marinoni. 500 francs was awarded to M. Roger (No. 85)
Not quite Vettel and Hamilton, but at least their tyres didn't burst when touching the kerb.
All Images via wikimedia