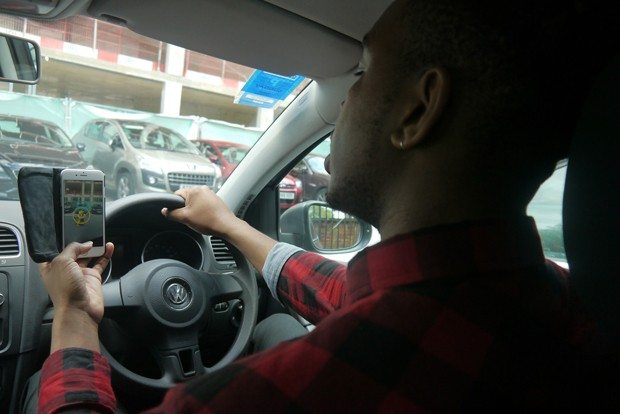 The whole world seems to be going Pokemon GO crazy, and as fun as a game is, believe it or not, this particular game has not only had people up in arms about stranger danger and unexpected extra costs (as the Daily Mirror detailed) but also road safety. So UK road safety charity IAM Roadsmart is urging motorists "not to go on the hunt for Squirtle on Spaghetti Junction, Jigglypuff on the Hangar Lane gyratory or Magikarp on the M4" by playing the game whilst at the wheel of their cars.
Samson Ruwangu, IAM RoadSmart digital content executive, 23, said: "Kids and adults alike are going crazy for this game. But the risk is that some people are going to be playing it at the wrong time – and driving a car is the last place you should be looking for Pidgey, Pikachu, Rattata or the others. I nearly tripped over playing this game. Pokemon GO makes you concentrate on catching characters and it takes both hand and eye coordination."
The game involves searching for Pokemon characters in real life settings via your mobile phone, and is an addictive pastime. It also involves walking (or driving) about to look for these characters, with blue wall plaques and places of interest particularly populated with these characters.
As you can see by the Daily Mirror, not everyone is happy with the craze, with Time magazine even reporting that Saudi Arabia's top clerics have highlighted that a fatwa against the Pokemon game is still in force from 2001.
But it is just a game - albeit a game that has already caused some accidents worldwide when it comes to cars and driving cars, as well as (allegedly) a lot of arguments from people stopping suddenly to 'catch' a figure they have discovered. (There was even a spoof report of an M56 closure due to someone slamming their car's brakes on and stopping all traffic to catch a particularly rare Pokemon. A spoof report that fooled a good few people!)
The BBC reported a man jumping into traffic to catch one, The Washington Post of a man in Baltimore driving into a police car whilst playing it, and BBC Wales reporting youngsters wandering on a dual carriageway catching the game's characters.
And it all highlights what we reported in our blog at the end of 2015 that people are using smartphones too much and with too much distraction in and out of cars.
In fact, research conducted last year by IAM RoadSmart showed the extent to which smartphone use had become an addiction to some.
8% of drivers admitted to driving while using a video-calling application such as FaceTime and Skype, rising to 16% among 18 to 24 year olds; and 9% of drivers admitted to taking a selfie while driving within 'the last month' rising to 15% of young drivers aged 18-24 and 19% of 25-35 year olds.
And I personally had some experience of it, driving down to London last weekend. My youngest daughter was in the back of the car playing the game as I was driving on the M40, and she suddenly shouted out that an unusual Pokemon was near, and asked if I could slow down. Or maybe stop.
I didn't, of course. But I can understand flustered drivers getting hassle from the back seat when younger, more demanding children are involved, (My youngest daughter is 27!) and perhaps succumbing to the pressure in some way or another.
As Samson Ruwangu adds: "While looking out for Eevee, Weedle and the rest is great fun, it is important to keep concentration on what matters – and that's keeping your eyes on the road. Psyduck can wait for later."
And it is not only important to not play the game whilst driving, or to wilt under pressure from others inside the car, it is also important to look out for players wandering the roads and streets and not concentrating on where they are going. After all, you are in control of a potential killing machine while they are armed with just a phone and a lack of concentration when it comes to their surroundings.