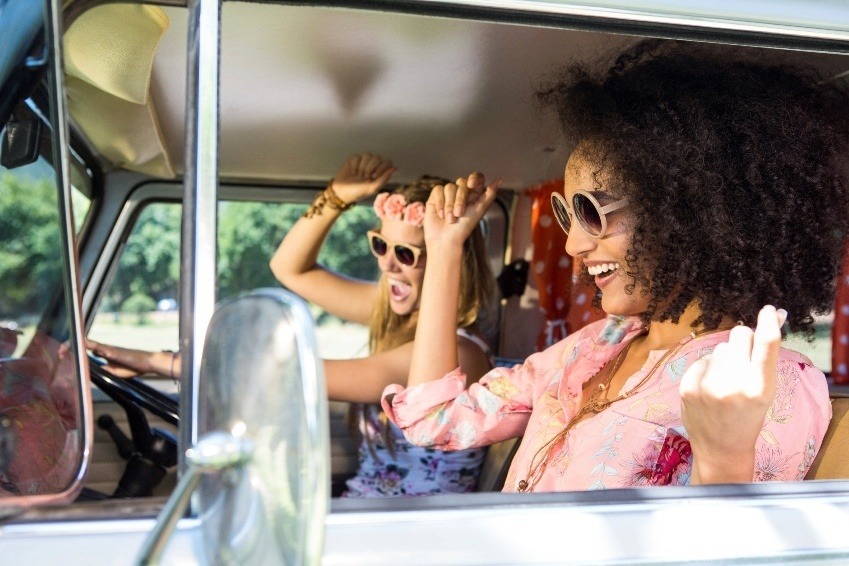 I Drove All Night In My Car On The Road To Hell and Other Stories...

As the summer holidays approach faster than you could even imagine, and the prospect of hours of driving to your vacation destination rears its (hopefully) sunny head, we would like to offer you some succour in the shape of the best driving soundtracks for your journey.
You will have made sure that your car is all ready for the journey by checking tyres, oil and fuel (If not, then check out our guides here as to what to do). So, what could you listen to as you battle your way down motorways and the expected roadworks therein before negotiating A and B-roads in towns and villages you didn't even know existed?
If you check out our playlist that we've got over on our About Us page, you will find, if you scroll down the page, a whole host of ideas for tunes to entertain you whilst you are waiting for the next instruction from either the Sat Nav selected voice or the map-holding 'adviser' by your side; but, ultimately, it all boils down to personal choice.
You can also check out the embedded Spotify playlist below - enjoy!
Classic driving songs

At the moment there are adverts all over the television and radio for Father's Day CDs that are made up of either 'Classic Rock' or 'Indie Rock'; many featuring tracks that will fit well on any classic driving driving music playlist. We are talking some of the tunes that always pop up in the radio compilations so beloved on a Bank Holiday where they ask listeners to vote for "...the greatest song ever."

Usual suspects like Deep Purple's "Smoke On The Water", Guns & Roses' "Sweet Child of Mine", Queen's "Bohemian Rhapsody" and practically anything by Meatloaf come under the ROCK banner. Any Oasis (but especially "Don't Look Back In Anger"), Blur's "Parklife" and "Song 2", Foo Fighters' "Learn To Fly" and even The Jam's "Town Called Malice" (at a push) fall into Indie Rock.
All fine tunes, and perfect for a singalong too. You will also find that, when travelling alone in the dead of night on a motorway, that a 'turned up to 11' volume rock album and screamed out "Bishmilla. No, we will not let you go. (Let him go!)" from 'Bohemian Rhapsody will blast any cobwebs away and keep you awake!
But if rock isn't your bag, fear not; because record companies recognise that a guitar solo or a screamed out vocal isn't for everyone.
This is why albums such as the recent "Saved By The Girl" that features 90s classics by girl fronted bands and female solo singers has been released. Songs such as "Lovefool" by The Cardigans, "Stupid Girl" by Garbage and "Weak" by Skunk Anansie mix with songs from the likes of Texas, All Saints, Sleeper and Everything But The Girl to create a soundtrack of female-led rock for everyone as the car traverses the UK (and even Europe.)
Sticking to the middle of the road
Many soundtracks and playlists, including ours, feature what could be termed 'Adult Orientated Rock' (AOR) or 'Middle-of-the-Road' music such as Mumford and Sons, Crowded House, Steve Winwood's 'Higher Love' and Coldplay's 'Speed Of Sound', and it is down to individual taste. But there is the danger that musical familiarity brings with it a laid-back attitude that could translate into familiarity and contentedness in driving practice, so be aware of this.
More road trip ideas: songs about driving
If it is songs that relate to driving that you want, and you feel like you are already missing Jeremy Clarkson from Top Gear, then you might want to check out this little playlist of tunes that you might find as possible answers on an episode of Pointless on the BBC.
I Drove All Night - Cyndi Lauper/Roy Orbison
Road to Hell - Chris Rea
Motorcycle Emptiness - Manic Street Preachers
Highway To Hell - AC/DC
Fast Car - Tracey Chapman
Road To Nowhere - Talking Heads
Driving In My Car - Madness
Shut Up and Drive - Rihanna
Get Out of My Dreams (and Into My Car) - Billy Ocean
Hit The Road Jack - Ray Charles
2-4-6-8 Motorway - Tom Robinson Band
Jump In My Car - The Hoff!
Well; maybe not the last one, but I am sure that you could come up with a few more ideas for road trip tunes that would be appropriate when it comes to lyrics.
What will probably happen
However, all this may be completely irrelevant when the kids wake up or get fed up with listening to their iPods/iPads/smartphones on headphones and decide to inflict their own music on you!
Whether you are using CDs, USB sticks, Bluetooth connection, MP3s or an internet-based infotainment platform such as Spotify, we hope that you will enjoy our playlist.
And if you feel like suggesting songs that we may add onto it, please comment below. I'm sure that we have missed some real corkers off, so feel free to enlighten us. (And we already know that The Beastie Boys "Fight For The Right To Party" isn't there! Heads are already rolling!)