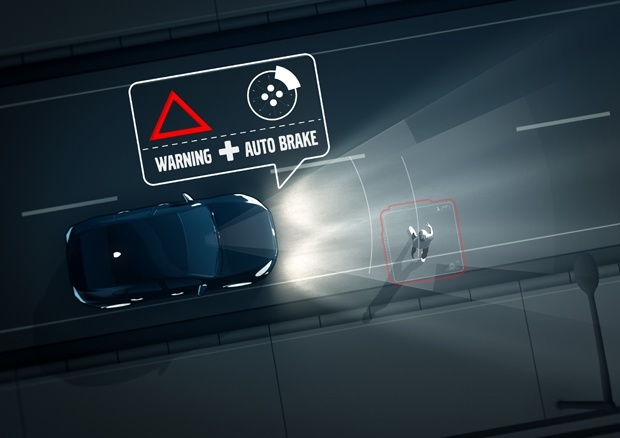 We've already seen three reveals when it comes to Volvo Cars' all-new XC90 as the Swedish car manufacturer prepares to launch in August (Click here, here for those reveals), and now details of the car's safety package form Part IV of the Volvo XC90 reveal.

These new, comprehensive and technologically sophisticated standard safety package is the best available in the automotive industry (so Volvo claim as the take a further step towards its vision that no one will be killed or seriously injured in a new Volvo car by 2020.) And it also includes, as part of the standard safety package on the all-wheel drive, seven seat premium SUV, two world first safety technologies that combine with the full suite of safety features to make, what Volvo claim, is one of the safest cars ever made.

"Our starting point on safety is the same today as it was 87 years ago: real-life situations," says Dr Peter Mertens, Senior Vice President Research and Development of Volvo Car Group. "We study data. We crunch numbers. We innovate. The result is one of the safest cars ever made."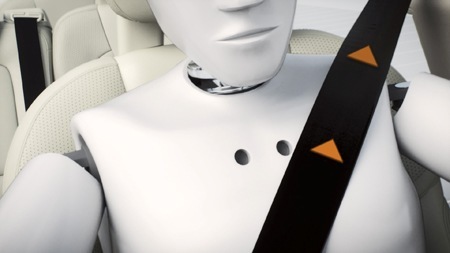 World first number 1: Run-off road protection

There are a lot of reasons why running off the road is a common accident type - such as driver distraction, fatigue or poor weather conditions – and it may surprise you to know that half of all traffic fatalities in the United States are road departure accidents, while in Sweden, one third of all fatal and severe injury crashes with passenger cars involve a single car.

So you can understand why Volvo want to put an end to these accidents, by developing technology to protect the inhabitants of the car, even though there are currently no regulatory or rating tests to examine a car's ability to handle run-off road accidents.

"Committing to safety is not about passing a test or getting a ranking," says Prof. Lotta Jakobsson, Senior Technical Specialist Safety at Volvo Cars Safety Centre. "It is about finding out how and why accidents and injuries occur and then developing the technology to prevent them. We lead, the industry follows."

So, what Volvo have done, and introduced into the XC90, is develop something called SAFE POSITIONING.



What SAFE POSITIONING does is detect firstly a run-off road scenario, and then the all-new Volvo XC90 tightens the front safety belts to keep the occupants in position until the car actually stops moving.

Energy-absorbing functionality between the seat and seat frame helps to prevent spinal injury by cushioning those vertical forces that usually arise on hard landing anywhere and reducing those forces by up to a third.

Obviously, it would be ideal not to have to use the safe positioning function, so the Volvo XC90 also has technology to help avoid run-offs like a Lane Keeping Aid to steer straight if the car is about to leave the lane unintentionally, Driver Alert Control to detect and warn tiredness and lack of attention and even Rest Stop Guidance, which directs the driver to the nearest rest area.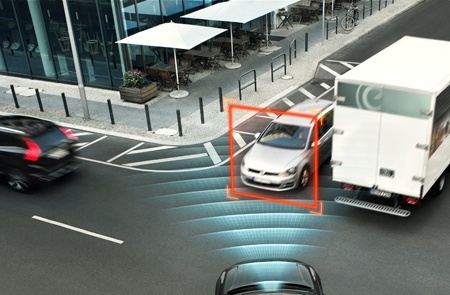 World first number 2: Auto brake at intersections

Sadly, a common occurrence at busy city crossings and highways is when a driver turns in front of an oncoming car. To counter this, the XC90 is the first car in the world with technology that features automatic braking if it happens because it detects a potential crash scenario and brakes to either avoid or at the very least reduce the effects.

"These two world firsts are further examples of how new technologies target substantial real-life traffic problems. This strategy moves us closer and closer to our ambition that by 2020 no one should be killed or seriously injured in a new Volvo," says Prof. Lotta Jakobsson.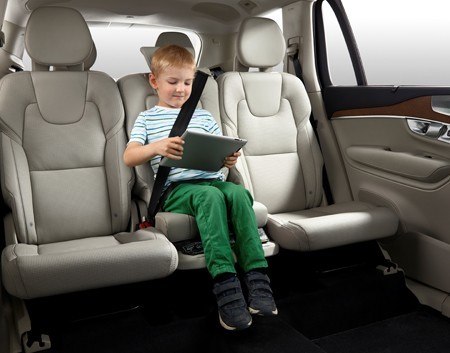 But that's not all when it comes to safety and the Volvo XC90

On top of these two world-firsts there are other safety innovations available on the all-new XC90.

They include rearward facing radars that detect if something is going to hit the XC90 from behind, tightens seat belts in anticipation of an impact, starts lights flashing to warn the driver behind, and activates brakes; the next generation of the groundbreaking Whiplash Protection System (WHIPS) integrated into the car seats which does exactly what it says on the tin; the latest generation Roll Stability Control as standard; Inflatable Curtains that cover all three seat rows for an extended period of time to help prevent head injuries in the event of any car rollover, pyrotechnical safety belt pre-tensioners on all seven seats; Road Sign Information technology as standard; a Blind Spot Information System; and City Safety brake functions.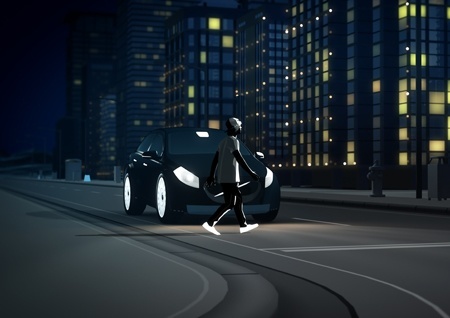 City Safety auto braking functions

"City Safety is one of the most advanced standard crash prevention offers you can find in a modern car. It now covers vehicles, cyclists and pedestrians in front of the car, day and night," explains Lotta Jakobsson. "We are now able to cover the whole span from dusk to dawn by a smarter and faster high-sensitive camera combined with advanced exposure control."

City Safety, standard on the XC90, will become the umbrella name for all of Volvo Cars' auto brake functions and the whole system is there to warn the driver of any potential collision with another vehicle, pedestrian or cyclist, braking automatically if a collision is unavoidable or the driver fails to respond.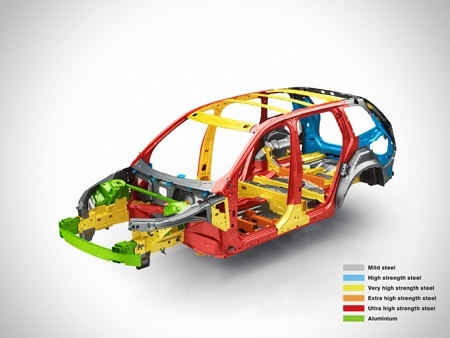 Stronger in every sense

The all-new XC90 is a stronger car than ever before thanks to the extensive use of hot-formed boron steel – the strongest type of steel presently used in the car body industry. The whole safety cage is made from it to give maximum occupant protection in all types of crash scenarios.

"This is approximately five times more than the first generation XC90. To our knowledge, this high usage of high-strength steel is unique compared with our competitors," says Prof. Lotta Jakobsson.

Volvo Cars's Vision 2020 is their statement and manifesto that, by 2020, no one should be killed or injured in a new Volvo car, and Volvo is determined to take the lead by using its vision of a collision-free future as a guiding principle.

The Volvo XC90 goes a long way to making that statement come true.