You wait ages for a new version of SEAT's new Leon flagship, and two come along at once: the Leon Cupra and Leon Cupra 280.
(In fact, it's actually five, if I am being pernickety, because there's the SC Cupra, SC Cupra 280, SC Cupra 280 DSG, Leon Cupra 280 and Leon Cupra 280 DSG.)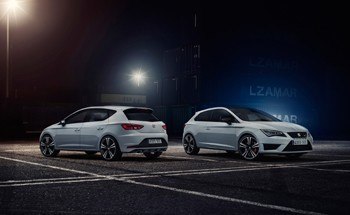 But amongst all this is the SEAT Leon Cupra 280; the quickest and most powerful series production car that SEAT has ever made.
Every Leon Cupra does 0-62mph in less than six seconds, and all manual versions offer a fuel efficiency of an average 44.1 mpg, but I'm sure it's not that that you particularly want to hear – however important it is.
Because you want to know about the dynamism of SEAT's new baby.
You want to know about the (as standard) mechanical front axle differential lock, a progressive steering system that sharpens the turn-in for improved agility; you want to know about the DCC dynamic chassis control that enables the driver to change the car's suspension settings between sportier or more comfort-oriented; and you want to know about the two-stage de-activation of the electronic stability control (ESC) system – including the ability to turn it off entirely.
And then you'll want to know about all the other changes that have been made to the previous incarnation (or 'in-car-nation') of the Leon Cupra; including the all-new chassis, the wider front track and the fully independent suspension at the front and rear.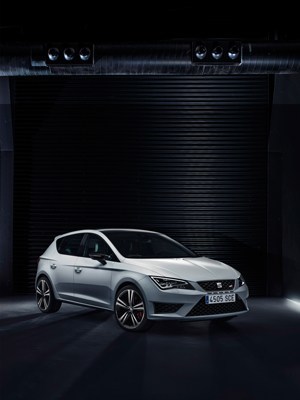 Let's hear from a couple of the main people involved in the new Leon Cupra.
Dr. Matthias Rabe, Vice President of SEAT S.A. for Research and Development, says: "The new Leon Cupra is pure SEAT: emotion and performance, design and dynamics combine to deliver driving fun mile after mile. State-of-the-art technology is evident in its enormous precision, but also in its compelling efficiency. The new Cupra is a sports car for every day; it feels just as much at home on the race track as it does on the long haul."
And Jürgen Stackmann, CEO of SEAT S.A. adds: "With the new Leon Cupra, the SEAT brand is once more taking a major leap forward. The Cupra is a refined, high-performance car that combines its expressive dynamics with relaxed long-distance comfort and a compelling, high-quality feel. Driving fun and great design comes with every Leon, but the new Cupra displays SEAT expertise in a whole new dimension. We are proud of this new brand icon and certain of its success."
What else do you want to know? How it drives?
"Stunning performance as standard"
According to SEAT, "Cupra stands for power, performance and dynamics," exemplified by the (electronically limited) 155mph top speed on all models, 350 Nm maximum torque of both versions giving 1,750 rpm all the way up to 5,300 rpm, and 0-62mph of 5.7 seconds (in the Leon Cupra 280 DSG) and 5.8 seconds with the six-speed manual gearbox equipped.
Against all this speed and power, fuel efficiency is remarkably high, with a manual gearbox-led 44.1 mpg and DSG-led 42.2 mpg – meaning CO2 figures of just 149 g/km and 155 g/km (in comparison to the previous second generation Leon Cupra R's 190 g/km CO2.)
What about the engine?
"Cutting edge technology"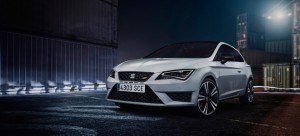 It's a 2.0 TSI turbo petrol unit in the Leon Cupra and Cupra 280 that is a true sporting legend, with high revving and reactionary spontaneity to every movement of the accelerator pedal, emitting a rich and refined modulated sound.
In amongst all the metal under the bonnet you'll find a responsive turbocharger, a dual-injection system (to optimise the fuel economy and reduce emissions), adjustable camshafts, an intelligent thermal management system, and a new kind of coating on the aluminium pistons and the bearings to keep friction down to a minimum.
Oh; and there's Start/Stop and Energy Recovery systems included just like every SEAT,.
An unusual question, but what about the chassis; and the control of it?
"Dynamic precision"
You see; a key part of the dynamism of the Leon Cupra is the relationship between its low weight and the stiff structure – it's 55kg less in weight than its predecessor, and with DCC dynamic chassis control, a front-axle differential lock and progressive steering all fitted as standard, it's certainly a lot sportier than before.
And it's also a lot more comfortable especially on those long motorway journeys.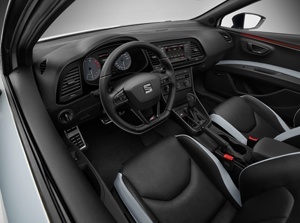 OK: So what about the look of the Leon Cupra? How has that changed?
"Emotional and powerful"
Not too sure what 'Emotional design' means but if anything has it, it's the Leon Cupra. The car certainly looks powerful with its large air intakes and full-LED headlamps at the front, topped off with the exclusive alloy wheels, red brake callipers and tinted side and rear windows.
The Leon Cupra 280 has unique 19" titanium-painted wheels along with other Cupra 280 exclusives.)
And to finish off the sporty side, inside you'll find a uniquely-designed Cupra sports steering wheel complete with shifting paddles for the optional DSG transmission, dark grey Alcantara sports seats finished with white stitching, black full-leather upholstery with the same white stitching, and aluminium pedals and entry sills.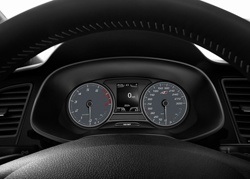 You've nearly got me, but what about the equipment inside the car? What can you tempt me with there?
UK drivers will find that the Leon Cupra offers more standard equipment over and above the FR model that includes 18" alloy wheels, full-LED headlights, DAB digital radio, SEAT Media System Plus, aluminium front door sill trims with Cupra logo, rain-sensing wipers and automatic headlights; and the Leon Cupra 280 is just as distinguishable by its standard 19" alloy wheels, gloss black mirror caps, satellite navigation system, black exterior mouldings and frames, black rear roof spoiler, red brake callipers with Cupra logo, and black interior inserts.
Looks like SEAT have got the Leon Cupra just right then!