TRANSPARENT PILLARS and GHOST CARS ALERT!
Jaguar Land Rover has revealed its research project to develop technologies that are part of a suite of new concept technologies that they are developing to reduce the potential for accidents, including '360 Virtual Urban Windscreen' and 'Follow-Me Ghost Car Navigation'.
360 Degrees
Based on the premise that the A, B and C-pillars in a car would be better transparent instead of creating blind spots, Jaguar Land Rover have researched the embedding of a screen in the surface of each pillar which would send a live feed covering the angles outside the car that would usually be obscured inside the car.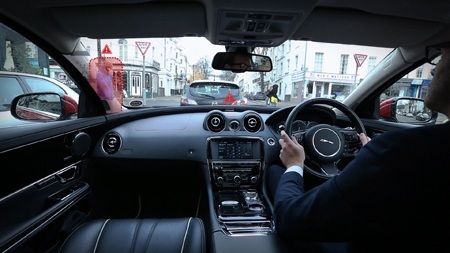 This means that any pedestrians, cyclists or other vehicles around would be fully visible, and the combination of the transparent pillars with an advanced high quality Heads-Up display would mean that anything happening outside the car would be highlighted to the driver via an on-screen halo moving across the car's virtual windscreen.
This would also alleviate the need to look behind over your shoulder when overtaking, and the car system even makes the left or right-hand side pillars transparent automatically as you approach a junction.
Dr Wolfgang Epple, Director of Research and Technology, Jaguar Land Rover, said:
"Our ultimate aim is to reduce road accidents and enhance the urban driving experience. The Jaguar Land Rover research team is developing this technology to improve visibility and to give the driver with the right information at the right time. If we can keep the driver's eyes on the road ahead and present information in a non-distracting way, we can help drivers make better decisions in the most demanding and congested driving environments."
Once you've got used to the transparency, I assume it wouldn't be distracting - although the initial drives when it happens could well come as a bit of a shock – and then the full potential of the 360 Virtual Urban Windscreen could be realised as it gets connected to the virtual windscreen to the Cloud. This also means that the car can also be connected to any roadside infrastructure and businesses in the urban landscape, the Virtual Urban Windscreen making itself available to present information ranging from petrol station prices to the number of parking spaces available, so drivers won't have to look for this information themselves. It could even tell drivers about local landmarks to look out for (such as shops and pubs) rather than road names, making right and left turns less immediate and therefore safer.
THE GHOST CAR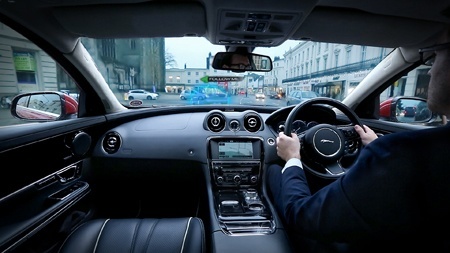 Not as scary as it may sound, this is based on the idea that "the most intuitive and efficient way to navigate to a specific location is to be able to follow someone who knows the best route" - so Jaguar Land Rover team is looking at developing what they have called 'Follow-Me Ghost Car Navigation'. This projects an image of a vehicle in front of the driver's car for them to follow, turn by turn, to their destination.
"Driving on city streets can be a stressful experience, but imagine being able to drive across town without having to look at road signs, or be distracted trying to locate a parking space as you drive by,"
Dr Epple says.
"We want to present all of this information on a Heads-Up Display in the driver's eye-line, so the driver doesn't have to seek it out for themselves and take their eyes off the road ahead."
To view a video of this story, please click
here
.
Personally I find this 'ghost car' a bit confusing with drivers following cars in front and maybe getting confused as to which car they are following. That should lead to a few interesting excuses."Sorry love. I accidentally followed this girl home and ...well, it was only good manners to pop in for a brew.""Well, your honour; my ghost car drove straight through the car in front, and I thought I could do the same."