Skoda Kicks Off SUV Campaign With New Kodiaq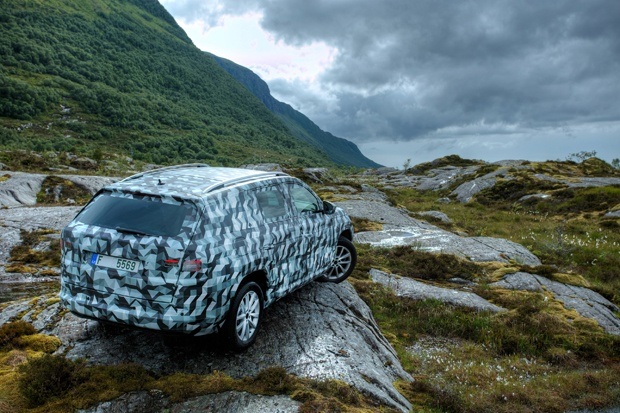 Available to order for lease now, and on sale at the beginning of 2017, the all-rounder Skoda Kodiaq takes its bow in the SUV market segment - Skoda's first entry into the world of SUV.
"Our new ŠKODA Kodiaq SUV is a great all-rounder", said ŠKODA CEO, Bernhard Maier. "It combines an active sense of vitality with the brand's classic qualities – a high degree of functionality and an outstanding amount of space. As always, in the design process we have focused on offering a little bit more car, and as a result, the best vehicle in the segment. In addition, with its emotive design, the ŠKODA Kodiaq is a strong presence on the road."
The Kodiaq Design
From the off, there is no doubt at all that the ŠKODA Kodiaq is a true ŠKODA, with a design that is full of character and emotion, and a variety of qualities for family, leisure and business.
There is plenty of space, with a boot of up to 2,065 litres when being used as a five-seater (the largest in class), and with adjustable rear seats as standard, and tilted backrests, loads of room in that set-up as well as when being used as a seven-seater.
Easy to use, with outstanding quality, the ŠKODA Kodiaq even manages to introduce new and extraordinary concepts to the segment such as door-edge protection that deploys automatically to avoid damaging the vehicle in garages or car parks, an electronic child safety lock for the youngest passengers, and a sleep comfort package with special headrests for long trips.
To see the new Skoda Kodiaq in action, take a look at the video below.
The Kodiaq Connectivity
When it comes to connectivity, the ŠKODA Kodiaq is at the top end of the SUV segment.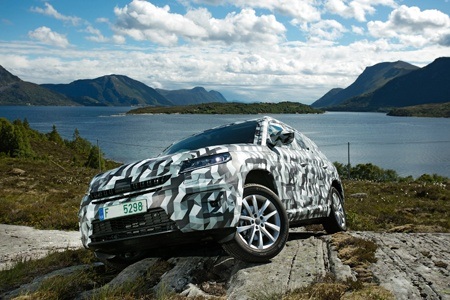 Taking advantage of its' connection with Volkswagen Group's second-generation Modular Infotainment Matrix, the infotainment in the Skoda Kodiaq offers numerous functions and interfaces, all equipped with responsive-to-touch touchscreens.
The top-of-the-range Columbus and Amundsen systems come with a WiFi hotspot, with the Columbus system containing an LTE module which establishes an internet connection using the fastest mobile communications standard available at that time. And this hotspot allows passengers to browse online content and send emails using their mobile phones or tablets to their hearts content.
When it comes to the intelligent pairing of car and smartphone, the ŠKODA Kodiaq reaches a new level with the SmartLink platform optional for the entry-level Swing infotainment system but a standard feature for the more advanced infotainment systems.
The Kodiaq Driver Assistance
Like so many SUVs, the ŠKODA Kodiaq features a wide range of driving assistance systems, including:
Area View cameras to display the car's immediate surroundings on the monitor
A Tow Assist system to help with manoeuvring an attached trailer when reversing slowly.
Predictive Pedestrian Protection
Front Assist
Parking Distance Control
The Kodiaq Engines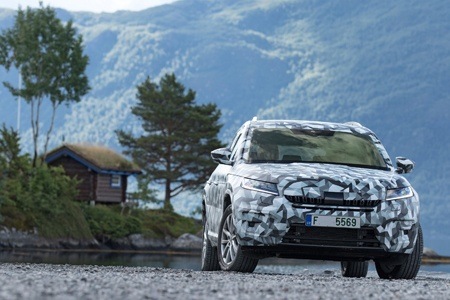 From launch, the Kodiaq will be available in a choice of five engines - two TDIs and three TSIs - with the most powerful petrol engine, the 2.0-litre TSI, provides a power output of 132 kW (180 PS).
There will also be a range of transmission options available, including six-speed manual gearbox, DSG transmission, front-wheel drive and all-wheel drive.
The Kodiaq Drive
The new ŠKODA Kodiaq feels equally at home on rough terrain, negotiating all types of roads in a balanced and comfortable, yet dynamic and nimble way, even more so when the driver uses features such as Driving Mode Select and Dynamic Chassis Control (DCC).
An off-road mode supports the driver when using four-wheel drive, with the touch of a button, all the relevant systems – engine management, assistance systems, electronic chassis systems, such as ABS and ESC, as well as the suspension if combined with the optional DCC – automatically adjusting to off-road conditions.
Full specification details will be available soon.
To speak to one of our Customer Service Operators about the new Skoda Kodiaq, click here, and to see what great offers Nationwide Vehicle Contracts have on Skoda vehicles, click here.