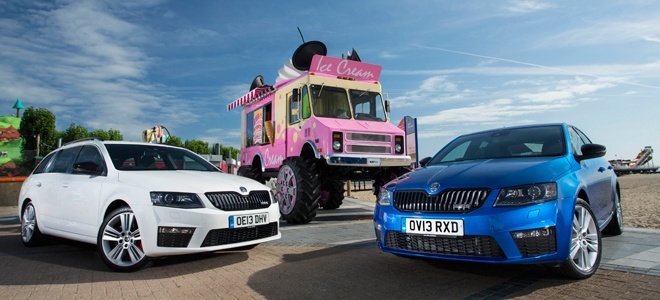 STOP ME AND BUY ONE (an Octavia vRS)
This coming August Bank Holiday is said to be a scorcher and with SKODA revealing what they claim to be the world's biggest ice cream van, there can be no reason not to enjoy it.
The giant vRS ice cream van was launched at Great Yarmouth with free ice cream for all the local children, and over the next month adults will get the chance to not only tuck into free ice creams but also to grab a look at SKODA's new baby. That's the Octavia vRS – the fastest SKODA ever.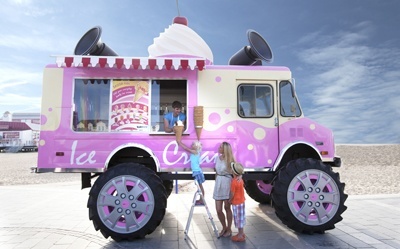 To help promote it, SKODA decided to set a team of engineers the task of "bringing the same qualities that go into the car to other everyday objects." And the result of this task is something that even the Childcatcher from Chitty Chitty Bang Bang would find difficult to ignore: a giant ice cream van complete with 5 foot monster truck wheels and four mega speakers.
Measuring over 21 feet and weighing in at a chunky 5.5 tonnes, it took 3 weeks to create and now is one of the stars of SKODA's new TV ad that also features other souped-up gadgets such as a giant toy 'trike', lawnmower with multiple exhaust pipes and flaming go-faster stripes, and the vRS Man-Pram.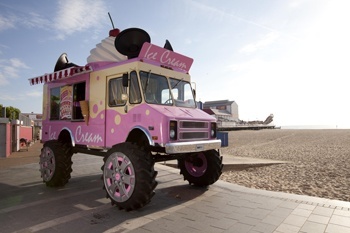 Heidi Cartledge, Head of Marketing at SKODA UK commented: "The Octavia vRS is not your average family car, so we created an ice cream van that is also far from average! The giant ice cream van will be touring the UK handing out up to 6,500 servings of free ice cream, offering members of the public a fun sense of what you could experience if you vRS'd your life".
If you fancy some free ice-cream, then you can catch the cone at:
Bournemouth Air Festival - Thursday 29 August to Sunday 1 September

Various 'King of the Mountains' stages at Tour of Britain. Dates TBC. For more information follow @SkodaUKCycling

The Royal County of Berkshire Show at Newbury - Saturday 21 September and Sunday 22 September
Look out too for the new advert as it will be appearing on Sky Sports in the middle of various football matches (usually featuring the two Manchester Cubs), on Channel Four during the much acclaimed and BAFTA nominated drama 'Top Boy' as well as on Five during the final Ashes test between England and Australia.
If you have an idea which everyday item SKODA could vRS-up, take a look at their Facebook Page (https://www.facebook.com/skoda) or tweet them about it @SkodaUK #vRSUP.