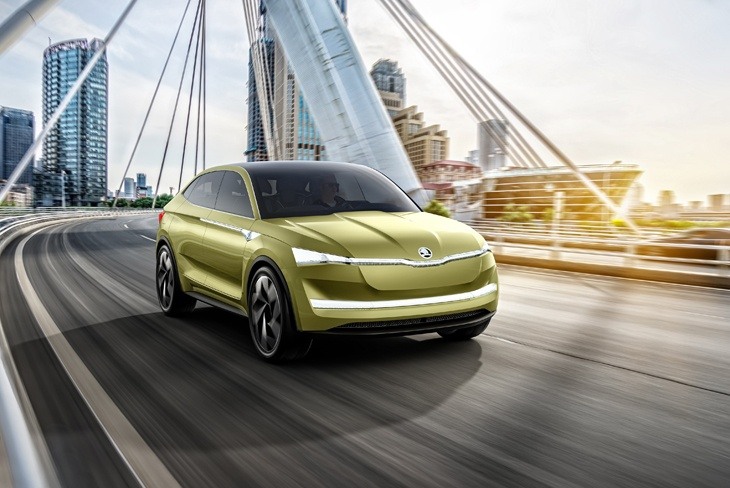 Skoda have announced that they have produced the first fully electrically driven concept car in their history, developed based on Volkswagen Group's MEB (modular electrification toolkit), and featuring two electric motors with a total power output of 225 kW; all-wheel drive; a range of up to 500 km; and a top speed of 180 km/h (approx 112mph).
As you would expect from Skoda (and all electric cars), the car will offer outstanding economic efficiency, this time with long range, easy-to-use charging technology.
It is Skoda's aim that, in addition to plug-in hybrid vehicles, they will have five fully electric cars in its range by 2025; and from that point onwards, one in every four Skoda models sold worldwide will have a plug-in hybrid or purely electric drive.
So, ladies and gentleman, please be upstanding, and welcome to the world, the first purely electrically powered concept car in the long-established Czech brand's history, which spans over 120 years: The ŠKODA VISION E.
"With the VISION E concept car, we are presenting the future face and technology of ŠKODA in every aspect. This includes the brand's refined design language and future-oriented technology. The ŠKODA VISION E is our company's first purely electric vehicle that also allows for autonomous driving at level 3," said ŠKODA CEO Bernhard Maier, adding, "With the VISION E, we have transferred features typical of ŠKODA into a fully electric vehicle: the new ŠKODA design language with a generous amount of interior space, innovative technology and the latest assistance systems as well as numerous 'Simply Clever' features. And we are offering all of that with a respectable range for the vehicle."
The design of the VISION E
The ŠKODA VISION E is 4,688 mm long, 1,924 mm wide, has a height of 1,591 mm, and a long wheelbase of 2,851 mm with short front and rear overhangs, allowing a very generous interior in typical ŠKODA style.
Distinct horizontal lines and a dynamic wedge shape gives the ŠKODA VISION E a particularly sporty appearance, even when stationary, the dynamic silhouette and gently sloping roofline in the style of a coupé adding to a splendid first impression.
A strikingly shaped bonnet leads the way, with a wide LED lighting strip running across the vehicle's entire width at its base, and slim, triangular headlights at both ends. And those headlights feature Matrix LED technology that produces a dipped and high beam which is directed precisely and evenly onto the space in front of the car, with the headlights connected to a front camera to analyse individual traffic situations to make sure that the right light is there for the right occasion.
The side view of the VISION E is characterised by the sharp incline of the windscreen, and the gently sloping roofline, which accentuates the coupé¬ style appearance. There are no B-pillars or typical wing mirrors, but there are rear¬-hinged electrically-operated rear doors, an electric tailgate, and cameras that transfer what is happening around the vehicle onto interior displays instead of wing mirrors.
On the wings, there are large air vents at the level of the A-pillar, framing the large wheels and alloy rims on the gaze's route to the rear of the car with its large and sharply inclined rear window, flush tailgate spoiler, and triangular tail lights with advanced LED technology - but NO exhaust system nor tailpipes (because, remember, it's an electric car.)
The combination of design elements and classic ŠKODA features makes the VISION E an attractive representative of ŠKODA's evolved design language.
The Interior of the VISION E
With lots of large glass surfaces in the VISION E, the interior is light and transparent, and features a generous amount of space with individual, body-contoured seats with new backrests.
The raised seats can be rotated by up to 20 degrees – a new 'Simply Clever' feature that provides additional comfort through ergonomically optimised design and mechanics.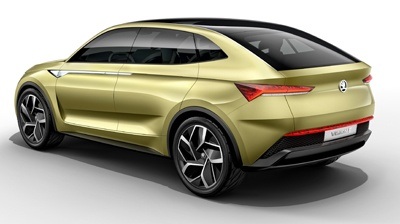 A cockpit screen displays conventional vehicle data, and there is also a central touchscreen in the middle of the dashboard to enable both driver and front passenger to read all of the important functions and services as well as operate other information and entertainment functions. Rear passengers also have displays situated in the backrests of the front seats, and there is a Phonebox is built into the inside of each door that allows smartphones to be inductively charged.
Ambient lighting that can be set to one of ten colours and adjusted to the individual mood is integrated into the doors' decorative strips and below the dashboard.
There is even a capacity for autonomous driving which, when in operation, allows the front seats to be slid back and the steering wheel raised to allows "the largest possible amount of space and a corresponding degree of comfort."
Drive technology
"The ŠKODA VISION E is based on Volkswagen Group's MEB (modular electrification toolkit) and, with its two electric motors, has a power output of 225 kW. This allows the VISION E to accelerate particularly smoothly and also extremely dynamically up to its top speed of 180 km/h. Thanks to the efficient and powerful lithium-ion batteries and an intelligent brake energy recovery system, a range of up to 500 km is achieved. Furthermore, the VISION E can also drive completely autonomously and reaches level 3."
When it comes to charging, intelligent charging is one of the numerous 'Simply Clever' features that can be achieved through such technology as a floor panel charging pad that can be positioned in the owner's garage. This charging pad is connected to the power grid, and overnight, completely charges the vehicle's batteries automatically using induction technology completely contactless - no charging station or cable reel. Quick charging is also possible – 80% of battery capacity in only 30 minutes.
Autonomous driving and Driving Assistance
Christian Strube, ŠKODA Board Member for Technical Development tells us about the autonomous future for the VISION E: "The VISION E concept car achieves the requirements for level 3 of autonomous driving. It can operate independently in traffic jams, complete motorway journeys using autopilot, stay in lane or take evasive actions, overtake other vehicles, independently look for free parking spaces and drive in and out of parking spaces autonomously. All of this is aided by various sensors with different ranges and numerous cameras that monitor the traffic situation."
And the ŠKODA VISION E isn't short on the numerous assistance systems available, many of which can already be found on current ŠKODA models today.
We are talking:
Traffic Jam Assist
Motorway Driving Autopilot
Car Park Autopilot
Educated Parking function (which memorises and finds the driver's preferred parking locations)
Various Car and Pedestrian Detection features
Eye Tracking function (to detect tiredness)
Gesture control for selected functions
Driver Fatigue Alert
Automatic driving functions
Electromobility
ŠKODA is aiming to electromobility a permanent feature of everyday life, developing vehicles with plug-in hybrid drives alongside the purely electrically powered ones. Skoda is aiming to have five fully electric cars in its portfolio by 2025, with the aim that, from that point onwards, one in every four cars sold by Skoda worldwide should be a plug-in hybrid or have an entirely electric drive.
The launch of the Škoda Superb with plug-in hybrid drive is scheduled for as early as 2019, and the future certainly is looking electrically bright for Skoda. But if you can't wait until then for an electric/hybrid car, check out some great leasing deals on the electric revolution from Nationwide Vehicle Contracts here.