They are getting a bit of a name for themselves are SsangYong, especially after releasing the Korando Sports Pick-Up into the world – and that is likely to continue as the 2014 version of the car is unveiled on a public with a new and comprehensive set of demands.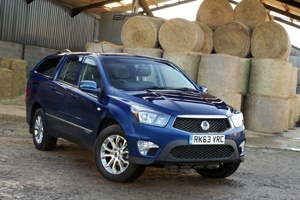 So what is new on a car that "brought a new level of refinement to the pick-up market when it was launched just over a year ago, blending the suspension, engine and cabin finesse of a passenger car, with the silhouette, space and seating for five that's typical of a double cab, and the rugged workmanlike ability of a commercial pick-up"?
Well; for starters they have looked at those demands that the customer demands of them and have decided that the new 2014 Korando Sports is suitable for anyone who needs a working vehicle, anyone who needs a four-wheel drive, anyone who needs a car with the towing capability to haul up to 2.7 tonnes and anyone who needs a family car.
And I would suggest that that is a pretty good CV to take to the market.
Paul Williams, CEO of SsangYong Motor UK, thinks so too: "The new Korando Sports is keenly priced and comprehensively equipped."
There are two models to choose from when deciding which SsangYong Korando Sports model to go for; the SX and the EX.
The SX comes equipped with 16" alloy wheels, tinted glass, air conditioning, leather covered steering wheel, remote central locking, Kenwood MP3 CD & RDS radio with a USB & auxiliary port, Bluetooth connectivity and speed sensitive power assisted steering; and the EX 18" alloy wheels, leather upholstery with heated front seats, powered driver's seat, heated, electrically adjustable and power folding door mirrors and rear parking sensors, with 6 speed automatic transmission with cruise control available as an option.
And now there are also three new hard tops available
Admittedly as accessories, but these add in features such as a sliding front window for ventilation and access to the car's rear window, a heated rear window, hinged side windows and a hatch that locks as part of the car's central locking and opens without having to lower the tailgate.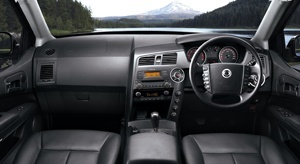 When it comes to the hard tops there are three designs: The 'Top-Up cover' which is a flat glass-fibre cover that is hinged to offer flexible opening options; the 'Classic' which is a full what could be described as a hard top featuring a rear brake light, interior light, side opening glass, fixed front glass and interior lining; and the 'Elegance' which is basically the same as the Classic but adds in a heated rear window, sliding front glass, LED interior light, central locking, pop out opening windows and roof bars.
Power as also been improved
The SsangYong Korando Sports has SsangYong's latest e-XDi 2 litre Euro 5 diesel engine under the bonnet which can provide maximum power of 155PS and peak torque of 360Nm delivered between 1,500rpm and 2,800rpm that will provide the performance that customers require with economy of up to providing ample performance both on and off road, whatever the task. Delivering both performance and 37.7 mpg on the Combined Cycle,
And the Multi-link rear suspension is pretty spectacular too
The SsangYong Korando Sports has a live rear axle that is supported by a sophisticated five link suspension complete with coil springs to give a comfortable, car like ride – something that many drivers would find surprising in a vehicle called a pick-up.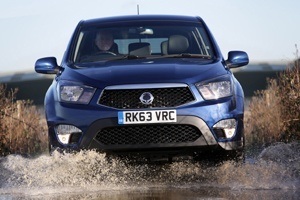 What's the obvious thing you first notice? The Style
It may be a bit obvious but the first thing that you would look at is how the car looks, and the only way that you would initially notice any changes is from the outside; so what SsangYong have done is freshen up the look to make it modern and efficient, especially at the front where the new mesh grille, trapezoidal bumper and stylish black headlight bezels make it a good start before the car's sporty profile just exemplifies it. And at the back, the wide glass area means that the driver has excellent rearward visibility.
And then you can investigate further
Inside, the large front, side and rear windows make the cabin look light and airy, with black and metallic finishes around an LED illuminated instrument cluster means that refinement isn't too far from your thoughts. And it can easily carry five adults in spacious and alluring comfort (the rear passenger seat features a folding armrest and can be reclined by up to 29 degrees) with air conditioning and Bluetooth connectivity making sure that there is always convenience on the move.
And don't forget that it is a pick-up, after all.
There is space (2.04m2 load area) to take a Euro pallet, and in the back you will find load deck liner and anchor points  with the optional rigid hard tops as part of the car and not 'tacked on' as you so often find.
And finally there's the safety aspect.
SsangYong have that covered too with the new Korando Sports constructed on a separate frame chassis – as you would expect with a serious off-roading vehicle – so that any collisions don't affect the car's occupants. Add in the Electronic Stability Programme (ESP) as standard, Active Roll-over Protection (ARP) and Hill Start Assist (HSA) and you'll see that safety is up there on the list of priorities.
Not bad for a new-ish kid on the block.