New Kia Optima Here Soon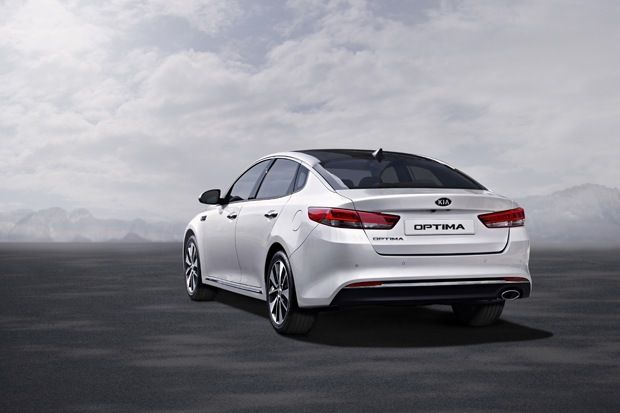 Unveiled at the Frankfurt International Motor Show back in September, we now eagerly await the on-forecourt appearance of the all-new Kia Optima, the culmination of a five-year, design-led transformation of Kia's product range.
This version is the fourth-generation Optima, and features a modern, new exterior, a bold interior design with more space for all occupants, an array of new technologies and a wide choice of efficient engines. And all of this combines to ensure that the optima keeps the sporty image that it has, but with greater refinement, an improved ride and greater handling than before.
Michael Cole, Chief Operating Officer, Kia Motors Europe, enthused about the new Optima, whilst praising the impact of the outgoing model, that arrived on the global stage in 2010: "[The previous model's] combination of technology, design and refinement added greater depth to our model line-up and fundamentally changed the way that people saw the Kia brand. The all-new Optima retains the unique personality of its predecessor, and improvements to every aspect of the car will make it an even more compelling proposition to buyers – private and fleet – across Europe. It truly offers motorists something fresh, in a segment that's typically among the most conservative."
Design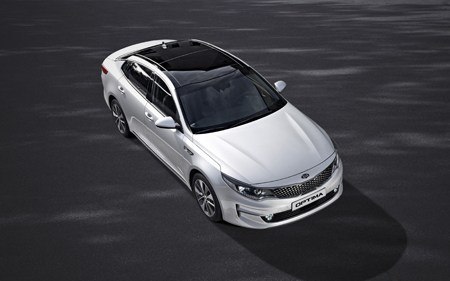 There are changes to the exterior styling of the all-new Kia Optima that still maintain the athletic identity that made the original Optima so popular, while making sure that customers know that the car is something different; indeed a confident leap forward. Which is why the enhanced body lines, sharp creases and elongated sedan silhouette increases the road presence of the new Kia Optima.
Instantly recognisable as a Kia, thanks to its hallmark 'tiger-nose' grille with longer, wider, wrap-around headlamps, the all-new Optima is marginally longer, taller and wider. The size changes allowed designers to not only give the new Optima a more dynamic shape and to make it more aerodynamic, but also to create a roomier and more comfortable cabin, with more head-, shoulder- and rear-seat leg-room and greater cargo capacity. (But more about the interior later!)
On the outside, the bumper swells into bold right angles around the front fog lamps, giving the car a more stable, wider look, with the LED halo-style tail lamps increasing the sporty appeal by wrapping themselves around the corners at the back, just underneath the rising, spoiler-shaped boot lid and above the expansive rear bumper with its sporty-looking air diffuser and oval exhaust.
The all-new Optima is available in a choice of nine paint colours, and a selection of alloy wheels ranging from 162 to 182 in diameter.
Interior Style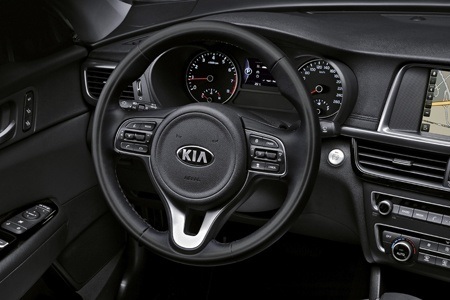 Over the five years since 2010, Kia has developed many models; and the new Kia Optima draws inspiration from all of them when it comes to the interior, which is more luxurious and more driver-focused than ever before.
Kia's design team focused on delivering a thoroughly modern interior look and feel, with an obsessive attention to detail, and boy, have they delivered.
By using a lot more soft-touch materials than on previous models (including cloth and leather trim in natural tones) alongside tasteful metallic accents throughout, the cabin offers up not only a higher quality ambience than on previous models, but, thanks to greater application of soundproofing ensures, more refinement than before too!
When it comes to the dashboard, this is spread along a more horizontal plane, and divided into two zones - display and control - enabling the driver to make use of the controls easier and to not have to take their eyes off of the road to see any information that they need.
This is helped by the wider central console with its central fascia angled 8.5 degrees towards the driver, topped with the upper 'display' zone's new 8" touchscreen infotainment system. The touchscreen displays relevant information as well as taking some of the controls away from the lower zone, enabling Kia to lessen the number of buttons housed there.
The console is finished in gloss black, with a dash of chrome running the length of the dashboard, dividing the display and control zones. This allows the customer to choose whether they want a single or two-tone colour scheme inside, with options available of either single-tone (black) or two-tone (black with stone beige, or dark grey with light grey) cloth or leather trim.
Interior space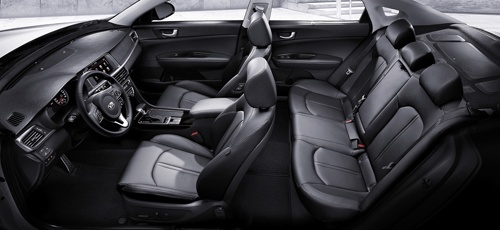 Good news for inhabitants of the cabin, as Kia claim that "the larger interior and exterior dimensions of the fourth-generation Optima ensure that the all-new model is the most practical, spacious and comfortable yet."
With an extra 10 mm added to the wheelbase, and with the rear seats having been redesigned and reshaped, passengers sat in the rear now have an extra 25 mm more legroom than before. And the wider body and greater height of the new Optima also gives them 17mm more shoulder space and 15mm more headroom. Drivers get 20mm more shoulder space and 5mm more headroom, but then they are in full control!
The redesigning and reshaping of the seats front and rear saw the interior design team at Kia concentrate on seat comfort. This allowed them to reduce vibration by stiffening the seat frames (which also increases durability), and to increase comfort by adding softer foam to the headrests, upper back supports and under-thigh supports; and, for the driver, side bolsters are made up of denser, more supportive foam.
Continuing to make sure that the rear passengers are looked after, Kia have added in their own heater, as well as pull-up sun shades built into the rear door trim to keep the sun out when they want to grab 40 winks.
When it comes to cargo space, the all-new Optima offers 510 litres (up from 505), with the added practicality of an under-floor storage area and a wider boot opening.
Safety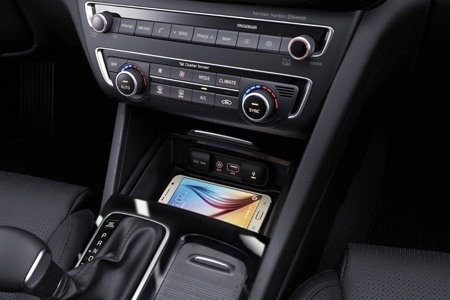 Targeting a five-star Euro NCAP safety rating, the all-new Optima features not only a strengthened bodyshell but also a series of high-tech active and autonomous safety features.
The bodyshell of the all-new Optima is stronger than ever as 50% of the body is now made up of ultra-high tensile steel (UHTS) with a 450% increase in the amount of structural adhesive used. Impressive figures, but the one we need to know is that the torsional rigidity of the new Kia Optima has been improved by 50% over the model that it replaces, with the higher-strength steel alloys reinforcing the A and B-pillars, side sills, roof, floor, front wheel arches and rear bulkhead.
Inside, occupants of the car are protected by an increase in airbags to seven - all as standard - with driver, driver knee, passenger, two front side and two curtain airbags.
Hopefully these will never be used, and to make sure that they aren't the all-new Optima has a suite of new technologies designed to avoid or mitigate the effects of a collision.
These include:
Kia's Vehicle Stability Management (VSM) fitted as standard. This ensures stability under braking and cornering by controlling the car's Electronic Stability Control (ESC) and electric motor-driven power steering if it detects a loss of traction.
Advanced Smart Cruise Control (SCC), which automatically adjusts the Optima's speed to keep a safe distance from vehicles in front
Autonomous Emergency Braking (AEB) with its long-range radar detection system
Lane Keeping Assist System (LKAS)
High Beam Assist (HBA), which automatically adjusts headlamp range according to other vehicles and road conditions
Speed Limit Information Function (SLIF) that displays the speed limit to the driver
Blind Spot Detection (BSD
Rear Cross Traffic Alert (RCTA), which warns against other cars driving behind the Optima in car parks while reversing.
Driving
With noise, vibration and ride harshness reduced by a combination of increased bodyshell rigidity, stiffer alloy wheels and heightened cabin insulation, the new Kia Optima provides a calm and relaxing driving environment.
Improving ride and handling was a top priority for Kia's dynamic development teams, with a focus on delivering the ride comfort and stability that customers expect from a D-segment sedan, while achieving the level of agility promised by the car's sportier appearance. With a lighter, stiffer chassis, the suspension is better able to isolate vibrations and bumps from poor road surfaces, while a series of upgrades to the suspension set-up helps to blend agile handling with an improvement in ride comfort.
Using a fully-independent suspension all-round, a smoother ride over uneven surfaces is guaranteed with improved response to steering and greater traction around corners a by-product of the refinements to the suspension. And all this is added to by the new rack-mounted electric motor-driven power steering system (R-MDPS) that is available on models fitted with the 1.7-litre CRDi engine.
Mounted directly onto the steering rack, the new R-MDPS provides greater, quicker and more responsive steering feel, allowing Kia to claim that the new Kia Optima is "amongst the most agile cars in the D-segment."
The 1.7-litre CRDi diesel engine also offers an optional electronic controlled suspension system with internal valves (ECS).
Connectivity
The all-new Optima debuts a number of new, advanced on-board technologies to improve usability, comfort and convenience. These include:
Kia's latest audio-visual navigation (AVN) system with either a 7" or 8" touchscreen infotainment and satellite navigation system with DAB digital radio, positioned in the middle of the dashboard.
The new Kia Connected Services package at the heart of the AVN system, with live traffic updates, speed camera alerts, local search and weather forecasts provided by TomTom.
A six-speaker audio system as standard, with a 590 watt Harman Kardon Premium Sound system with 10 speakers, an external amplifier and Clari-Fi MP3 restoration technology as an available option.
Two USB charging points, one in the front and one in the rear, to allow passengers to charge mobile devices, (depending on trim level.)
A first for any car in the D-segment, the all-new Optima will be available with a new wireless charger for mobile devices. Positioned at the base of the central console, the wireless charger lets users charge their phone wirelessly - even sounding a warning if the phone is left when leaving the car. The system displays the phone's charging condition on the instrument cluster, and features a safety system to prevent overheating while in use.
Also, depending on the model and grade, other new available features include:
360-degree Around View Monitor, with four cameras to aid parking
Smart Parking Assist System (SPAS), which parks the car automatically in parallel and perpendicular spaces Dynamic Bending Headlamps, which sweep the road ahead in line with the steering wheel for greater visibility and improved safety at night.
Powertrains
The all-new Kia Optima will be available with a range of engines, all conforming the latest Euro 6 emission standard, in both petrol and diesel options, with a plug-in hybrid in the pipeline for late in 2016. Although Kia have yet to announce which of these engines will be available in the UK, it seems that both private and company drivers will still be clamouring for the new Kia Optima.
It is the upgraded 1.7-litre CRDi diesel engine that Kia expect to be the most popular of all the powertrains as it has been carried over from the existing model, but with a range of modifications in the new model, resulting in greater power output and torque, and reduced emissions. The 1.7-litre CRDi is available with a six-speed manual transmission, but also with Kia's advanced new seven-speed double-clutch transmission (DCT) that was recently launched in the enhanced Kia cee'd, that allows faster gear changes than a traditional automatic transmission, lower CO2 emissions, and lower running costs.
It now produces 141PS and 340 Nm torque, with the upgraded 1.7-litre diesel engine also boasting a 14% reduction in CO2 emissions to 110 g/km (when fitted with manual transmission and Kia's Idle Stop/Go fuel-saving technology).
The all-new Optima is also available with the same 2.0-litre CVVL petrol engine as the outgoing model, still with its continuously variable valve lift technology and 163PS power output. The 2.0-litre CVVL engine can be specified with either six-speed manual or automatic transmissions.
The all-new Kia Optima will be available later in the year, and will be a welcome addition to the range of Kia Cars Available to Lease from nationwide Vehicle Contracts, that includes the Kia cee'd, Sorento, Soul, Sportage, and Picanto amongst others.