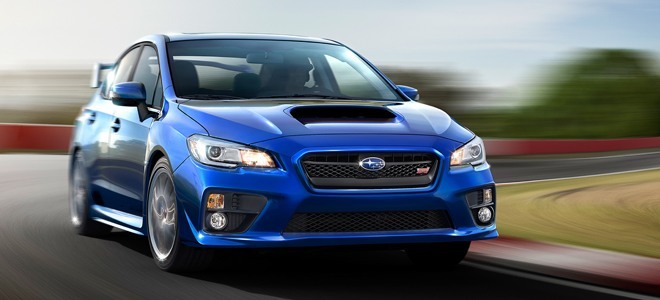 It seems like only last year that there was a bit of an outcry as the last Subaru WRX STI was sold in the UK – and it was! But now, less than a year on, Subaru UK has announced that once again it will be gracing our roads in the shape of the new Subaru WRX STI performance car when it hits forecourts in May 2014.
Another of the many cars that have been unveiled at the Detroit motor show in the past week, the new WRX STI is based on the Subaru WRX saloon car that was launched at the LA show back in November 2013, but with some all-important and significant enhancements.
The new car has been tested to the limits by Subaru all around the world – and that includes Germany's Nürburgring circuit where Subarus throughout the years have proved themselves; and the Subaru WRX STI is no different in that aspect.
At its heart of the new car is a 2.5 litre turbo-charged Subaru Boxer four-pot engine, complete with a reinforced six-speed gearbox to make that sporty feel even sportier.
And with sport in mind, the chaps at Subaru have looked at the need for maximum control and driver engagement with Subaru's trademark Symmetrical All-Wheel Drive making use of the latest vehicle dynamics control (VDC) and Active Torque Vectoring along with re-tuned spring and damper rates and a more rigid base for the electronic power steering to ensure not only greater driver 'feel' and response, but also more fuel efficiency.
Paul Tunnicliffe, Subaru UK Managing Director commented: "We want to acknowledge the following the WRX STI has, and while both the market and the Brand in the UK has changed in recent years, the WRX STI remains a demonstration of Subaru's technical know-how."
And that know-how includes driver comfort (with greater leg, arm and shoulder room to the interior of the car), driver experience (greater visibility all-round with pillars having been moved and a quarter light added to the front window), boot space (increased) and 'driveability' (there is a new D-shaped steering wheel, new dials and soft touch materials to add to the whole driving perceptive.)
The full specification of the Subaru WRX STI is yet to be announced, but over here in the UK we are promised that it will be pretty comprehensive – even at the standard level – but we do know that there is a new large signature rear wing and larger diameter 18" alloy wheels, along with LED lighting.
BUT
"The new model will only be available in limited numbers when it goes on sale in summer," says Paul Tunnicliffe.