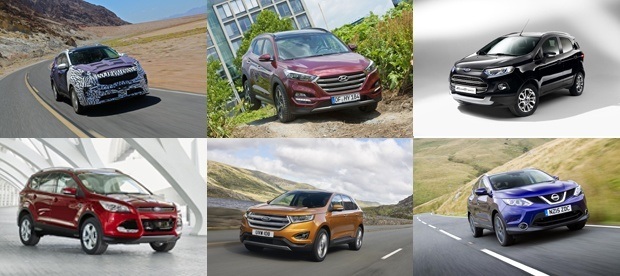 The number of SUVs that you see on the road these days is on the increase with cars such as the Nissan Qashqai, Hyundai Tuscson, Kia Sportage and upcoming Ford Edge high on customers leasing 'wish list'. And it seems that it is all down to the wants and needs of an age range that has been dubbed the 'Millennial generation'.
The Millennial age group - those aged between 17 and 34 - are seemingly the customers right across Europe that desire SUVs above all others according to a new Ford Motor Company survey. And thanks to them, the current SUV boom sweeping across Europe shows no sign of abating.
The Survey Results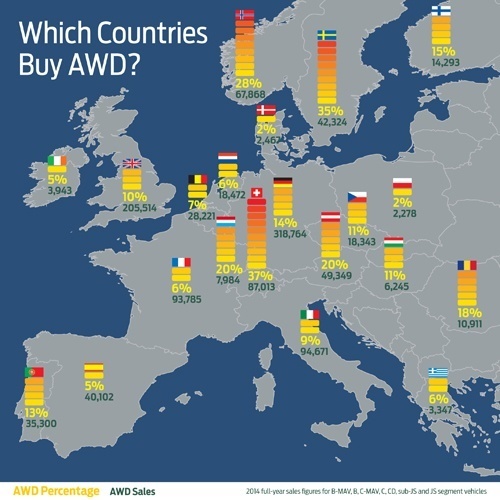 According to the research, an SUV:
makes the driver feel powerful when driving
is a car that is the kind that they 'want to be seen in'
is more sporty and fun to drive than other vehicles
is perfect for an active lifestyle; something that Millennials consider as an important part of their existence.
Roelant de Waard, vice president, Marketing, Sales and Service, Ford of Europe gives his view on the findings: "The survey makes two important points – the SUV boom in Europe is not a passing fad and young people are not as ambivalent about car ownership as some suggest – especially when it comes to SUVs. For both rational and emotional reasons, many younger buyers in Europe see SUVs as the perfect choice for them."
With Millennials accounting for around 24% of Europe's adult population, when it comes to car manufacturing they are an important target market - and with the survey revealing that "one in four Millennials who intend to purchase a vehicle in the next year are considering an SUV", when it comes to the SUV side of things, maybe just that little bit more important!
In fact, according to industry analyst IHS, across the European motoring industry, SUV sales are expected to increase from the already incredible 20% of total passenger car sales in 2014 to 27% per cent by 2020.
But what else does the study of 5,000 adults in France, Germany, Italy, Spain and the UK say is the reason for the SUV becoming the main choice for the discerning Millennial?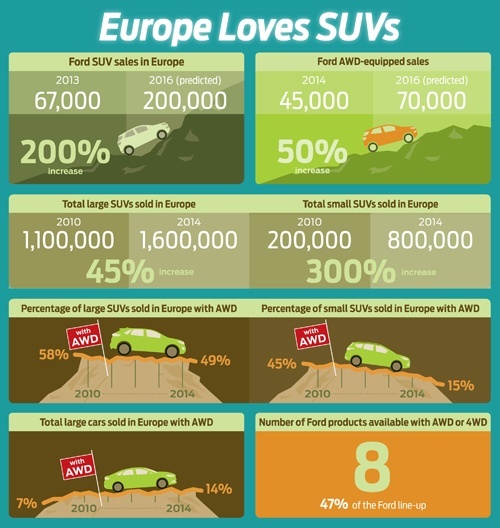 These figures explain more:
54% of Millennials believe SUVs are better than any other type of car at going anywhere in city or countryside
52% of Millennials believe SUVs are better at keeping them safe than other types of vehicle
84% of Millennials believe SUVs have become more fuel efficient and environmentally friendly over the last five years
52% of Millennials intending to buy an SUV consider them the only type of vehicle that delivers toughness as well as lifestyle, rational and emotional appeal in a single package
"There is a trend for consumers to seek one-stop solutions – whether it is the smartphone in their pocket that can double as a camera, media player, and torch – or the car on their driveway that offers a fuel-efficient commute and a versatile, and dependable way to accommodate the family on its weekend adventures," said Roelant de Waard.
The current and future Kings on the Block
Obviously this is good news for manufacturers of SUVs and with Ford launching the Ford Edge soon after showing it off at the Frankfurt Motor Show along with updated versions of the EcoSport small SUV and Kuga mid-sized SUV, they are one company with their eye on the ball. Ford also plans to introduce five new vehicles in the next three years that will compete in the SUV and crossover space, with target sales of 200,000 SUVs in Europe by 2016 (a 200% increase on 2013); so the marketplace is going to get very crowded.
You can register your interest in leasing a Ford Edge with one of our customer representatives, or maybe you want to look at some of the already available SUVs that we have on some great deals.
There's the Nissan Qashqai, described as "the ultimate city crossover", with its bold, commanding presence, truly state-of-the-art technology and a luxuriously comfortable interior.
The
Kia Sportage,
a versatile crossover that draws in first impressions that are built to last with its sleek aesthetics, excellent ecological credentials, advanced safety technology and extremely spacious cabin.

.




And the Hyundai Tucson is "...a bold new car that represents another leap forward for Hyundai," commented Tony Whitehorn, President & CEO, Hyundai Motor UK. "With a fantastic design and advanced technologies, it makes a strong statement about where the Hyundai brand is heading and provides a highly competitive vehicle in the important C-SUV segment." You can find out more in our blog article here.

There are many other cars available to lease that fall into the SUV bracket, and you can find out more about them, and the great deals available, by clicking here.

Because it may be time for you to consider an SUV for yourself. Car manufacturers think so; Millennials think so; and you wouldn't want to be left behind, would you?